Juniata, HASD Collaborate for Morocco Study Trip
(Posted October 7, 2013)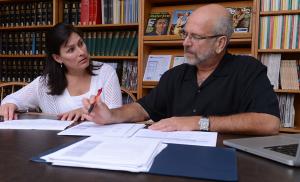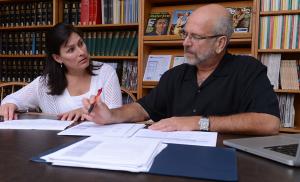 HUNTINGDON, Pa. -- Juniata College's Department of World Languages has received a $65,000 grant from the U.S. Department of Education's Fulbright-Hays Group Projects Abroad program to fund a multiweek trip in summer 2014 to Morocco for intensive language instruction and cultural educational opportunities in history, diversity and contemporary issues.
"The grant will provide an exciting opportunity to foster collaboration between Juniata College, international alumni, and regional educators to develop curricular resources for understanding the complex cultural crossroads that inform one of the most dynamic countries of the Arab world," says Michael Henderson, associate professor of French and one of the co-authors of the grant.

Juniata, in partnership with the Ibn Ghazi Arabic Institute, in Fez, Morocco, will send 10 local educators to Morocco to develop new curriculum for K-12 and baccalaureate education in order understand the background information of Morocco and to integrate the cultural history of North Africa into social science and humanities courses in central Pennsylvania K-12 schools.

Juniata will send four professors, including Henderson, who co-wrote the grant application with Kati Csoman, assistant dean of international programs. Csoman also will travel to Morocco as part of the team. Local school districts will send four high school teachers and one curriculum coordinator.

"It is an honor that the Department of Education has recognized Michael Henderson's work with a 2013 Fulbright-Hays Group Projects grant," says U.S. Senator Pat Toomey, in a statement. "His success reflects his expertise in world languages and Juniata College's status as one of the region's best. I am pleased that Dr. Henderson will have the opportunity to carry out his work and research abroad, and enhance both the education of others and the reach of Juniata College."

The group will spend much of their stay in language and culture classes at the Ibn Ghazi Institute in Fez. The academic focus of the lectures and other classes will be focused on how the colonial and postcolonial encounters with Sub-Saharan Africa, Europe and the Middle East have influenced modern Morocco. In addition, the classes will detail how the confluence of Moroccan, French and Spanish history affected the language, literature, social institutions and cultural practices of modern Morocco

"The grant will provide an exciting opportunity to foster collaboration between Juniata College, international alumni, and regional educators to develop curricular resources for understanding the complex cultural crossroads that inform one of the most dyn

The Ibn Ghazi Arabic Institute offers summer language and culture courses to students and professionals from all over the world. The institute's director, Fouad Touzani, is a 2006 graduate of Juniata College.

The Fulbright-Hays Group Projects Abroad Program provides grants to support overseas projects in training, research and curriculum development in modern foreign languages and area studies for teachers, students and faculty engaged in a common endeavor. The projects may include short-term seminars, curriculum development, group research or study, or advanced intensive language programs.

Contact John Wall at wallj@juniata.edu or (814) 641-3132 for more information.