Juniata Celebrates African-American Literature with Public Reading
(Posted February 17, 2014)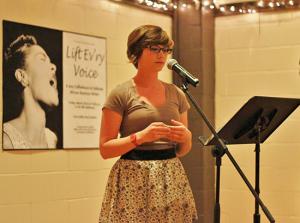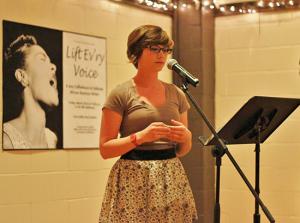 HUNTINGDON, Pa. -- A dedicated group of Juniata College English students will be reading excerpts from African-American literature at "Lift Ev'ry Voice, a public performance/reading at 7:30 p.m., Friday, Feb. 21, in the ballroom in Ellis Hall.

The event is free and open to the public. The event is sponsored by the English Department. Free refreshments will be provided.

This event is the 16th year the college has produced the annual event. This year marks the emergence of a new faculty adviser for "Lift Ev'ry Voice." Amanda Page, assistant professor of English, has assumed leadership for organizing and presenting the event. Previously, Judy Katz, associate professor of English, organized the reading for 15 straight years.

"I think the program itself is really fantastic," Page says. "I like the idea of pulling people from across campus to celebrate African-American literature. It's a great campus-wide event, and I'm glad that I'm being introduced to it by following Judy's lead," Page says.

This year, the student coordinators of the program have chosen the theme "Dancing in the Street" to reflect the cultural contributions African-Americans have made to music as well as literature. While Page and Katz act as the program advisors for the "Lift Ev'ry Voice" program, the event is run entirely by the students.


"I like the idea of students making it their own each semester, and my job will be to help coordinate that," Page adds. "The 'Lift Ev'ry Voice' experience should be something that everyone should feel comfortable participating in and celebrating."

"It is both hectic and fun because we have to solidify really quickly and be creative at the same time," says Erika Young, a junior from Duboistown, Pa. and student coordinator for the event, recounting her experience in being involved with the "Lift Ev'ry Voice" program.

"To be able to highlight African-American literature is cool," Young adds. "It gives you a different perspective on certain things."

Some of the authors featured in this year's event include Maya Angelou, Audre Lorde, Gwendolyn Brooks, Frederick Douglass, and Frances Ellen Watkins Harper.

Student performers include: Erika Young, a junior from Duboistown, Pa.;,Cody Januszko, a sophomore from Wilkes-Barre, Pa.; Skukura Woods, a senior from Los Angeles, Calif.; Dana Spann, a sophomore from Philadelphia, Pa.; Rayna Barron, a junior from Brockway, Pa.; Jocelynn Jackson, a sophomore from Philadelphia, Pa.; Diane Nguyen, a senior from Bensalem, Pa.; Angela Myers, a senior from Gallitzin, Pa.; Jessica Mills, a senior from Huntingdon, Pa.; Liz Faust, a junior from Frederick, Md.; Alexey Bakuley, visiting language instructor from Taganrog, Russia; Thida Win, a freshman from Mandalay, Myanmar; and Khadejia Norman, a sophomore from Lititz, Pa.


Written by Diane Nguyen

Contact John Wall at wallj@juniata.edu or (814) 641-3132 for more information.