Irene and John Dale, Juniata Alumni, Donate Funds to Support Arts Building
(Posted March 21, 2016)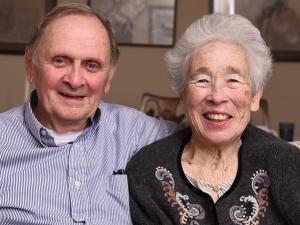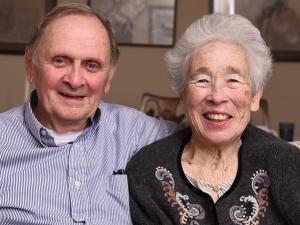 HUNTINGDON, Pa. -- Irene and John Dale, of Moorestown, N.J., 1958 and 1954 graduates of Juniata College respectively, have donated $3.2 million to provide funding for a $4.9 million Integrated Media and Studio Arts Building, with construction scheduled to start in mid-summer 2016.

"Adding an art building has been on the agenda for every master plan the College has produced for nearly a century, but it always would get bumped by something else of higher priority," says John Dale, a retired telecommunications executive who has played a significant role in the growth of Juniata's technology curriculum. "We don't want this to be a huge art program, but we do want to give students the space where they can collaborate."

"A lot of kids love art and want to continue doing it when they get to college," Irene says. "If we can make that easier for them, that makes us happy."

The new building will be located on the site where the college's Raffensberger Tennis Courts now stand. This summer, the tennis facilities will move to the Winton Hill Athletic Complex.

The building, which will be named during the dedication ceremony planned for the building's opening in Fall 2017, is a two-story instruction space featuring studios for all types of artistic media, classrooms and faculty offices.


"John and I talked about it, and we decided that what the art department most needed was a real place to call home."

Irene Dale, 1958 graduate
The building is designed to line up directly with the von Liebig Center for Science and the arch in Cloister Residence Hall, occupying the site across 19th Street where the tennis courts and North Lawn currently stand. The layout of the building will include:

--First Floor: The building features a 2-D design studio, a 3-D design studio, a digital arts classroom and an integrated media arts classroom. In addition, there are two faculty offices and a mechanical and electrical systems room.

--Second Floor: The upper floor features a drawing studio, a painting studio, a photography studio and a seminar room. There also will be two faculty offices. All art studios on both floors will feature lighting and ventilation systems designed for optimum teaching for each respective medium.

The Dale's interest in funding the arts building came about in 2000, when John Dale, then serving on Juniata's board of trustees, was asked to be representative from the board for a program review of the art department.

"John and I talked about it, and we decided that what the art department most needed was a real place to call home," Irene recalls.

The Dales have been significant donors to their College since the mid-1990s, when John retired from a telecommunications firm called Dale, Gesek, McWilliams & Sheridan he co-founded in 1970 with colleague Rex McWilliams. The company, which was bought out by Comverse Inc. in 1995, had developed telephone technologies still used in call forwarding, voice storage and caller ID applications.

After retirement, John and Irene donated more than $6 million to expand the College's technology curriculum into information technology. He also contributed more funds to renovate the "C" wing of Brumbaugh Academic Center to house faculty and classrooms for the business, IT, communication and math departments into what is now a collaborative space known as Dale Hall. In addition, the Dales made gifts for the renovation of Juniata's "First Building," Founders Hall.

"The new building will allow us to build a sense of community among students but also among ourselves because it is nice to see what your colleagues are working on or what other students are doing," says Monika Malewska, associate professor of art.

The look of the building will feature a symmetrical Georgian exterior with cladding stone from Roaring Run Quarry (a business once owned by John Dale's father during the Depression) and a central lobby. The building is designed by Street Dixon Rick Inc., an architectural firm from Nashville, Tenn.

Contact Gabe Welsch at welschg@juniata.edu or (814) 641-3131 for more information.