Audience:
High School Varsity and JV players, Grades 9-12
Description:
Our philosophy is to teach the basic individual skills of volleyball in-depth through a system of organized and broken down instruction. In addition, we will address the major components of team play through four on four and six on six drills, keeping in mind sportsmanship and positive attitudes. This camp is for high school aged girls who want to improve their level of play and get better at certain or all skills. We will focus and break down each skill and focus only on that skill in each session followed by six on six play. We are committed to improving each individual who attends this camp.
Camp Schedule
Session One: Focus – DefenseEnd with 6 v 6
Session Two: Focus – PassingEnd with 6 v 6
Session Three: Focus - AttackingEnd – 6 v 6
Session Four: Focus - ServingEnd with 6 v 6
Session Five: Focus - Ball ControlEnd with 6 v 6 and Four's Tournament
Session Six: Focus - Transition OffenseEnd with 6 v 6
Session Seven: Focus – 6 v 6 Tournament
Things to Bring to Camp:
Shorts
Socks
Sneakers
Knee Pads
T-Shirts (bring extra)
Water Bottle (required for off-site locations)
Snacks
Fan
Linens
Sunscsreen
Swimming gear (including towel)
Facilities:
Few colleges have a more attractive campus than Juniata. The 100 acres on College Hill provide a magnificent atmosphere and safe environment. Campers are housed in one of the residence halls on campus and have access to all the amenities in the residence halls.
Additional facilities available include an indoor swimming pool and a fitness center.
Clinic Director:
Casey Dale
Assistant Coach/Interim Head Men's Volleyball Coach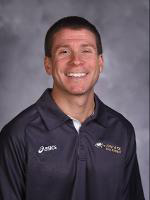 Casey Dale '07 will enter his third season as assistant coach. Prior to 2014, he spent five seasons as the head coach of the Pioneers and two seasons as the women's assistant at Washington and Lee University. At Transylvania University, Casey finished his first season in seventh in the Heartland Collegiate Athletic Conference (HCAC) before leading the program to its first ever league title in 2010 and repeating in 2011 and 2012. He was named HCAC Coach of the Year in 2010 and was twice a recipient of the American Volleyball Coaches Association (AVCA) Thirty Under 30 award that recognizes the top 30 coaches in the country under the age of thirty, in 2010 and 2011. The 2007 graduate served as a student-assistant with Juniata women's team for two years including the teams' second NCAA Division III National Championship in 2006. During Dale's time with the Pioneers he coached 19 players to All-HCAC honors, seven All-Freshman HCAC team members, and the 2010 HCAC Defensive Player of the Year. The team accumulated an overall record of 103-65 under Dale's tutelage and an HCAC record of 34-11. Dale also served as a physical education coach in both weight training and volleyball at Transylvania and Washington and Lee.
For more information on the Women's Volleyball team and coaches, please visit the Juniata Athletics webpage!