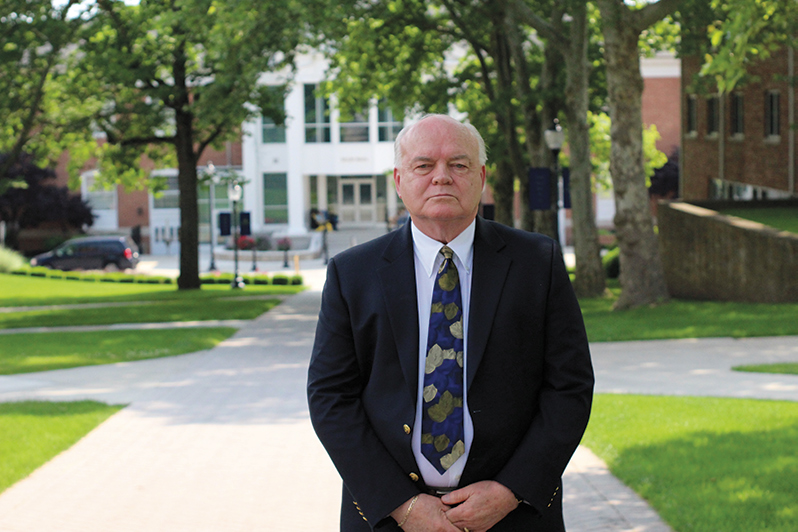 Alumni Achievement Award
Dr. Barry B. Moore '63
Dr. Moore attended Temple University School of Medicine, completed a surgical internship at the Cincinnati General Hospital, and fulfilled his residency in neurosurgery at the Mayo Clinic in Rochester, Minnesota. Throughout his career of more than 40 years, Dr. Moore has been employed by Harrisburg Hospital, Holy Spirit Hospital, Carlisle Hospital, and the Milton S. Hershey Medical Center. He was chairman of the departments of neurosurgery at two of those organizations and also served as president of the medical staff at Holy Spirit.
"Since I left Juniata 55 years ago, there have been a lot of physical changes on campus—a lot of new buildings and facilities. However, the one thing that never changes at Juniata is the way in which they prepare their students for not only their chosen profession in life, but for life's challenges after graduation."Dr. Barry B. Moore '63
He recently retired from practicing neurosurgery at PinnacleHealth Neurosurgery and Neuroscience Institute, where he specialized in brain surgeries and spine surgery. During this time, he also provided coverage for neurosurgical emergencies at the Harrisburg Hospital Emergency Department and the Intensive Care Unit for 24 hours a day, 365 days a year. He is a member of numerous medical societies and is also a Fellow in the American College of Surgeons.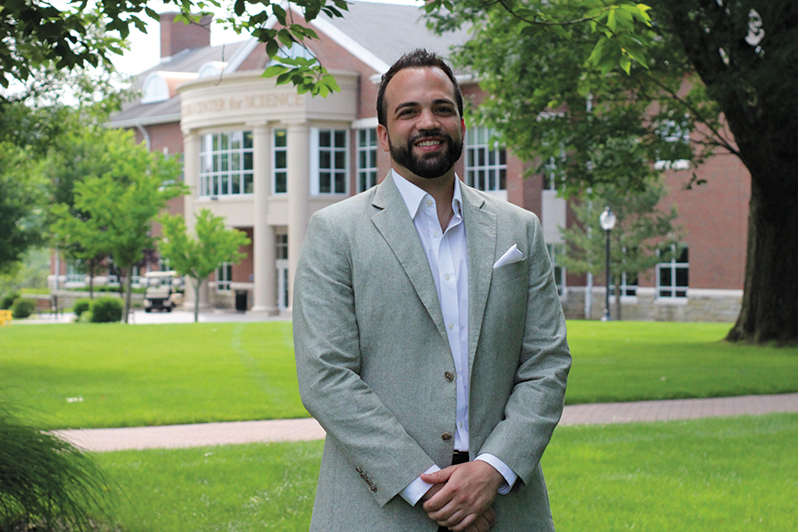 Young Alumni Achievement Award
Dr. Carl A. Kihm '05
Dr. Kihm earned his doctorate at Temple University School of Podiatric Medicine, completed a residency at DeKalb Medical Center, and went into private practice with Village Podiatry Group in Atlanta, Georgia. He is now an associate at University Foot & Ankle in Louisville, Kentucky, and a faculty member at The Podiatry Institute in Decatur, Georgia. He is also a fellow at the American College of Foot and Ankle Surgeons, is a diplomat at the American Board of Foot and Ankle Surgery, and holds podiatry certifications in Kentucky, Indiana, and Georgia. Dr. Kihm has published articles in peer-reviewed journals and textbooks, and has lectured at professional conferences across the U.S. and in Sydney, Australia.
"Juniata helped me to develop into a forever student, a critical thinker, a wellrounded individual. Compassionate and passionate. Creative and accepting of all people. My professors— many of whom are the most brilliant minds I've ever met—always challenged us not just to learn facts verbatim, but to think and to educate ourselves beyond what we could learn in a textbook through experience."Dr. Carl A. Kihm '05
Since 2011, Dr. Kihm has traveled to Kathmandu, Nepal, to operate on patients by flashlight, teach and collaborate with Nepalese doctors, and procure donations for the hospital. After a 2015 earthquake killed more than 8,000 people in Nepal, Dr. Kihm worked with MedShare to send 1,000 boxes of medical supplies to Nepal. For this work, he was awarded MedShare's Community Hero Award. In 2016, he was featured for "Healing the Children in Nepal" on NBC's The Doctors. In 2017 and 2018, Kihm traveled to San Lucas Toliman, Guatemala, where he performed approximately 30 surgeries in five days. He continues to bring his leadership not only through service but also by working as attending surgeon for residents of Norton Healthcare's Kentucky Podiatric Residency Program in Louisville, Kentucky.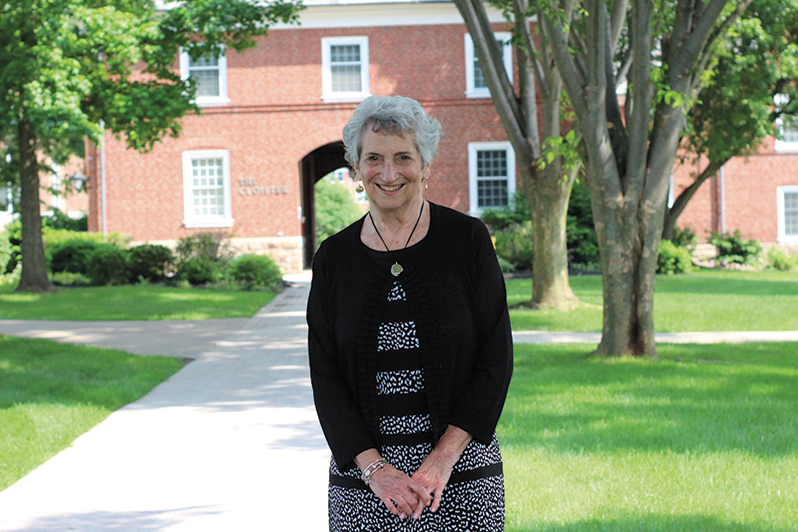 William E. Swigart Jr. '37 Alumni Humanitarian Award
Jean (Davies) Ewers '61
Ewers was presented with the award for her work as a leader of the Honduras Hope Mission, which travels to Honduras annually to care for the 30 poorest families in the La Villa community. Ewers traveled to Honduras several years, helping the Mission distribute 1,500 packets of parasite medicine, 242 water filters, 200 Bibles, 130 pairs of shoes, 100 mosquito nets, 50 pairs of reading glasses, and two large cases of medications.
"My four years spent at Juniata developed my skills as a teacher and community leader and reinforced in me that a successful life is not judged by the money you make or the titles you obtain but by the lives that you touch, embrace, and enhance."Jean (Davis) Ewers '61
Within this mission, Ewers helped establish and coordinate the HOPE family program, which supports and empowers Honduran families. In addition to fundraising in the U.S., Ewers worked directly with families in Honduras to identify their greatest needs and address those challenges to move families toward independence. She helped families obtain and care for school uniforms, gain access to clean water, and worked to empower women to start small businesses offering food, sewing, or cosmetology. Many HOPE families were young single mothers who did not know one another, so Ewers brought them together for meals, worship, and training in medical and life skills, creating a caring and supportive community that lasts long after a family graduates from the HOPE program. Although she no longer travels to Honduras, Ewers continues as a board member for the mission, in addition to shepherding a Ugandan family and serving as a Stephen Ministry leader.
Harold B. Brumbaugh '33 Alumni Service Award
David G. Oliver '63
Oliver began his service to Juniata immediately after graduating, when he began attending regional alumni events near his home in New Jersey. Since that time, he has been a regular face at oncampus events like Alumni Weekend and Homecoming and Family Weekend, where he continues to serve as a long-time member of the Class of 1963's reunion committee. Oliver is renowned among his classmates for maintaining the close bonds of his class by writing newsletters, emails, and letters.
"When you get a degree, you're never really sure you've learned much of anything. And yet, over the years, looking back, we learned so much about life. We learned to think. We were given the opportunity to lead. We knew how to commit to things and we knew how to take chances. I'm very proud to be a Juniata alum."David G. Oliver '63
A captain of the football team while he attended Juniata, Oliver has carried his commitment to athletics into lifelong fandom, and is a supporter of not only Juniata's football team, but athletics at large as well. He and his wife, Marion (Kercher) Oliver '64, were charter members of the College's J-Club athletics fund. In addition to serving on Alumni Council, to which he was elected President, Oliver also lent his leadership to various fundraising efforts. From the Kennedy Sports and Recreation Center to Founders Hall and Winton Hill Athletics Complex, Oliver has had a positive influence on philanthropy in nearly every corner of Juniata's campus. He has served as a Class Fund Agent, often helping to inspire more than 50 percent of his classmates to give to Juniata, and chaired his class's 50th reunion, which raised a then-record $1.4 million to establish scholarships for first-generation students attending the College. Oliver has also helped secure the future of Juniata and build its community by recruiting students. He has represented Juniata at high school college fairs and by recruiting students through the Juniata Community Scholarship program. Together with his wife, Oliver is leaving a legacy gift to the music program at Juniata.