Reunions are a time to reminisce, and for Juniata alumni anticipating their milestone 50th, it is also a moment to imagine the impact they can have on current and future students through giving. Plans for a collective 50th Reunion gift begin years before the actual celebration, and the classes who recently celebrated their golden anniversary have created a tradition of generosity never seen at Juniata.
After the completion of a class's 45th reunion, members are invited to attend the President's Commission on 50th Reunion Giving to learn about trends in higher education, new initiatives at Juniata, and opportunities to become more involved in the future of the College.
For the past four years, Sarah Young Fisher '75 has shared her investment expertise during the President's Commission event.
"My motivation is to help people understand all of their options for charitable giving. The older you get, the more you appreciate your education. Many people want to give, but they want to know how to give without hurting their pocketbook," Sarah says. "I present a 20-minute seminar and talk about all the different ways you can leave your legacy at Juniata, the best ways of giving depending on your individual financial situation."
"I always knew I'd be involved. Being a trustee gave me a different perspective on the College and a renewed appreciation for the importance of our alumni," Carol says. "I had no idea how much our class would raise, but I really wanted us to do well. And we did! I'm so proud of our committee and our classmates."
Learning about mutually beneficial ways to give not only informs alumni but can also help inspire people to lead their Legacy Gift Committee, which is formed to help prepare would-be committee members for the work of motivating their peers to get involved with the reunion planning process as a volunteer or through philanthropy.
Carol Ellis Paullin '71 knew she would volunteer for the Class of 1971 Reunion Committee as she had served on the College's board of trustees since 2011. She attended the annual President's Commission the first year her class was invited to participate, and felt she would be best able to contribute by chairing the Legacy Gift Committee after hearing updates from previous Class Legacy Committees.
"I always knew I'd be involved. Being a trustee gave me a different perspective on the College and a renewed appreciation for the importance of our alumni," Carol says. "I had no idea how much our class would raise, but I really wanted us to do well. And we did! I'm so proud of our committee and our classmates."
The 50th Reunion gifts are the compilation of gifts, pledges, and estate commitments from members of the class during the five-year window leading up to their official celebration. During that period, the Legacy Gift Committee works with the College staff to select a class project they believe will inspire their classmates to give back. While members of the class are not limited to supporting the specific class project that is chosen, it is exciting to see a class rally around a common cause.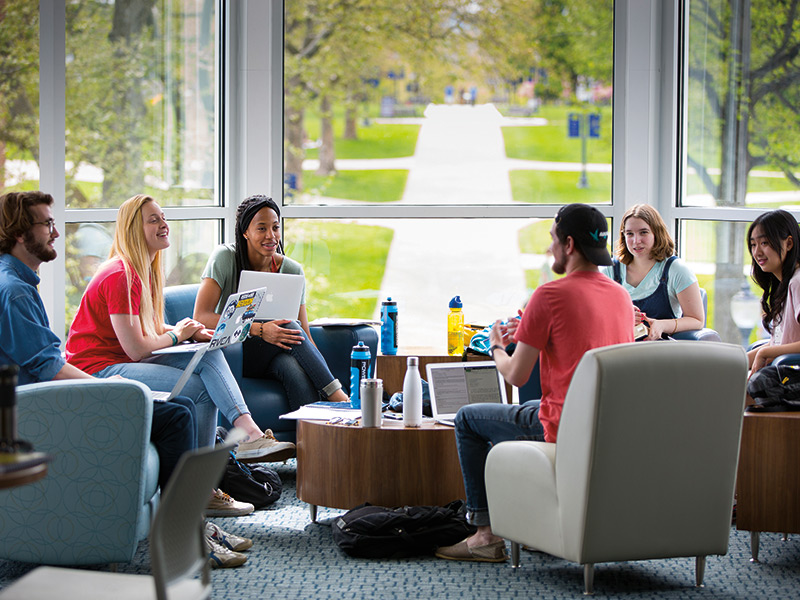 The Student Commons within Ellis Hall was provided by members of the Class of 1971 in honor of their 50th reunion. Photo: Jason Jones
Ultimately, each class gift is as unique as the class who makes it.
The Class of 1965 raised $2,015,719.65 and supported an endowment for the Super Internship Fund, which provides stipends of up to $5,000 for students participating in internship experiences in areas where living costs can be prohibitive. A second endowment for the Super Internship Fund was created by the Class of 1966, who raised $1,503,586.66.
"Every class works toward a fundraising goal that is meaningful to them. We were a class heavily involved in the era of the Civil Rights movement and the Vietnam War, world-changing events which shaped our thinking and values," says Bob McDowell '67, who co-chaired the 1967 Legacy Committee with Kathy Forsht Salmon '67. "As a result, we were led to focus more on helping future students than on the physical attributes of the campus. We wanted to build the capacity of the College to give more students aid so they could afford to come to Juniata and have the same experience that was so meaningful to us."
The Class of 1967 set a new record by contributing $4,010,000.67, of which more than $160,000 was given to establish The Class of 1967 Endowed Scholarship to benefit local students and families. Spencer Korman '20 was the first recipient of the Class of 1967 Endowed Scholarship.
The class project selected by the Class of 1968 supported improvements to the terrace on the upper level of the Brumbaugh Academic Center (BAC), which was named Terrace '68 in their honor.
"As a group, we focused on making a gift that resonated with us. Many wanted something they could point to and say, 'Our class did this.' Others wanted to make a gift more like the Class of 1967's. We decided to look at what the College needed," says Class of 1968 reunion committee chair Ruth Bartleson McDowell '68. "We had a committee of 25 people from all over the country. Mainly, we worked to get people enthusiastic about the upcoming reunion and shared memories of the good times we had. When we found out what we were able to raise, we were shocked."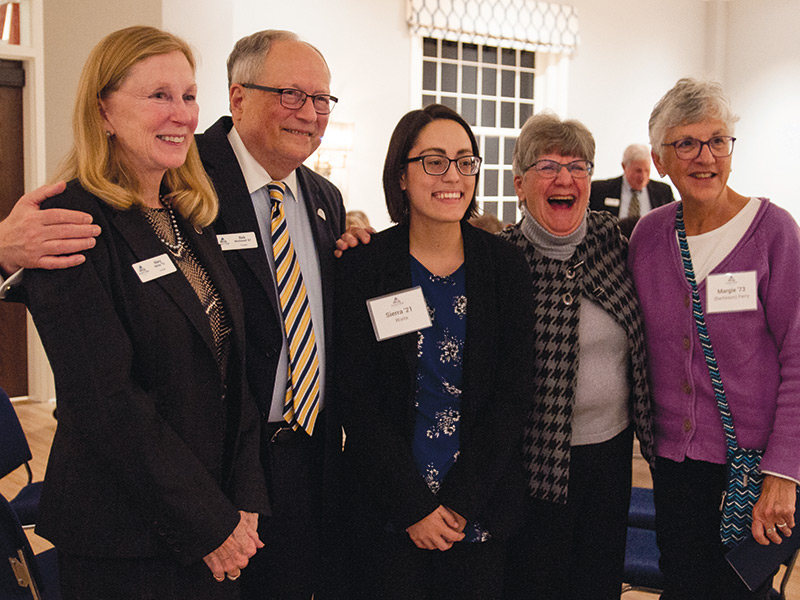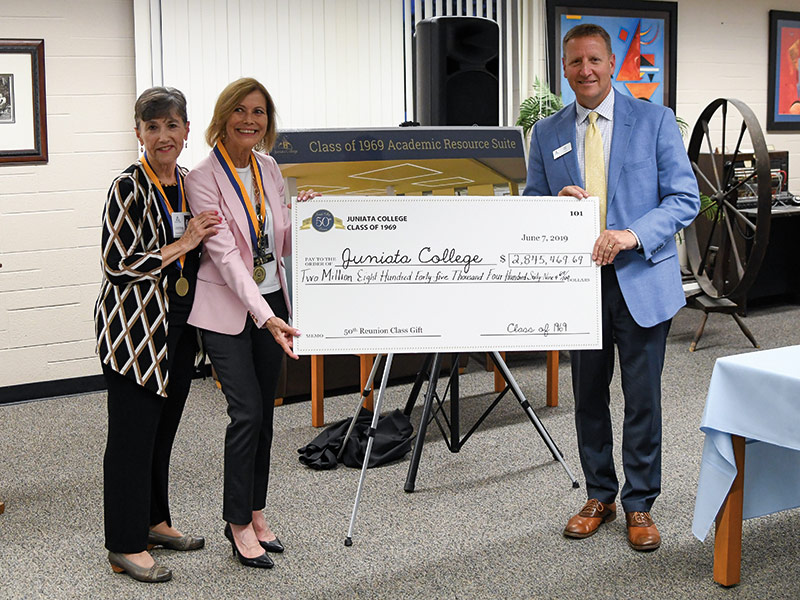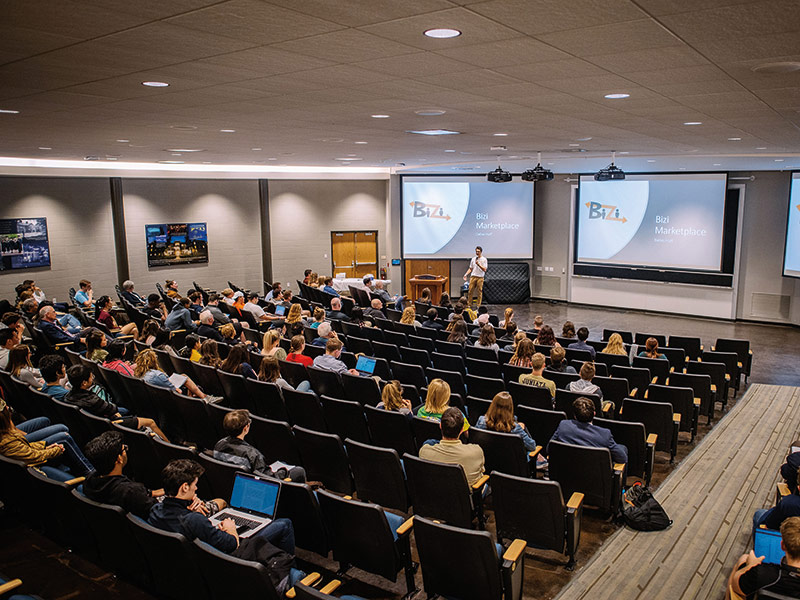 Left: Class of 1967 Endowed Scholarship recipient Sierra Waite '21, center, celebrated with, from the left, Mary White '73, Bob McDowell '67, Ruth Bartleson McDowell '68, and Margie Bartleson Perry '73 during Alumni Weekend. Middle: Class of 1969 Legacy Gift Committee co-chairs, Janine Everhart Katonah '69 and Bonnie Cave Maechler '69, left, present their 50th reunion gift to President James A. Troha. Right: Extensive renovations to Alumni Hall in Brumbaugh Academic Center were made possible by the Class of 1970's 50th reunion gift. Photos: Veronica Cosmopolis '20; Nate Thompson '05; Sarah Anne Wharton '06
Working alongside Class of 1968 Legacy Gift Committee Chair George Zlupko '68, the class secured an astounding $7,130,468.68, the largest 50th Reunion gift in Juniata's history, to support students and faculty, including $231,278 for the renovations to BAC.
Many members of the Class of 1969 remembered carrying boxes into the still-new Beeghly Library as students and opted to use their class project to "carry" the campus library into the future. They raised $2,845,469.69. Of that total, $367,014 were gifts and pledges directed towards the construction of the new Statton Learning Commons. The Class of 1969's gift will be recognized in the Academic Resource Suite on the first floor of the Learning Commons.
"We wanted to beat the Class of 1968, but they set the bar high. We were very happy that our class actually raised the largest amount of money for the class project itself," says Class of 1969 Legacy Gift committee member John Batchelor '69.
Alumni Hall in BAC was new when the Class of 1970 arrived at Juniata. From "Great Epochs" in their first year on campus to their capstone class as seniors, Alumni Hall was where their academic journey at Juniata began and ended. Thus, the decision was made to fund extensive renovations at Alumni Hall through their class project.
In an ironic twist of fate, the Class of 1970 was the first class to be sent home due to a campus closure out of concern following the shootings at Kent State — 50 years later they had to postpone their reunion when students were sent home from campus because of the pandemic.
"When Kent State happened, we were sent home for a week in our senior year. We were on campus for the very first Earth Day, for Woodstock, and the Civil Rights activity in the 1960s," says Rich Paulhamus '70 who served as Chair of the Class of 1970 Legacy Gift committee, and was joined in the classwide effort by his wife, Laurie Patterson Trexler '70. "We were seniors when the government conducted a lottery for the draft during the Vietnam War. There were all kinds of emotions on campus. It just made our class that much closer."
The bonds forged in that period of change held strong, helping the Class of 1970 deliver a Legacy Gift of $4,886,370.70 to Juniata. $750,000 was directed to Alumni Hall, a gift that met the bar set by the preceding class and became the largest class project gift.
Gifts from the Class of 1971 supported the renovation of the second floor of Ellis Hall, a central location where students gather to eat, study, chat, and work. In addition to their fundraising totals, each class seeks a coveted spot on the steps of Founders Hall, where class plaques are added for reaching alumni participation milestones.
"We set a goal to make 50 percent participation and it took every last hour of Memorial Day weekend to get there," says Carol. "It's surprising what you can do when you get a group working together who are committed and are having fun. We're all very excited we did it."
The Class of 1971 raised $2,628,358.71, including $251,133 for the Student Commons at Ellis Hall. Driven by their love for Juniata and their dedication to sharing the value of a liberal arts education with current and future students, those who led their respective committees expressed their desire to pay it forward.
"Juniata helped me to become a lifelong learner. I took courses, especially in history, literature, and art, which I loved," says Laurie. "When I became a teacher, one of my goals in teaching was to instill that love of learning in my students. My advice for others is to get involved to the point where you have an understanding and appreciation for how your gift is used and what it does for the students. Our students never cease to amaze me."
Following John's time on the Class of 1969 Legacy Gift committee, he continued his involvement with Juniata as a member of the Board of Trustees. "There is more that hasn't changed about Juniata than has, and that is a positive. Juniata has a much more diverse curriculum than it did 50 years ago, driven by the times, society, and career paths," says John. "The quality of the professors — professors who get to know their students, the values, and the commitment to the liberal arts remains the same. That's important."
Collectively, the six classes who celebrated their 50th Reunions during the BELIEVE Campaign gave $25,019,974.76 through their Class Reunion Legacy gifts, 19% of the total Campaign.
"It speaks a lot to the place Juniata holds in peoples' hearts," says Rich, "It's important for us to invest in the College."