Remembering Rev. Dr. W. Clemens "Clem" Rosenberger '54
---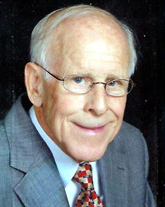 At the funeral of Clem's wife, Margaret, in February 2020, Pat and I promised Clem '54 that we would be back to see him later in the year. To our tremendous regret COVID-19 intervened and our plan was never realized. We had the wonderful privilege of knowing Clem since 1998 when we joined the Juniata community. Over the years, Clem often expressed his pride of the Rosenberger family connection to the College. His father, Lester, Juniata Trustee (1952-1979), helped convince his friend, J. Omar Good, to include Juniata in his estate which became Juniata's largest gift at that time. Clem, as chair (and his sister, Nancy Faus-Mullen '56 as a member) of the J. Omar Good Endowment Fund Trustees, helped steer the Good Endowment through changing times and new opportunities. He did so with a never-failing focus on the Endowment's original intent to strengthen religion at Juniata.
Beyond his support of religion, Clem was also a leading proponent of the arts, especially music. He and the Rosenberger family contributed significant funds for the renovation of what would ultimately be named Rosenberger Auditorium. In all, however, we have little doubt that his proudest Rosenberger accomplishment was the graduation of his grandson, Trevor, in 2017.
Clem's ongoing support and dedication to his alma mater was always on display and he received many accolades for his contributions. He served as a loyal member of Juniata's Board of Trustees for 24 years. In 1982 Juniata awarded him an honorary Doctor of Divinity degree. In 1997 he received the Alumni Service Award and in 2004 the Church-College Service Award. Few if any Juniata alumni have been so honored, and deservedly so.
Pat and I will miss him as a Trustee and an honest advisor, but mostly as a great friend.
—President Emeritus Thomas R. Kepple
---
Rev. Dr. W. Clemens "Clem" Rosenberger, 88, of Lititz, Pa., died January 27, 2021, at Brethren Village where he resided, surrounded by his loving family. Born on April 18, 1932, in Bala Cynwyd, Pa., he was the son of the late Lester M. and Pauline (Howe) Rosenberger. His wife, Margaret (Salzman) Rosenberger, preceded him in death on February 2, 2020.
Clem graduated from Lower Merion High School in 1950, where he excelled in gymnastics. In 1954 he graduated from Juniata College as a pre-med major. He studied for one year at Hahnemann Medical School but was unable to shake the call for pastoral ministry. After prayerful thought, he enrolled at Bethany Theological Seminary in the fall of 1955. Clem loved his Bethany years, theological studies and pastoral training. Post-graduate studies, including his studies at Harvard Divinity School, broadened his theological and ecumenical perspectives while deepening his faith.
Clem met Margaret Salzman at Bethany Seminary in 1956 and they were married on August 27, 1957. Over a 50-year ministry, Clem pastored congregations in Johnstown, Pa., Lititz, Pa., and La Verne, Calif. Following heart by-pass surgery in 1989, he later served as the interim minister to the South Bay Community Church before he and Margaret and their families returned to Lancaster County. Clem soon accepted calls from the New Enterprise Church, PA to be its one-year interim pastor, the Children's Aid Society (Middle PA District) to be its three-year Interim Executive Director, and Brethren Village to be a Development Associate primarily in relation to area Atlantic NE congregations.
Clem gave his greatest support to his alma mater, Juniata College, as a 24-year member of the Board of Trustees (1979-2003), Chair of the J. Omar Good Fund establishing a first-class Department of Religion at Juniata in 2002, and Co-Chair of the Capitol Gifts Campaign for the Halbritter Center for the Performing Arts. At the 1982 Commencement, Juniata presented Clem with an honorary Doctor of Divinity degree.
Clem was a proud father and grandfather and expressed a deep love for his family. He would attend his grandchildren's events as often as he could to show his love and support. In his later years, he found more time for fine dining, classical music concerts and physical fitness. Spending time with friends, working out at the gym and rooting for his favorite sports teams were his passions. Most of all, he was a loyal Penn State, Philadelphia Eagles and Phillies fan.
Clem exemplified love in every aspect of his life. He was a caring and compassionate man who selflessly gave to others, always working to lift up those around him through his actions and kind words. Clem will be greatly missed by all those who knew him personally and through his ministry.
Surviving are his children, Cynthia Anne Markham, married to Jeffery, Jeffrey Clemens Rosenberger, married to Lisa, Leslie Elizabeth Rosenberger and Janice Havemann Walls married to Sam; his grandchildren, Caitlin Markham Morse, Blake Rosenberger, Spencer Havemann, Carley Rosenberger, Kristin Markham, Trevor Havemann, Chad Rosenberger and Evan Havemann, and his sister Nancy Faus-Mullen.
Friends and family have established the Rev. Dr. W. Clemens Rosenberger '54 Endowed Scholarship at Juniata to memorialize Clem and continue his legacy of helping students. If you wish to contribute, please click here.