Now, four years later, she argues for Juniata—as captain of the Mock Trial team.
"Both my parents are alumni here and I've been coming to alumni weekend since before I could walk," she said, laughing. "I was absolutely not going to come here."
Her mind changed when she was invited to visit the College by Scott McKenzie as a prospective soccer player. Meadow remembers falling in love with the campus and the people and made a decision she never saw coming.
"I love to research, I love to pick apart the statements in the cases. I do love to argue." Meadow Walshaw-Wertz '21
Declaring computer science as her Program of Emphasis (POE), Meadow joined the soccer team and set her sights on a career in law. When Juniata announced the creation of a Mock Trial team three years ago, Meadow was immediately interested.
"I didn't have a lot of experience when I first started Mock Trial, but it seemed like a natural fit for me to check it out as that was the field I was interested in as a career goal," she said. "After the first tournament, and after receiving feedback from Attorney (Dave) Andrews (Mock Trial Team coordinator) and my peers, it felt like I belonged on the team and in the profession as a whole."
At the beginning of the season, each team receives a binder of discovery for the case they will try throughout all of their competitions. In competition, each team tries the case four times, twice as plaintiff and twice as defense. All of the teams are given the same information and witnesses must stick to the affidavit provided, but the way each team interprets the information challenges each member's ability to adapt, problem-solve, and think on their feet.
"I love to research, I love to pick apart the statements in the cases," said Meadow. "I do love to argue."
Juniata's Mock Trial team quickly rose through the ranks in competition, becoming a nationally-ranked competitor upon the conclusion of their first season.
"As captain, I help my teammates organize in terms of getting ready for trial and make sure everyone has up-to-date directs (direct examinations) and crosses (cross examinations). There is a lot of organization involved," she said. "I meet with first-year members outside of normal practice times to work on their examinations and how they will respond to different questions in trial."
Over three years, Meadow and her teammates have shared both the thrill of victory and the agony of defeat, with a determination to improve their performance each and every tournament.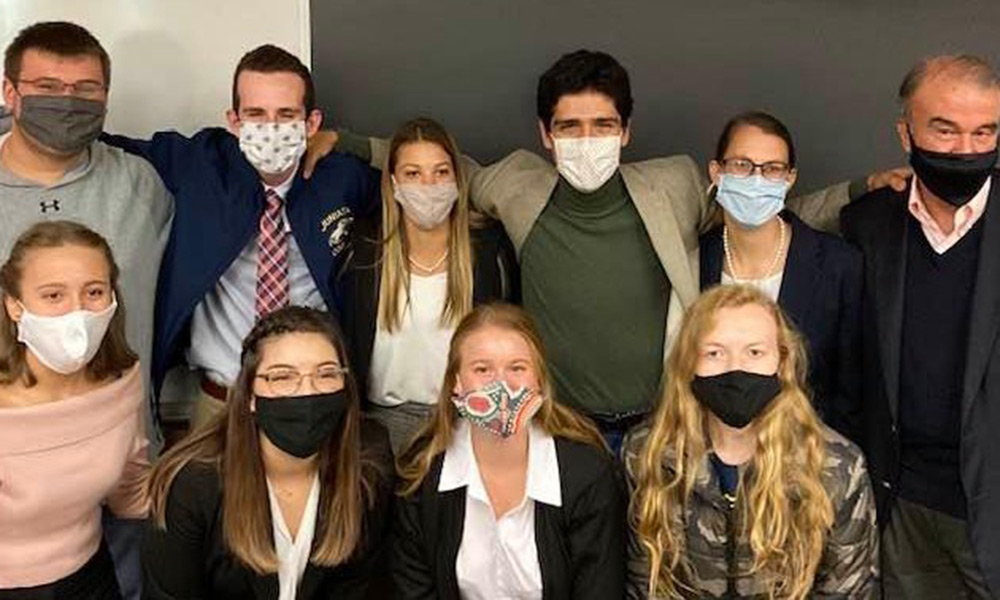 2020-2021 Juniata College Mock Trial Team
"There are so many great memories. This season, we won the Carnegie Mellon Tournament. Anyone who follows our team knows we performed terribly there before," said Meadow. "The first year, we were crying at the end of the tournament. For us to go back this year and win the whole tournament was a great way to come full circle."
Juniata's Mock Trial team competed in tournaments hosted by American Mock Trial Association (AMTA) member schools around the country, so when Meadow saw an advertisement seeking nominations for the association's Student Advisory Board, her interest was piqued.
"Initially, I wasn't going to apply at all," she said. "I talked about it with Attorney Andrews and offhandedly mentioned it would be cool to apply."
Her coach encouraged her to apply, so she did.
"I was absolutely surprised to get an interview and when it happened, it seemed like they liked me. I thought they were really nice people," said Meadow. "They invited me to be a part of the board."
Meadow meets monthly with her fellow national advisory board members to discuss competition elements, especially now that competitions are being held in a virtual format.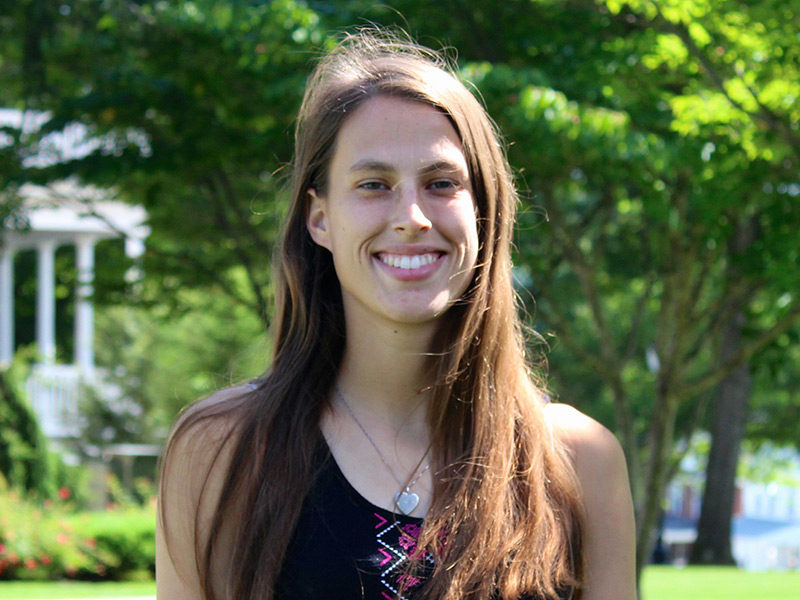 "I tell people they absolutely should try it. We have people on the team who aren't pre-law. Everyone has the same opportunity and everyone gets to compete." Meadow Walshaw-Wertz '21
"We try to troubleshoot ideas and AMTA board members like to come to us and run plans by us," she said. "We are all given different projects."
One focus of the Student Advisory Board is to bring more diversity to the judging for tournaments.
With graduation drawing closer, Meadow is applying to law school and hopes to unite her computer science background with her passion for the law in a career focused on intellectual property law.
Meadow enthusiastically promotes collegiate mock trial among her peers.
"I tell people they absolutely should try it. We have people on the team who aren't pre-law. Everyone has the same opportunity and everyone gets to compete," she said. "I had never competed in mock trial before Juniata and now I'm representing my school on a national committee."