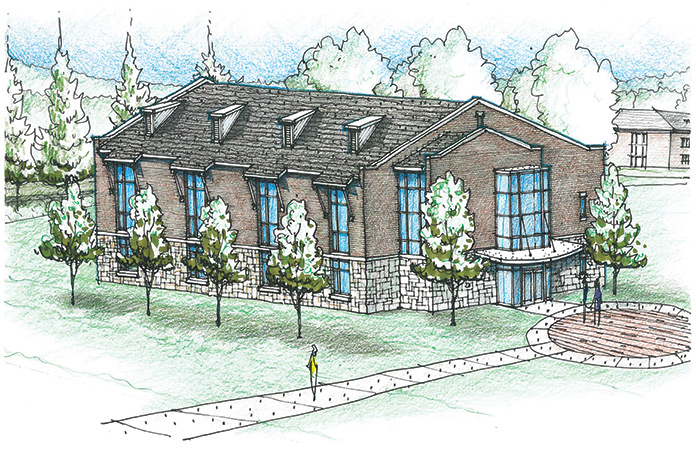 Earning a liberal arts education means acquiring new and different lenses through which we view the world. For decades, Juniata's academic excellence has been characterized by courses that stimulate students' critical thinking and creativity. From courses like Great Epochs and Modes of Thought to current cultural analysis offerings, our College empowers students and alumni to think in news ways to build lives of meaning and happiness.
The Tom and Pat Kepple Integrated Media and Studio Arts Building is the latest opportunity for individuals to help create something at Juniata to build on the educational empowerment for which Juniata is known.
We would like to thank the following alumni and friends who have generously supported this project:
Founding Benefactors:
John Dale '54 and Irene Miller Dale '58
The George I. Alden Trust
Annette Reeder Bair '93 & Christopher Bair '92
David Beachley '77 and Elizabeth Beachley
Eric Jensen '77 and Karen Jensen
Thomas and Patricia Kepple
Lorraine Patterson Trexler '70 & Richard Paulhamus '70
Key Supporters:
Sarah Young Fisher '75
Sandy Andoniades '67
Susan Romer '68
Nancy Wass '62
Lead Contributors:
Anne Baker
Elizabeth Baker
Charles Calderwood
Carol Miller Calhoun '60
Mark Conti '75
George Cruser '52 and Susan Cruser
Fronie Fanning
Abe Finton '54 & Mitzi Finton
Carol Hartman Fleisher '73 & Gary Fleisher
Matthew Newman '06
James & Jennifer Troha
James Woomer Jr. '60 and Muriel Woomer
Opportunities to give are still available. Please contact Jim Watt, assistant vice president for development and campaign operations, at wattj@juniata.edu or 814-641-3110 to make an impact through this project.
Make a Gift