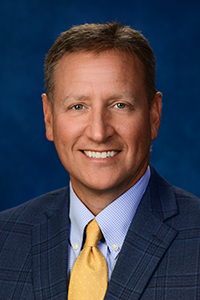 As Juniata College's 12th president, James A. Troha has led the institution to introduce the new Juniata College Curriculum, pursue the largest comprehensive campaign in the institution's history, expand and renovate of key learning facilities, earn stronger visibility for Juniata's distinctive identity, and undertake greater participation in national conversations about higher education.
Troha brought to Juniata more than two decades of leadership experience from work in higher education with a commitment to build upon Juniata's strong focus on student learning in a community-oriented atmosphere.
Successes under his leadership include:
A campus-wide effort to implement Juniata's strategic plan, "Courage to Act," and to pursue its ambitious goals to shape the quality and diversity of the student body, strengthen the curriculum, heighten community engagement in central Pennsylvania, raise the College's national reputation and strengthen its brand, and realize greater and more diversified resources to ensure Juniata's ability to deliver on its mission.
Launch of a new Juniata College Curriculum, the development of which Juniata was supported by grants from the Andrew W. Mellon Foundation. The Curriculum is notable for its emphasis on local and global engagement, ethical discernment, and a focus on understanding how knowledge is created and valued.
Launch of BELIEVE: The Campaign for Juniata College, a $115 million campaign set to conclude in 2021 that has already exceeded 75 percent of its goal.
Improvements to Juniata's campus infrastructure. Notable developments include the fundraising and construction of the Winton Hill Athletic Complex, a $4 million soccer/lacrosse/tennis facility, and the construction of the $4.8 million Tom and Pat Kepple Integrated Media and Studio Arts Building.
A $3 million lead gift to fund the expansion and reconceptualization of Beeghly Library as a learning commons.
A $15 million multiyear investment on improving key student spaces, strengthening accessibility across campus. Larger projects include a Global Commons for in-depth cultural interaction and exchange and the installation of new elevators, study spaces, classrooms, and façades for Ellis and Good Halls.
Development of new graduate programs in business administration, data science, bioinformatics, and organizational leadership.
Troha has led Juniata to pursue alignment and influence with national organizations that reflect the College's values. Under Troha's leadership, Juniata has joined the Pennsylvania Consortium for the Liberal Arts, where he serves as chair, and the American Talent Initiative. Troha is treasurer of the board of the Association of Independent Colleges and Universities of Pennsylvania and is a board member of the National Association of Independent Colleges and Universities. Additionally, Troha is the former chair of the Landmark Conference, the intercollegiate athletic conference affiliated with NCAA's Division III, and is a current member of the NCAA President's Council.
Troha is actively involved in the Huntingdon community, serving on the regional board of directors for Kish Bank, the board of directors at Penn Highlands Huntingdon hospital, as a member of the Huntingdon County Business and Industry board of directors, and is a former board member of the Huntingdon County Chamber of Commerce. He and his wife, Jennifer Troha, served as a past campaign chairs for the Huntingdon County United Way.
Previously, Troha served as vice president for institutional advancement and university relations at Heidelberg University. He began his administrative career at Heidelberg in 2002 as vice president for student affairs and dean of students, where he worked until he was named interim president in 2008. From 2003 to 2007, he also served as vice president for enrollment.
A native of Cleveland, Ohio, Troha earned a bachelor's degree in criminal justice in 1991 and went on to earn a master's degree in counseling in 1993, both from Edinboro University, in Edinboro, Pa. In 2005, he earned a doctorate in educational policy and leadership from the University of Kansas in Lawrence, Kan.