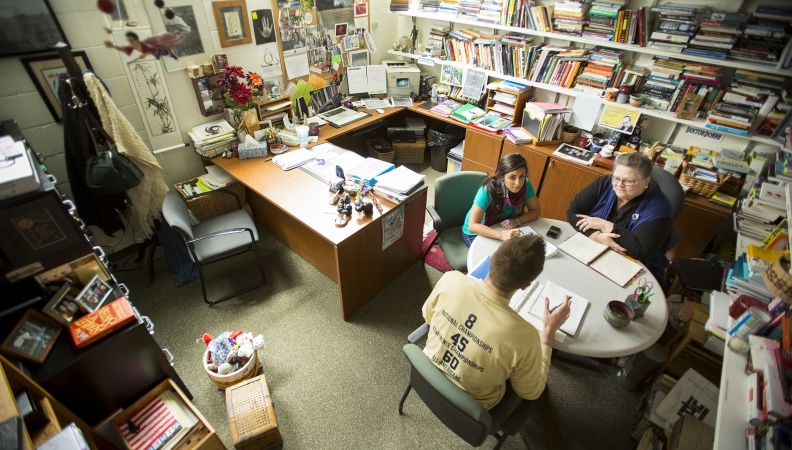 With the strengths of the designated Program of Emphasis in Communication or the power to create your own path with Juniata's Individualized Program of Emphasis, we have what you need to get you to where you want to be.
Our department is aligned with the learning outcomes of the National Communication Association (NCA), which explains how "communication constructs the social world and is relational, collaborative, strategic, symbolic, and adaptive." These national learning outcomes are what you can expect to meet in your Communication classes:
What is Communication
National Communication Association

Learn more about communication
visit website 🔗
Describe the Communication discipline and its central questions
Employ Communication theories, perspectives, principles, and concepts
Engage in Communication inquiry
Create messages appropriate to the audience, purpose, and context
Critically analyze messages
Demonstrate the ability to accomplish communicative goals (self-efficacy)
Apply ethical communication principles and practices
Utilize communication to embrace difference
Influence public discourse
Designated POEs
Health Communication is the study of communication as it relates to health professions and health education.
Communication and Conflict Resolution
Secondary Emphasis
Communication Secondary Emphasis is designed to bring the power of communication to a chosen field.
Individualized Pathways
Human Communication: focuses on how people communication across relationships, national and international boundaries, and different cultural background
Film and Media Studies: focuses on how people make use of different forms of media (print, radio, TV, film, social media, etc.) to interact with audiences
Strategic Communication: focuses on how people communicate within an organization to fulfill its mission

Environmental Communication Emphasis: highlights how people, societies, and organizations interact with and effect the environment
Health Communication Emphasis: highlights how people work in different healthcare contexts
Business Communication Emphasis: highlights how people share information and ideas between each other within and outside a company
Individualized POEs
Students have the opportunity to Individualize their POE. The options are as limitless as the student is creative. Some individualized POEs include (but are not limited to):
Business Communication
Environmental Communication
Multimedia Communication
Biocommunication
Communication and Education Studies
Communication and Marketing
Political Communication
Public Relations Communication
Communication with Sports Administration
Multimedia Journalism
Multimedia Production
Interested in learning more about our communications program?