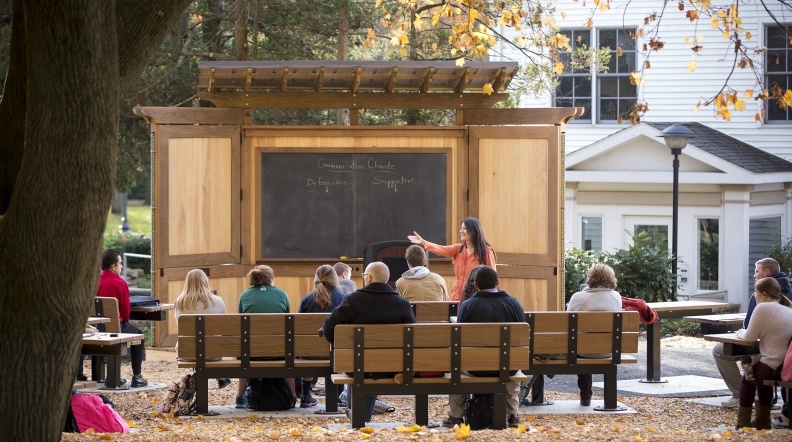 What to Expect?
Courses in the Communication Department have an emphasis on theory, method, and practices within the field. According to the National Communication Association (NCA), "At its foundation, Communication focuses on how people use messages to generate meanings within and across various contexts." The Communication POE offers you the opportunity to tailor your interests, strengths, and ambitions through individualized pathways.
Our department prides itself on many areas of connection. Like the NCA, we aim to provide an education that "promotes the widespread appreciation of the importance of communication in public and private life, the application of competent communication to improve the quality of human life and relationships, and the use of knowledge about communication to solve human problems."
First Year
Your first year is often exploratory in nature. Introduction to Human Communication, Message Analysis, and Mass Media and Society are courses you might take to explore your areas of interest within the field. Mix these in with a variety of introductory courses in other areas and these provide the basis for study in Communication.
Sophomore Year
You usually work on developing your individual, group, and community skills. Art of Public Speaking, Group Communication, and Interpersonal Communication allows you to use and develop your communication knowledge and skills in a hands-on educational experience.
Junior Year
You begin to refine your focus and POE this year. Courses more in-depth and related to specific tracks in the program are taken. You might take methods classes, such as Media Analysis or Qualitative Research Methods, to prepare for an honors thesis. You have the option to begin your capstone project or participate in internships or study abroad.
Senior Year
You are taking additional advanced courses along with an appropriate capstone experience. You will have ample opportunities to do a research project specific to your area of interest or have the option to work on a team oriented research project. There are also great local and national internship opportunities.
Interested in learning more about our communications program?