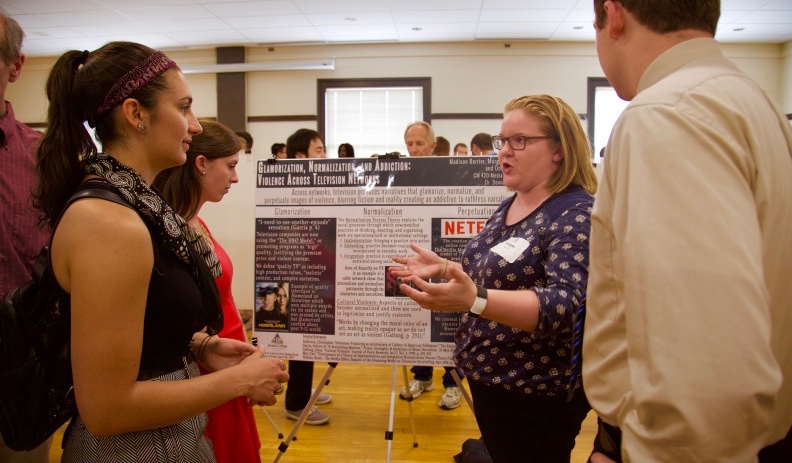 Recent Research Examples:
Morgan Horell '17
Lindsay Scholten '19: "The 'Multiplicities' Concept in Pride and Prejudice."
Bruno Rosa '18: "Quantum Computing: The Catalyst of a Computing Revolution."
Nils Bolder '18: "The Change in Fantasy Themes Surrounding Mental Health Issues in Rap Music 2002-2017."
Evan Brock '18: "College's student's stories on marijuana use: Understanding a culture through narratives."
Diana Langer '17: "Beautiful Suffering: Structuring our vision of refugees as the other through winning Pulitzer Prize images in 2016."
Brittany Mlynek '17: "Establishing an online presence for a rural business: Creating a congruency between Internet strategies and brand to enhance audience reach."
Morgan Horell '17: "Understanding Why: A Creative Analysis of Four Social Media Content Producers and How Company Values Distinguish Their Unique Video Style and Tone."
Stephanie Njeru '17: "How do Kenyan women living in diaspora shape their sexual reproductive health through narrative?
Alexis Hadden '15: "Can You Be Fat and Feminine? A Content Analysis of the Language Used in Continuing the Stigmatization of 'Fat' in American Culture."
Jeanine Haizlip '15: "Narrowing the Divide: Power of Politics or Power to the People?"
Kelsey Livoti '15: "Social Media and Rural Healthcare: A Data Analysis of it's Relevancy and the Role in a Small Community."
Haley Schneider '15: "The Capacity of the Visual Arts to Destroy Cultural and Generation Compartmentalization: An Alternative to Verbal Language, Which Induces 'The Negative'."
Heidi Kleber '15: "Call Me Ganymede: A Feminist Critique Using Bormann's Fantasy Theme Analysis of Shakespeare's As You Like It."
Taylor Whetsel '15: "Does 'IT' Still Matter: A Narrative Approach Exploring the Dynamic Definition of Virginity in the Formation of Women's Sexual Identity."
Matthias Guenzel '15: "Keeping a Cool Head: Using Bitzer's Rhetorical Situation to Analyze the 'Ice Bucket Challenge' as an Effective Viral Phenomenon."
Tobias Krebs '14: "The Violence of 9/11: A Comparison Between the Documentary 9/11 and the Fictional Movie, World Trade Center in the Day That Changed Our Lives Forever."
Allison Blumling '14: "Identity and Agency: A Pentadic Examination of Cancer Survivorship."
Christing J. Briggs '14: "Creating a Digital Identity: Developing the Integrated Media Arts presence.
Elise A. Mihranian '14: "America the Be-You-Tiful: A Content Analysis of Advertising & The Ideal Face of Beauty."
Samantha Ringer '14: "A Frame-Analysis of 'Alternative Medicine' in the New York Times (2005-2010)."
Catherine Scholl '14: "A Fantasy Theme Analysis of Crisis Communication Management in Social Media: How Joining the Conversation Saved the Reputations of the Red Cross and FedEx."
Interested in learning more about our communications program?