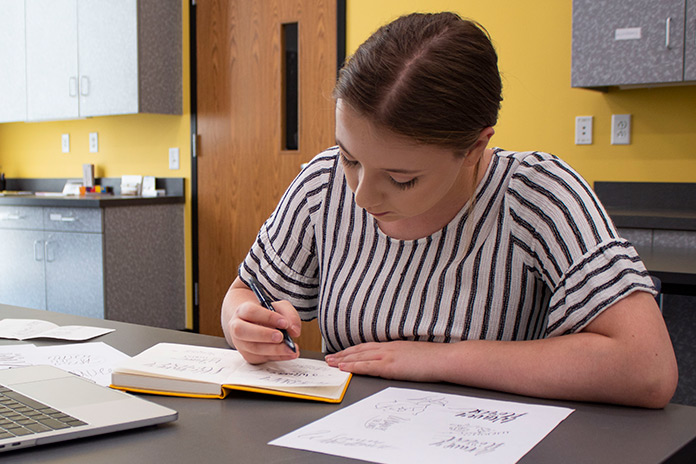 IMA + Marketing
---
I have always been interested in being a designer, but had concerns about finding a career in that field. I chose to study chemistry, but after a year I knew that I wasn't excited about doing it every day. I switched my program of emphasis to integrated media arts (IMA) and now I pursue what I love: design.
Not knowing exactly where to start, I jumped right into the program and took as many IMA courses as possible including IMA Labs I. This class exposed me to client-based work, and helped me realize what my preferred career would be: to work in a team on design projects. For this class, I was a part of the print design team as we partnered with the Huntingdon Community Center. I was responsible for developing a consistent color palette and style guide for the branding materials our class was creating.
For my sophomore year, I worked as a graphic design assistant in the Juniata College marketing department, and it excited my interest in design. This was a great experience - it gave me insight into working within a company as a professional designer. All of the projects I worked on taught me how to meet deadlines, align creative visions, and deliver high-quality work. On top of that I was responsible attending meetings and organizing correspondence. I really enjoyed the environment in the marketing department - I had a certain level of creative freedom, but not too much that it became overwhelming.
The IMA program has made possible other on-campus opportunities in the design field. I am now a teacher's assistant for the Principles of Digital Media course, helping students understand design software and presentation techniques. In addition, I am also a student assistant to the IMA program, assisting in producing design materials that communicate the IMA experience.
In the IMA program, I have been able to deepen my understanding of the design field, and now have a clear vision of my ideal career path.
Community Partners:
"In the IMA program, I have been able to deepen my understanding of the design field, and now have a clear vision of my ideal career path."