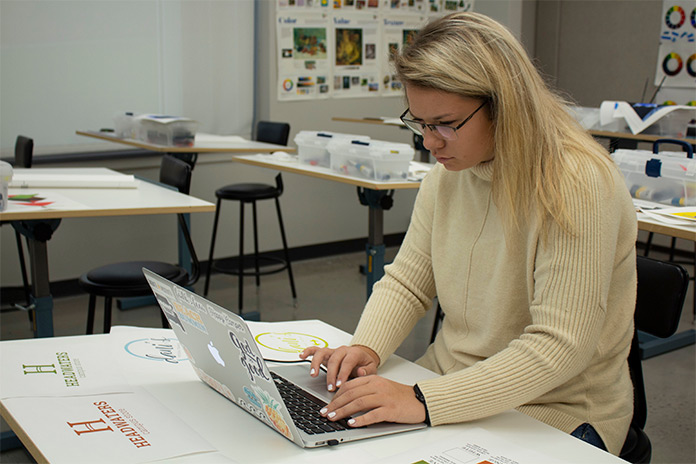 IMA + Marketing
---
I chose Integrated Media Arts (IMA) because I came to college wanting to understand more about digital media. Initially, I wanted to study only photography, but once I was exposed to other IMA and Marketing courses, I found my love for not only design but also how to market my designs effectively for businesses through logos, promotional material, and online presence. With Juniata allowing students to individualize their program of emphasis (POE), I was able to combine my studies in Marketing and IMA to create my own Marketing Design POE.
During the fall of my sophomore year, a key experience I had at Juniata was the Integrated Media Arts Lab I class. We worked with a community client, the Huntingdon Community Center, to rebrand their identity. Together we created a new logo to anchor their new brand, a website, print materials, and multiple videos about the various activities the center offers.
My role for the Huntingdon Community Center project was assisting the web design team which consisted of myself and two classmates. Our main goal for the redesigned website was to make it more user friendly. We incorporated a modern design, simplified pages, and provided updated photos for the website that made it more inviting for users.
With this, my first collaboration with a client, I realized these projects are what I love to do. I gained important professional experience through this partnership with my Juniata team and the community center employees.
The IMA Lab course is extremely beneficial to not only the students, but also to the community members that they partner with. As with most of our community partners, the Huntingdon Community Center did not have the ability to hire a professional to do all of the rebranding work that we provided for their organization.
The Huntingdon Community Center rebranding project opened my eyes to my love for design and my passion for helping businesses to be more effective and efficient in their marketing efforts. This opportunity led me to another community partnership, with Standing Stone Coffee Company, to build the branding for their laundry service.
From my experience with the IMA Labs I course, I found my passion for aesthetic design and giving back to help businesses thrive.
Community Partners:
"I found my passion for aesthetic design and giving back to help businesses thrive."