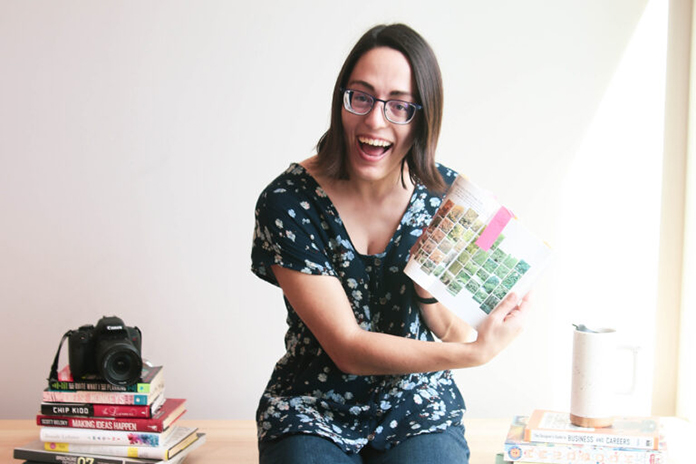 IMA + Communication
---
Growing up, I loved to read, write, and create. As a first-generation college student, I knew I wanted my major in college to reflect those passions, but I wasn't quite sure how to do that. I love writing, so I was interested in doing something that involved storytelling.
When I got to Juniata, I stumbled into the world of Communication. Thanks to Dr. Donna Weimer, the Chair of the Communication Department and my advisor, I was introduced to the IMA program as well. Donna suggested that I take IMA courses for the interdisciplinary learning component I was looking for in my education. I took IMA Seminar and my world changed when I met Professor Ryan Gibboney. Together, my mentors encouraged me to pursue courses in art, art history, digital art, media studies, and community-engaged learning. I individualized my POE to be Communication and Multimedia Arts after that.
Community-engaged learning provided key experiences where I was part of team-based projects to work with local nonprofits. In IMA Lab I, our team designed and developed content for the Huntingdon House. I oversaw the writing for the website, print materials, and press releases. In Group Communication, our team created an internship program for the Huntingdon Community Center. I helped gather market-based research, so the HCC could make evidence-based decisions based on our written proposal. These classes showed me nonprofits need storytellers like me to create a more personal and much stronger presence in their communities.
From freshman to junior year, I worked for Juniata's Marketing Department. I held a position on two separate teams: the Writing Team where I was a student writer and reporter, and the Social Media Team where I was a social media manager of our Instagram. I created content, followed brand guidelines, and shared real people's stories. I am most proud of the two stories I wrote for our magazine. The Calling was a faculty feature about Donna, and Valuing Diversity discussed a partnership to expand Juniata's IMA department. By drafting these stories, I figured out how to use brand voice, develop style and tone, and improve the structure of the content for the magazine. IMA developed my understanding of how to form consistent messages so that I was able to reflect Juniata's mission and values across all platforms and materials.
Beyond that, Juniata Center for International Education (CIE) and the IMA program helped me seek opportunities outside of the classroom. I studied abroad in London, England as a US-UK Fulbright Commission Summer Institute participant. I took the class Photographing the City: London at the University of Westminster, and I was able to focus on my passion for photography. In the module, I developed a project from the pilot phase to the final phase and created a Tumblr to document my work. I would not have even considered the option to study abroad to gain a cultural perspective on multimedia arts and communication without the help of my mentors.
Because of Juniata and the IMA program, I've gained work experience by completing an internship with Kdan Mobile. As a digital media and marketing intern, I wrote blogs, created content, and managed social media campaigns. My favorite part of the job is when I have the opportunity to write blogs that highlight creative projects, internship opportunities, and product features that Kdan offers. Also, I attended a conference in New Orleans with Joey DiGangi, a JC alum and Kdan employee, and Wei-Chung Wang, a VP at Kdan and a professor at Juniata. I was able to network with attendees, promote Kdan's products and services, and learn about the industry. Without Juniata and the IMA program, I would not have had this opportunity or even considered how storytelling relates to marketing. Even though my internship ended, I'll continue to work for Kdan as a social media marketing specialist after I graduate.
Overall, my goal is to use outreach, storytelling, and creativity to connect with people. I want to focus on how storytelling and strategic communication can craft powerful messages. After graduation, I've been hired to work remotely as a digital copywriter for WebFX, an internet marketing company based in Harrisburg, PA. In this role, I'll work with clients to write and edit an array of content types from blog posts to sales copy to long-form content. IMA has made my dream of becoming a storyteller and writer possible. My education is more than I could have asked for because Juniata College and the IMA program let me explore my interests and find my passion.
Community Partners:
My goal is to craft powerful messages using strategic communication and connect with people through outreach, storytelling, and creativity.