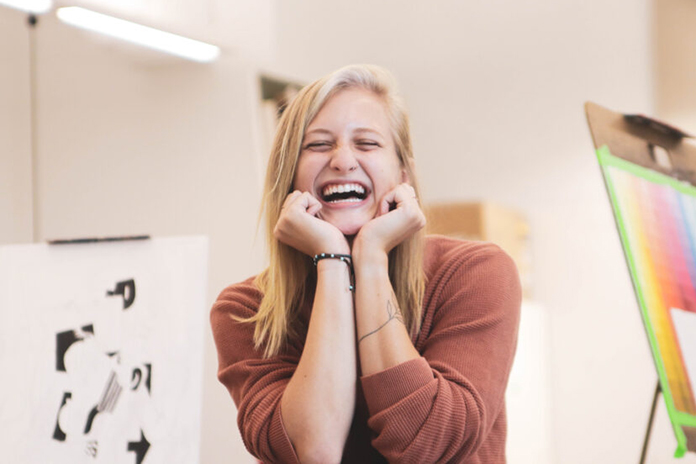 IMA + Communication
---
Juniata has been one of the greatest experiences of my life. From arriving on campus without knowing my clear career path to discovering myself and my passions as an IMA student, I've truly evolved as a student and a person. I was provided with one-of-a-kind opportunities and a support group consisting of both my peers and the staff on campus. My last four years at Juniata have been full of influential experiences to aid my journey to my dream career.
Before I tried a course in the Integrated Media Arts department, I was struggling to figure out what I was going to study. I started at Juniata as an Environmental Science POE, sadly failed Freshman Biology, and realized that this was not the right career path for me. I shifted towards Business, specifically Entrepreneurship, with a combination of IMA because I didn't know what I wanted as a backup. I took IM-110 and instantly fell in love with everything about it. The semester I took IM-110 I also applied to work on the Video Production Team and I quickly fell in love with everything about video as well. From then on everything sort of fell into place. I discovered my creative abilities and realized that this was the perfect fit for me 🙂 The coolest thing about IMA is that there are so many different aspects/topics that you can choose from. This program also allows you to try out whatever you want. At this point, I have experimented with video production (my personal favorite), graphic design, illustration work, photography, the list goes on and on which is an awesome quality of Juniata and Individualizing your education to exactly how you want it.
I chose to individualize because it allowed me to experiment with many different topics. I have also felt that almost all of the classes I have taken in my POE have been SUPER helpful for my chosen career path. I would recommend that every single person individualizes their POE. That is the best thing about Juniata, other than the community.
The campus community is one of a kind, but also having the ability to work with clients in the Huntingdon community is an amazing experience as well. Throughout my time at Juniata, I have been able to work with many different community clients, both on campus and in town. To name a few; All-in Vote Juniata as a video team member, Headwaters Campus Store as a Marketing/Multimedia Design Intern, Juniata's Athletic Communications producing social media graphics and campaigns, and many more. Each experience provided me with a lot of skills to use in my future career. As of now, my dream career is to work in the video and media production field. I would love to make commercials, more explicitly working for Budweiser, as well as working within a team of creative individuals.
Overall, my experiences at Juniata will forever impact my life and career. But, the one thing I will value the most about my experience at Juniata is the community and the opportunity to work in teams constantly. I prefer to work in a team of students because it is so important for me to be able to have a handful of different ideas and opinions. All of the times I have been most successful (DMS, VPT, Athletic Communications, Practicum, Labs, etc.) have all occurred while I was working in a team environment. I cannot explain how much that has impacted what I want to do with my life.
Influential Courses:
CM 230 Interpersonal Communication
IM 375 Integrated Media Labs I
IM 376 Integrated Media Labs II
IM 398 Integrated Media Practicum
CM 132 Message Analysis
Communication Courses
IMA Courses
Community Partners:
Juniata Brewing Company
All-In Vote Juniata
"After four years at a small college in the middle of nowhere, Juniata will still always have a special place in my heart. The community you find here is nothing like you will find anywhere else. This place means the world to me."