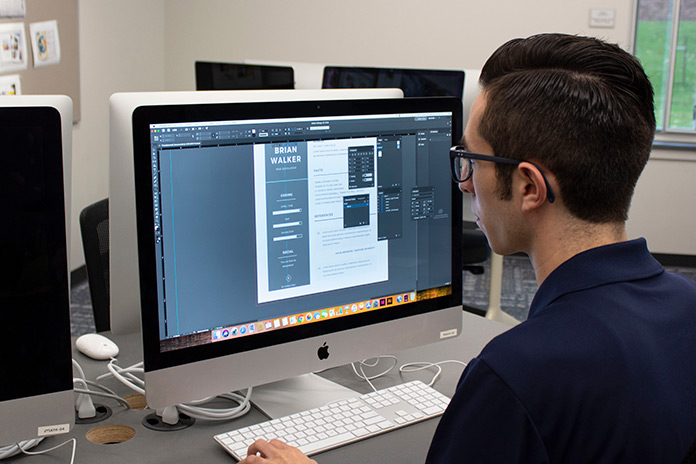 IMA + Communication
---
I currently study graphic communication which is an individualized program of emphasis (POE). Into one POE, I have incorporated all aspects of visual communication that I love. I've been able to combine communication and IMA to create the unique education that I want. It includes project management, social entrepreneurship, and branding for community engagement.
From the communication department I am learning how to be visually literate through classes like Media and Message Analysis, as well as Visual Literacy. I want to know how rhetoric in media functions so that when I design a message, I understand what the most effective and persuasive methods are.
Pulling from the IMA program, I get to strengthen my fine arts skills through core classes like Beginning Drawing and Design and Color. Also, I've had the chance to be involved in the IMA Lab course where we help a community client develop and implement design efforts. Now I know that my dream is to design for companies that focus on community engagement.
A key experience was working on a thesis film project led by Matthew Gaynor titled "Find the Pennies." He needed a marketing manager and I agreed to help as it was great opportunity to gain professional experience. This project was a chance for me to apply the persuasive techniques I learned from various communication courses, as well as the design fundamentals from IMA in the movie posters I created.
I am currently involved with the IMA Lab course where we are working on branding materials for the Huntingdon House, a local nonprofit focused on helping victims of domestic violence. Community-engaged projects and social entrepreneurship are especially important to me. As a graduate of the Milton Hershey School, I have personally benefitted from those who give back. The Milton Hershey School helps underprivileged kids receive an education and obtain scholarships.
My goal is provide my services to those companies who need it, such as non-profits who might not be able to afford design and promotional materials. To me, this is the most gratifying work. Thanks to Juniata, I'm learning the skills I need for community engaged design so I too can give back.
Community Partners:
"Thanks to Juniata, I'm learning the skills I need for community engaged design so I too can give back."