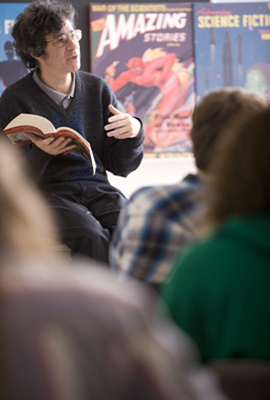 Personalized Education: Our students combine English courses with courses in biology, political science, art, communication, information technology, business, and other disciplines to create individualized Programs of Emphasis specifically tailored to their interests and aspirations. Virtually every career puts a premium on the abilities to think analytically and write clearly, skills honed in our literature and writing courses.
Professional Preparation: Our graduates pursue careers in secondary teaching, media writing, publishing and editing, law, public relations, and dozens of other occupations they've fashioned for themselves by combining their English training with other disciplines.
Portfolio Development: During your time at Juniata, you will have opportunities to write literary criticism, personal essays, poetry, fiction, news stories, editorials, blogs, and research papers. Compile a portfolio that demonstrates to any future employer that you possess the communications skills valued in the professional world.