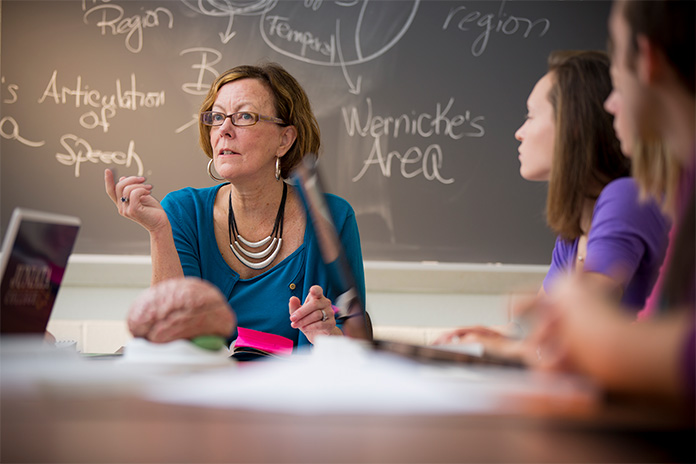 Study the brain and nervous system to uncover why humans behave the way we do. Be a part of learning more about neurological disorders and the treatments that can help those experiencing them. From neurological and psychiatric disorders to opioid use and obesity, our students study a broad range of neuroscience topics in chemistry, biology, psychology, education, and more.
Why Study Neuroscience at Juniata?
Learn from experts in many fields: Juniata's neuroscience program integrates the study of psychology, chemistry, biology, computer science, economics, education, and philosophy. Some courses are team-taught by professors from several of these areas of expertise, which helps you identify your specific interests in neuroscience.
Develop a specialization: As you move through your neuroscience coursework and learning opportunities, you can specialize in one area of neuroscience. Options include molecular/cellular neuroscience, cognitive/behavioral neuroscience, systems neuroscience, or other fields.
Gain experience: Conduct research in neuroscience. You can study a variety of topics about the brain and nervous system, from risky decision making to Alzheimer's disease. When studying neuroscience, you'll answer questions using thought processes from many disciplines—analyzing everything the chemicals in the brain to a person's behavior—and understand how many fields of study intersect.
A Sampling of Courses
Foundations of Undergraduate Neuroscience
Neuroscience Seminar
Functions of Cells and Organisms
Integrated Chemistry
Biopsychology
Biostatistics
Cognitive Neuroscience
Language and the Brain
Learning and Conditioning
Student Opportunities
Research: Study neuroscience in many research contexts. One Juniata biology professor researches the behavior of crawfish and another studies the impacts of healthy behaviors on lifespans by examining C. elegans, a tiny worm. Juniata psychologists study risky decision making and mating preferences in humans. Here, you can contribute to research on these topics, or investigate a topic of your own choosing.
Present Your Findings: Juniata's neuroscience students and faculty have presented research at national and international conferences organized by the American Society for Cell Biology, the American Society for Biochemistry and Molecular Biology, the Genetics Society of America, Psychonomics, and the Northeastern Evolutionary Psychology Society. Students can also present at Liberal Arts Symposium, Juniata's on-campus research and scholarship event.
Our Recent Graduates
Many students studying neuroscience decide to pursue graduate degrees or attend medical school after graduating from Juniata. Others secure careers in industry, often doing work that includes running clinical trials for pharmaceuticals.