The Cultural Resource Institute at Juniata College aims to facilitate scholarly and scientific research of cultural resources by providing support through project management, educational opportunities, and funding. The terminology, Cultural resources, refers to physical evidence of past human activity; these generally include artifacts, archaeological sites, and architectural structures. Students interested in anthropology, history, museum studies, environmental science, as well as others, can become involved in ongoing and independent research through the CRI.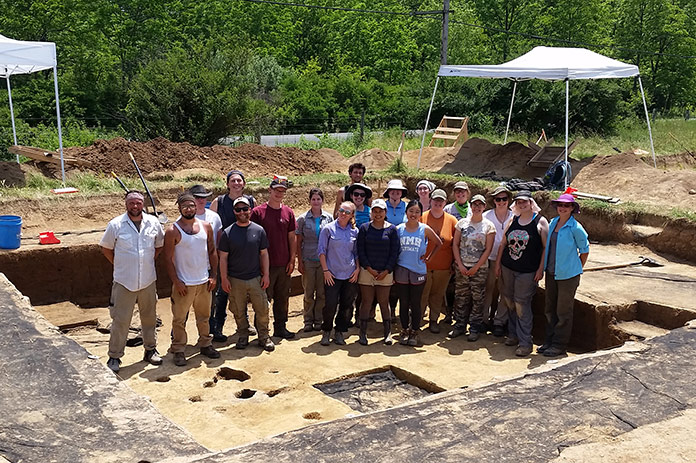 Juniata College and Penn State students at the James W. Hatch Site in Centre County, PA.
Documenting cultural resources is an interdisciplinary endeavor.
CRI Benefits at Juniata College:
The institute acts as a hub to integrate projects and activities into the larger fabric of the community, and creates experiential learning opportunities through professional networks and cooperation with government and non-profit agencies.

The institute maintains a laboratory on campus where artifacts may be processed, catalogued, and studied.

Internships are available to students in order to provide hands-on experience and marketable skills for professions related to historic preservation.
JC CRI Projects in Pennsylvania:
The CRI is involved in colonial-era sites dating between 1753 and 1763, as well as Native American sites spanning the past 16,000 years of human prehistory.
Sparks Farm
The Sparks Farm is a 300-acre riverfront tract that was graciously donated to Juniata College to develop and use for educational programming. Along with the land came an artifact collection chronicling the site's use for thousands of years of prehistory by various Native American groups that occupied this stretch of the Raystown Branch of the Juniata River throughout prehistory.
Student research is underway to document the donated collection and to lay the groundwork for a long-term archaeological testing program. Initial testing has already located a Terminal Archaic occupation along the floodplain roughly dating to 4000 years ago. This occupation predates ceramic technology when prehistoric Pennsylvanians fashioned cooking containers from steatite (or soapstone) and preferred Metarhyolite for making their stone tools, both obtained through regional networks of trade and exchange.
Read about the Spark's Farm donation to Juniata College here: Sparks donate their farm to Juniata College
Click to enlarge the photos

Fort Shirley
The Fort Shirley Site is a complex archaeological site located in southern Huntingdon County where George Croghan established a trading post in 1753. The complex was subsequently fortified in response to British General Braddock's ill-fated expedition in 1755 to remove the French from Fort Duquesne at the Forks of the Ohio River, present-day Pittsburgh. Fort Shirley was the staging point for the Kittanning Expedition in 1756, and before its construction, served as place of Native American council during the year leading up to the outbreak of the French and Indian War.
Five seasons of archeological excavation have located and defined the palisade fort, creating an extensive artifact collection currently housed for cataloging and analysis in the CRI laboratory.
A rare artifact from the site, a copper charm with an Arabic inscription, is on loan to the Museum of the American Revolution in Philadelphia for exhibition through 2020 in a display featuring religious diversity in Colonial Pennsylvania.
Read the Altoona Mirror's newspaper article about Juniata College here: Muslim charms tells a story: Juniata College loans religious relic to American Revolution Museum
Fort Lyttelton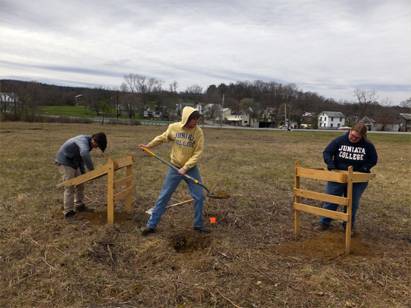 The Fort Lyttelton Site, in Fulton County, is another colonial fortification constructed in 1755 to protect Pennsylvania's frontier, and is currently owned by the Archaeological Conservancy, a national non-profit organization dedicated to protecting significant archaeological sites. The fort was at the center of early Indian raids into the region and then an important fortification on the Forbes Road.
The Cultural Resource Institute is conducting archaeological reconnaissance and survey to assist the non-profit organization with management and stewardship. The site has produced a diverse collection of French and Indian War-era artifacts such as English Ceramics, glassware, buckles, lead balls, a swivel gun, and other artifacts of conflict.
Fort Ligonier
The CRI is in engaged in a long-term project with Fort Ligonier, a non-profit living museum dedicated to the interpretation of this fortification's role in colonial conflict, to locate and interpret archaeological remains still undetected on and around the property in the modern town of Ligonier in Westmoreland County, PA.
Fort Ligonier was the last fortification on the Forbes Road before the military objective of France's Fort Duquesne at the Point in modern-day Pittsburgh. In 2017, the CRI is returning to the site also in cooperation with Operation Nightingale USA, a non-profit with the mission of involving combat veterans with archaeological projects on military sites for therapy and fellowship.
Check out Fort Ligonier's website here: Fort Ligonier's Website

McCord's Fort
McCord's Fort is a civilian fortification near Chambersburg, PA, that dates to the outbreak of the French and Indian War. A famous incident occurred here when the family was attacked by hostile Indians from Kittanning, resulting in the taking of colonist captives and the subsequent battle of Sideling Hill involving troops from nearby Fort Lyttelton. Although the exact location is not yet know, the CRI is working with the landowner and volunteer group to conduct testing and document metal-detector finds. Most recently, students from Applied Archaeology help steward this site during field trips and independent studies.
Read more about McCord's Fort here: Fort McCord
Fort Dewart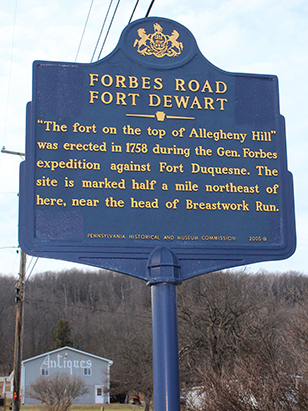 The many historic preservation projects conducted by the CRI came to be through cooperation with responsible landowners; one such site is Fort Dewart in Somerset County, Pennsylvania. This fortification was part of the Forbes Campaign in 1758 to dislodge the French from Fort Duquesne, serving as a waypoint above Rhor's Gap at the top of the Allegheny Front.
The 77th Highland Regiment under order by Colonel Henry Bouquet constructed Fort Dewart. Its Scottish namesake is Castle Duart on Mull, so dubbed by commanding officer Sir Allan MacLean. This 72-foot square redoubt fort is unique in that it is visible above ground and currently stewarded by a property owners' association determined to preserve it.
For more information click here: Fort Dewart and Forbes Road
Activities Supported by the CRI:
Annual Field and Laboratory Internships for JC students
Archaeology Fieldwork Course (AN 353)
Applied Archaeology Course (AN 255)
Clash of Cultures Course (CA 316 and 317)
Summer Kid's Camp at Spark's Farm
Spring Break Archaeology in the Chesapeake
Juniata College Alumni Weekend
2017 Pennsylvania Archaeology Month Poster