Erin Tansimore Class of 2020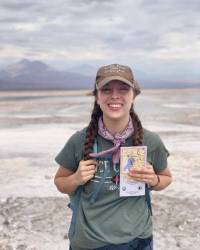 Activities: Tour Guide, Ultimate Frisbee, Eco-House, Yoga club, Rock-climbing club, Environmental Coalition
I I transferred to Juniata as a sophomore after spending my freshman year at a huge urban university. I immediately fell in love with the close-knit community on campus and in Huntingdon. It feels amazing to be able to walk across campus and be greeted by countless peers and faculty members that you have easily formed close bonds with in classes, the dining hall, office hours, residence halls, and student clubs. I know that no matter what I need, academically, emotionally, or otherwise, my professors, teammates, and friends will always be there to support me.
Have questions about the transfer student experience? If so, just ask! Please feel free to email me at tansiem17@juniata.edu
Read other Transfer Student stories:
Catherine Adcock '18

Activities: Student Government President, Chinese Club, and Japanese Club

The orientation program called Inbound really helped me fit in with the campus community. There were actually two other transfer students in my group. It was comforting to know other people were having a similar experience to mine at the same time. I continued to make connections with my peers throughout the semester. It didn't it take me long to feel at home.

Any time I would have an issue or a concern, my advisors and professors were always able to help. They really are the best!

Laura Chiarella '20

Activities: Art Alliance and Quidditch Club

I came into Juniata as a sophomore from a larger University. I chose Juniata because I wanted to be part of a community. People on campus are very welcoming and it was easy to make friends and connections. Some of the people I met the first day I was here are still my friends today.

Everyone I met was genuine. They were all real and honest. My advisors were helpful and simplified the transfer credit process. I never felt alone during my transition to Juniata.

Lauren Ferretti '18

Activities: Women's Soccer Team

I transferred to Juniata before my Junior year began. I was worried because juniors usually have their friend groups already, but I was welcomed with open arms, especially with the soccer team.

It was easy for me to make friends around campus. I met 27 great girls from the soccer team. Everyone kept asking me how my transition was, and made sure it was a smooth process. People were genuinely interested in how I was doing, and it made me feel like part of the community from the beginning.