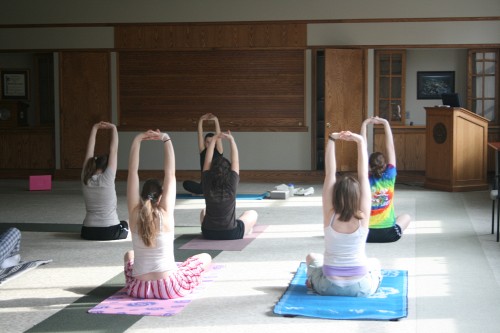 It seems that students today are always busy. Busy with academics, clubs, sports, jobs, internships, and other extracurricular activities. "Somewhere around the end of the 20th century, busyness became not just a way of life but a badge of honor. And life, sociologists say, became an exhausting everydayathon." *
This retreat will focus on reminding students to take time for themselves – their Mind, Body, and Spirit. Students can expect to participate in activities such as yoga, meditation, and hiking, plus discussions involving healthy living – physically, mentally and spiritually. Students in this retreat will get to explore all the ways Juniata and the Huntingdon community can keep them happy and healthy. Touring the different places of worship in town, getting the inside scoop on eating well with your meal plan, and building new friendships are all on the agenda!
(http://www.post-gazette.com/opinion/Op-Ed/2014/03/28/Im-busier-than-you-are-BRIGID-SCHULTE/stories/201403280232#ixzz2zXxoR1KT)
Each retreat will also have the opportunity to mingle with other retreats and participate in larger group activities and programs.