The Health Center is located on Moore Street between 16th and 17th. Please see below for hours of operation.
Health Services
Mondays: 9:00 a.m. to noon; 1:00 to 4:00 p.m
Monday Evenings: 6:00 to 8:00 p.m.
Tuesdays: 9:00 a.m. to noon; CLOSED TUESDAY AFTERNOON
Wednesdays: 9:00 a.m. to noon; 1:00 to 4:00 P.M.
Thursdays: 9:00 a.m. to noon; 1:00 to 4:00 p.m.
Fridays: 9:00 a.m. to noon; 1:00 to 4:00 p.m.
Contact Info - Health Center
Phone: (814) 641-3410
Fax: (814) 641-3712
Students - check out the exciting new Student Health 101- lots of good advice on how to get and stay healthy!
And parents - there is a version for you too! Go to Student Advocate for helpful articles.
The Juniata College Health Center aspires to ensure the optimal health and wellness of the entire Juniata campus community. The Health Center encourages students to engage in healthy activities and to maintain a healthy state of mind. In order to achieve its goals, the Center provides many preventative and intervention services to members of the Juniata campus community.
IS THIS YOU?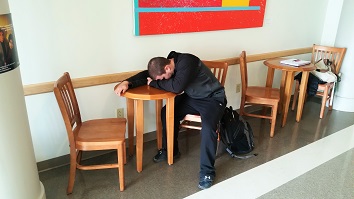 According to the National Sleep Foundation, most adults need 7-9 hours of sleep each night to feel fully rested. Are you getting enough? Lack of sleep contributes to and/or exacerbates many conditions including obesity and depression. It also causes drowsy driving, which is a major factor in 100,000 accidents a year and over 1,500 deaths.