Juniata Honors Three Professors with Teaching, Service Awards
(Posted May 4, 2011)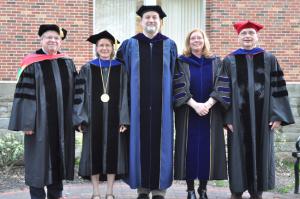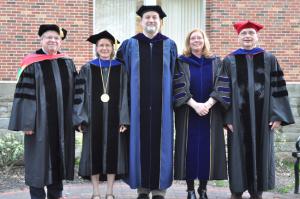 HUNTINGDON, Pa. -- Three Juniata College faculty members were honored Tuesday, May 3, with distinguished teaching and service awards during the College's Spring Awards Convocation in Rosenberger Auditorium in the Halbritter Center for the Performing Arts. Honored for their work were Jill Keeney, Goodman-Rockwell Chair in Biology; Emil Nagengast, professor of politics; and Alison Fletcher, assistant professor of history.

The convocation was held in Rosenberger Auditorium in the Halbritter Center for the Performing Arts. The convocation address was given by Michael Boyle, von Liebig Chair in Biomedical Science.

Keeney, a Huntingdon resident, was honored with the 22nd annual Beachley Award for Distinguished Academic Service, and Nagengast, a Huntingdon resident, was named the 44th recipient of the Beachley Award for Distinguished Teaching. Fletcher, an Allenville, Pa. resident, received the Henry and Joan Gibbel Award for Distinguished Teaching (by a faculty member with fewer than six years of service).

Nominations for the awards are received from students, faculty, administrative personnel, alumni and trustees. The college president, the provost, the student government president, and the three most recent recipients of the award make the final selections.

The last three Distinguished Teaching Award recipients were Michael Boyle, von Liebig Chair in Biomedical Science (2010); James Roney, professor of Russian (2009); and Loren Rhodes, Dale Chair in information technology (2008). The first academic service award was presented in 1989 to the late Mary Ruth Linton, professor emerita of music. Last year's recipient was Celia Cook-Huffman, Burkholder Professor of Conflict Resolution. The recipients of the 2010 Gibbel Award for Distinguished Performance were Philip Dunwoody, associate professor of psychology, and Kathleen Biddle, associate professor of education.

Thomas R. Kepple, Juniata president, in his introductory remarks for Nagengast, said, "He has taken his interest in the emerging and ever-changing politics of Africa and created a new program at the College and established a thriving study-abroad program in Africa."

Emil Nagengast came to Juniata in 1996 as an assistant professor of politics. He received the 2000 Beachley Distinguished Teaching Award for Junior Faculty.

Nagengast came to the college as a specialist in Eastern European politics, focusing particularly on East Germany. Since 2004 he has added African politics to his research and teaching interests. He took a sabbatical to do field research in Ethiopia at the headquarters of the African Union and in the Gambia at the headquarters of the African Commission for Peoples and Human Rights. He received a Rotary Grant for University Professors to teach at the University of The Gambia His experience there inspired him to create a new course on African politics, and he founded a study-abroad program in The Gambia that started as a summer program and expanded to a semester long program at the University of The Gambia.

He continues to take Juniata students every year on a summer program in West Africa.

He teaches a variety of international politics courses. He was promoted to associate professor in 2002. He earned a bachelor's degree from Middlebury College in 1984. He earned a master's degree in political science in 1990 from the University of Kansas and earned a doctorate in political science at the University of Pittsburgh in 1996.

Nagengast also attended Karl Marx Universitat in Leipzig, Germany; Middlebury College Summer Russian Language Institute; Krasnodar Russian Language Institute in the former USSR; and Johannes Gutenberg Universitat in Mainz, Germany.

Jill Keeney joined the Juniata faculty in 1994. She earned a bachelor's degree in biochemistry from Penn State University in 1985, and went on to earn a doctorate in immunology in 1990 from Washington University in St. Louis, Mo. In addition to introductory biology, she teaches courses in bioinformatics, advanced genetics and molecular biology techniques.

She was promoted to associate professor in 1999 and was promoted to full professor in 2004. She was named the David Goodman-Kenneth Rockwell Chair in Biology in 2007. In addition, she received the 1999 Beachley Award for Distinguished Academic Service for junior faculty.

"Jill Keeney has been dedicated to Juniata's mission to enhance student-based research since her first day on campus," said Kepple in his introductory remarks. "She also is one of our most conscientious advisers, ensuring that every biology graduate is on the path that best suits their talents and aspirations."

She has developed a student-centered research program focusing on the mechanism that allows the transposition of the Ty retroelements in baker's yeast, and she has received major research grants from the National Institutes of Health and the National Science Foundation.

She has published numerous professional articles, almost always with Juniata students as co-authors. Keeney also has taken numerous students to present their research at professional conferences and meetings. Prior to coming to Juniata, Keeney was a postdoctoral fellow in the Department of Genetics and Molecular Biology at the Johns Hopkins University School of Medicine. In 1991, she was awarded a postdoctoral fellowship from the American Cancer Society.

Alison Fletcher joined the Juniata College faculty in 2007 as an assistant professor of history. She previously worked at as assistant professor of history at Kent State University from 2003 to 2007.

She specializes in European history and has taught a variety of courses, including The Great War, Crimes Against Humanity, the history of women in Britain and The British Empire.

Fletcher is currently working on a book, "Faith in Empire: The London Missionary Society and the Building of British Colonial Modernity," which details how British evangelical missionaries functioned as part of the British empire in southern Africa and Madagascar, as well as how those returning missionaries and their converts became independent influences on colonial policy.

She earned a bachelor's degree in history in 1992 from Bryn Mawr College in Bryn Mawr, Pa. She went on to earn a master's degree in history in 1995 and a doctorate in history in 2003, both from The Johns Hopkins University, in Baltimore, Md.

She has published several articles in professional journals, including Minerva: Journal on Women and War, and the Journal of Religious History.

She started her teaching career as a graduate student at Johns Hopkins, working as a teaching assistant from 1994 to 1995. She held a series of jobs as an instructor in history from 1997 to 2003 at the University of Pennsylvania (1997, 2001-2003), St, Joseph's University (1997-1998), Cedar Crest College (1998), and Bryn Mawr College (2000).

Fletcher received the 2006 Graduate Applause Teaching Award from Kent State and was named a Teaching Scholar in 2004. In 1992 she received the Helen Taft Manning History Prize.
Contact April Feagley at feaglea@juniata.edu or (814) 641-3131 for more information.