Commencement Speaker Delivers Message to Graduates Through Three Letters
(Posted May 16, 2011)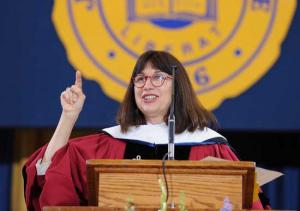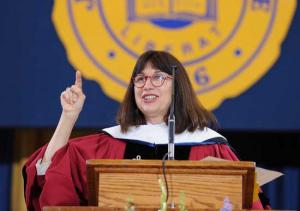 HUNTINGDON, Pa. -- Maryanne Wolf, professor of child development and director of the Center for Reading and Language Research at Tufts University, turned the traditional commencement speech in its head by reading three short letters to individual members of the assembled 2011 graduating class at Juniata College's 133rd commencement ceremony, Saturday, May 14, saying the letters were "a graduation gift to you -- not for today, because you will barely listen to them -- but to store for a later time, when you might need something in them quite unexpectedly."

The graduating class of 319 students was awarded bachelor of arts (108) or bachelor of science degrees (211) at the ceremony today overseen by Juniata President Thomas R. Kepple Jr. The senior graduating class statistics include that 95 percent graduated in four years or less, 48 percent of seniors studied abroad, and 76 percent completed an internship, research experience or student teaching, and 33 percent completed an individualized study program.

In addition, President Kepple awarded an honorary doctor of humane letters degree to David Goodman, CEO of D.C. Goodman and Sons, before Wolf was awarded her own honorary degree.

Wolf dedicated her letters to four graduating seniors, one of them an education major from Huntingdon, another addressed to a psychology major from Altoona, Pa., and titled them "On Being a Decent Person," "On Using All Your Intelligence in the Real World," and "On Conquering the World 'One Child at a Time.'"

Wolf opened her address by dedicating her first letter to Yao Li, an international student from Chengdu, China, saying, "Every morning go to it. Look out upon your day and order that day according to what is truly most important to do. How do today's choices fit within two ongoing perspectives: the larger perspective of your potential contributions to the larger society, and the smaller but equally essential perspective of being good and decent to those you love and who love you?"


"You who will lead us into further into the 21st century, never let the distinctions among information, knowledge, and wisdom be lost to the next generations: we must preserve all three -- only a society capable of virtuous action can move our species into future stages of human development that are grounded in both intelligence and compassion for each human being."

Maryanne Wolf, professor child development, Tufts University
Wolf's next letter, addressed to Jaclyn Johnson, a psychology major from Altoona, urged the class to examine its own psychological underpinnings. "Look at your own thinking and the differences it has undergone over your own lifetime," she said, adding "As you grew into the young scholars who sit before me today, you experienced the opportunity of a lifetime: you learned how to hold several contrasting viewpoints in mind at one time and evaluate their worth, not based on what others think, but based on your own honed ability to think for yourself with all your intelligence."

Wolf asked the entire class to be aware of their potential to use the highest levels of thought and the collective need to choose according to their "most critically analytic capacities" and the class' "highest principles and priorities." She assured the class if they approached each day using decency and all their intelligence, they can "conquer the world."

Wolf's final letter, addressed to Tyler Morelli, an education major from Huntingdon, and Erin Schillinger, an education major from Fogelsville, Pa., focused on two future teachers because "society's teachers at every level are the guardians and transmitters of the best of human knowledge." She told the two fledgling educators that they "must teach the next generation all that they need to survive in a digital world, and all that they need to think critically, analytically, and at their deepest levels." Only then, Wolf said, can the next generation understand how all the information human beings absorb every day can be applied wisely.

She concluded her address by reminding the graduates, "We who teach need to transmit a mode of learning that is not content with the ever more immediate, ever more passive reception of information, but seeks to go beneath, above, and beyond." She added, "You who will lead us into further into the 21st century, never let the distinctions among information, knowledge, and wisdom be lost to the next generations: we must preserve all three -- only a society capable of virtuous action can move our species into future stages of human development that are grounded in both intelligence and compassion for each human being."

The 2011 Senior Class Gift collected more than $39,749 (79 percent of the class contributed to the gift), for a public clock to be displayed on the college's quad, adjacent to the college's public flagpole.

Wolf, whose research is focused on the neurological basis for language, reading and dyslexia, started her college career as an English major. After earning a master's degree in English, she taught reading to schoolchildren at an impoverished Filipino mission school in Hawaii, where she began to understand the effects of illiteracy on human development. She applied to Harvard University for her doctoral studies, in order to study how children learn to read and what she could do ameliorate the causes of illiteracy and reading failure.

Wolf's work in reading intervention has been recognized around the world. She is the author of the RAVE-O Intervention Program, a comprehension program for struggling readers that was proven successful in two major federal studies.

Wolf is the author of "Proust and the Squid: The Story and Science of the Reading Brain," which has been translated into 12 languages and has received awards for the best book on reading. "Proust and the Squid" devotes equal parts to the history and science of how humans learned to read, to the reasons why some humans fail to learn, and to the effects of digital media on an evolving reading brain.

Wolf earned a bachelor's degree in English in 1969 from St. Mary's College/Notre Dame and went on to earn a master's degree in 1970 in English literature from Northwestern University. She earned her doctorate in education in 1979 from Harvard University.

Wolf joined the faculty at Tufts University in Medford, Mass., in 1980 as an assistant professor. She was promoted to associate professor in 1987, and to full professor in 1999. Tufts named Wolf director of the university's Center for Reading and Language Research and she was named the John DiBiaggio Professor of Citizenship and Public Service for her work in literacy.

Most recently, Wolf is working with members of the MIT Media Lab to create platforms for acquiring literacy for the many children around the world who have no teacher or schools.

David Goodman, a native of Mount Union and a longtime Huntingdon resident, has long been a champion for Juniata programs. In 2007, he honored his former biology professor, Ken Rockwell, now retired, by establishing the Goodman-Rockwell Chair in Biology, a post currently occupied by Jill Keeney, professor of biology. He also helped fund opportunities for faculty in the humanities, social sciences and earth sciences to do funded summer research with Juniata students. He also has given generously to a variety of Juniata building projects, most notably the von Liebig Center for Science and Founders Hall. He is a regular contributor to the Juniata Scholarship Fund and contributed work toward a new athletic locker room for the Juniata women's basketball team.

Goodman, in addition to his duties at Goodman & Sons, was a founding director of Nittany Financial Corporation, the parent company of Nittany Bank. When Nittany Bank was sold to National Penn Bank, in Boyertown, Pa., Goodman was asked to serve on the National Penn Bank's board of directors. He also serves on the board of directors for Miller Auto Parts Co. in Huntingdon and Golden Eagle Asset Management Company in New York City. He recently joined the board of Miller Chemical & Supply LLC, based in Hartford, Conn.

Contact April Feagley at feaglea@juniata.edu or (814) 641-3131 for more information.