Chemistry Student at Juniata Receives Fulbright, DAAD Scholarship
(Posted June 7, 2011)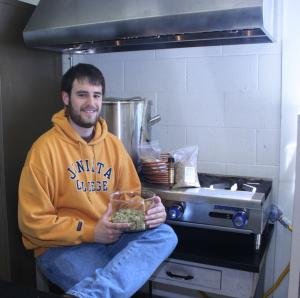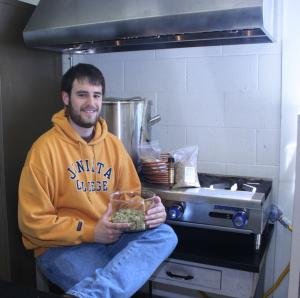 HUNTINGDON, Pa. -- Brandon Moyer, a senior from York, Pa. studying chemistry at Juniata College, has been granted a Fulbright Fellowship to join a research team at Philipps University in Marburg, Germany for the 2011-2012 academic year by the U.S. Department of State and the J. William Fulbright Foreign Scholarship Board.

Moyer, the son of Michael and Danyelle Moyer of York, will spend the upcoming academic year in Germany working to develop a catalyst system to synthesize natural products. Previously, Moyer spent his junior year (2009-2010) studying abroad at Philipps University and had focused his Fulbright application on the German university.

This summer, Moyer will travel to Germany early to take part in a research internship with BASF in Ludwigshafen, Germany from May through August. Moyer received the German Academic Exchange Service's (DAAD) undergraduate/graduate scholarship to fund the internship.

The DAAD scholarship is for qualified undergraduate students to fund senior thesis research, internships, and study in Germany. DAAD is a German national agency aiming to bring together U.S., Canadian and German Universities, professors and students, to provide fellowships and programs for students from the United States and Canada and to promote Germany's academic, scientific and cultural accomplishments.

After completing his Fulbright Fellowship, Moyer plans to enter the doctoral program in chemistry at the University of North Carolina at Chapel Hill.
Moyer's scientific work has been recognized previously, with a 2009 Barry M. Goldwater Scholarship. Students selected for this scholarship are chosen based on academic merit from the fields of mathematics, science and engineering.

After completing his Fulbright Fellowship, Moyer plans to enter the doctoral program in chemistry at the University of North Carolina at Chapel Hill.

During his Juniata career, Moyer has presented his research at the college's Liberal Arts Symposium and also made poster presentations at national meetings of the American Chemical Society in 2011 in Anaheim, Calif., and in 2010, in Salt Lake City, Utah. He also worked as an intern at the National Academy of Sciences of the Czech Republic in summer 2009.

He is a member of the Chemistry Club and the German Club.

The Fulbright U.S. Student Program equips future American leaders with the skills they need to thrive in increasingly global environment by providing funding for one academic year of study or research abroad, to be conducted after graduation from an accredited university.

The Fulbright Program is sponsored by the United States Department of State, Bureau of Educational and Cultural Affairs. Financial support is provided by an annual appropriation from Congress to the Department of State, with significant contributions from participating governments and host institutions in the United States and abroad. The presidentially appointed J. William Fulbright Foreign Scholarship Board formulates policy guidelines and makes the final selection of all grantees.

The Institute of International Education administers and coordinates the activities relevant to the U.S. Student Program, including an annual competition for the scholarships. The Fulbright Program also awards grants to American teachers and faculty to do research, lecture and teach overseas. In addition, some 2,200 foreign Fulbright students and scholars come to the United States annually to study, carry out research and lecture at U.S. universities, colleges and secondary schools.

Contact April Feagley at feaglea@juniata.edu or (814) 641-3131 for more information.