Alumni Achievement Awards Presented to Five Graduates
(Posted June 20, 2011)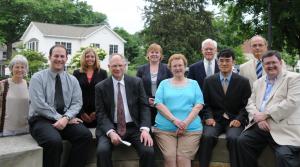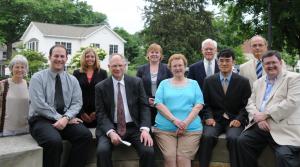 HUNTINGDON, Pa. -- Juniata College presented five alumni-related awards Saturday, June 11, during Alumni Assembly, part of Juniata's "Alumni Weekend 2011." Pasadena, Calif. resident Kunio Sayanagi, postdoctoral fellow at the University of California, Los Angeles, was awarded the Young Alumni Achievement Award; Wallingford, Pa. resident John Stauffer, a retired executive at Rohm and Haas Co., received the William E. Swigart Jr. Alumni Humanitarian Award; Woodbury, N.J. resident Joan Van Note, a retired guidance counselor, received the Harold B. Brumbaugh Alumni Service Award; East Lansing, Mich. resident Christopher Peterson, professor and Nowlin Chair of Consumer-Responsive Agriculture at Michigan State University, was awarded the Alumni Achievement Award; and Dr. William Olstein, a resident of Nantyglo, Pa., received the Health Professions Alumni Appreciation Award.

Kunio Sayanagi, a 2000 Juniata graduate, has been a postdoctoral fellow at UCLA since October 2010 and currently researches atmospheric jetstreams and turbulence on Saturn and Jupiter.

The planetary scientist also maintains a side career as a freelance science writer for Ars Technica and serves on the executive board of the UCLA Society of Postdoctoral Scholars. Before moving to UCLA, he worked as a researcher at the University of Louisville from 2007 to 2008, and then at the California Institute of Technology from 2008 to 2010.

While at CalTech, Sayanagi was named as one of 50 scientists nationwide to be part of the National Academies Planetary Science Decadal Survey, a team of researchers tasked with making recommendations to the National Aeronautics and Space Administration on the planetary exploration strategy in the coming decade from 2013 to 2023. He was one of 10 experts on the panel specializing in the gas-giant planets. He was the youngest member of the survey team, which had 71 scientists from the U.S. and abroad.

Sayanagi earned a bachelor's degree in physics and mathematics from Juniata and went on to earn a master's degree in 2004 and a doctoral degree in 2007, both in physics, from the University of Arizona in Tucson, Ariz.

John Stauffer, a 1966 Juniata graduate and a native of Wallingford, Pa., retired as the technical director for the Paint Quality Institute of the Rohm and Haas Co., a supplier of raw materials to paint companies based in Spring House, Pa.. He started with the company in 1968, specializing in the marketing of raw materials to paint manufacturers. He eventually became market manager for the company's acrylic latex business for exterior paint. As director of the Paint Quality Institute, he created training manuals, sales CDs and conducted training sessions for sales staff and professional painters.

Before joining the corporate world, Stauffer served as a Peace Corps volunteer immediately after graduation from Juniata. He spent two years teaching science, English and art to youngsters in Eritrea, then a province in northern Ethiopia. He returned to the United States in 1968.

Over time, Stauffer lost track of his Eritrean students as he concentrated on his career and with is wife, Darleen, rearing their son Tad, a 2001 Juniata graduate, and daughter Amanda. He retired from Rohm and Haas in 2006.

In 2003, Stauffer received several phone calls from former students in Eritrea and learned of the newly established nation of Eritrea. After a 30-year civil war with Ethiopia, the country declared independence in 1993. Although the country ratified a constitution, an ongoing war with Ethiopia has meant Eritrea has been under martial law since declaring independence.

After talking to more of his Eritrean students in 2005 Stauffer and some Eritrean friends started The America Team for Freedom for Eritrea "to eliminate, through peaceful means, the practice of the current regime, of cruelty, torture, rapacity and murder visited on the population of Eritrea." Stauffer and others drafted a House of Representatives bill and resolution to support Eritrean democracy.

In early 2010 the group dedicated its focus to helping Eritrean refugees with college scholarships in Ethiopia, and assisting refugees recently resettled to the United States. The renamed the group The America team for Displaced Eritreans and launched www.EritreanRefugees.org..

Stauffer also has been an active volunteer for Juniata, participating on the Juniata Career Team, a Fundraising 07 volunteer, and a guest lecturer. He also has donated a restored antique pool table to the college, which receives frequent use in Ellis Hall, Juniata's student center.

Joan Van Note, a 1966 Juniata graduate and a retired guidance counselor from New Jersey High School in the Buena School District, graduated from Juniata with a bachelor 's degree in elementary education and went on to earn a master's degree in 1971 from Glassboro State College, now Rowan University.

Van Note, a native of Woodbury, N.J., received the Brumbaugh Award in recognition of the four-decade career as class fund agent for her graduating class. As the class fund agent, Van Note is charged with contacting members of her class to solicit donations for Juniata. Since 1967 she has personally contacted every member of her class every year.

Her career began as an elementary school teacher, overseeing fifth graders in Woodbury for three years and moving to West Deptford High School to teach earth science. In the early 1970s, she earned a master's in student personnel services and became a guidance counselor. She retired from Buena Regional School District in 2005.

She remains active in her community, serving on the administrative council for Kemble Methodist Church and participating in evening Bible study. She has been a member of the Greater Woodbury Kiwanis Club since 2005, serving as its president and currently as Lieutenant Governor for Division 2 of the New Jersey District of Kiwanis. She led the successful effort to start a new Kiwanis Club in Vineland, N.J., and writes both a monthly newsletter for the Greater Woodbury Club and for Division 2 Clubs.

She is an avid lifetime fan of the Philadelphia Phillies and volunteers for the Welcome Staff at home games.

In addition to her work as class fund agent, Van Note has been a member of the Juniata College Heritage Society since 1991. She also served as a coordinator for the Century II Campaign and volunteered as reunion coordinator for her class. She also served as a member of the college's Alumni Council from 1981 to 1983.

Christopher Peterson, a native of Nook, Pa. and a 1974 Juniata graduate with a bachelor's degree in political science, is an agribusiness economist as well as the Homer Nowlin Chair of Consumer-Responsive Agriculture and professor of agricultural, food and resource economics at Michigan State University. He also is director of the Michigan State University Product Center for Agriculture and Natural Resources.

As director of the product center, Petersen oversees a statewide network of Innovation Counselors and the center has assisted about 1,400 clients in creating business plans and product concepts and launched more than 150 new businesses or new products.

Peterson's research and outreach interests include strategic management, entrepreneurship, business innovation, vertical coordination strategy, supply chain management and value-added ventures and differentiated product development. He also is weaving sustainability into his work based on creating "futuring" scenarios within the agri-food and bioeconomic systems. He also has collaborated on more than 70 strategic management projects for agribusinesses, food companies and commodity associations.

Peterson serves on the state advisory board for the Michigan Small Business and Technology Development Centers. He also serves as a director on three cooperative boards: the Michigan Sugar Company, CoBank and the former St. Paul Bank for Cooperatives. His emerging work in sustainability issues brought him to serve on the Executive Committee of the Sustainable Michigan Endowed Project, as well as on the international advisory board of TransForum, a consortium dedicated to scientific and practical discoveries to enhance sustainable agriculture in the Netherlands and around the world.

Peterson's wife, Debra, also graduated from Juniata in 1974. The couple has three children: Christopher, John and Abigail. After graduation, Peterson worked as assistant to the general manager for the Valley Rural Electric Cooperative from 1974 to 1979.

Peterson went on to earn an M.B.A. in 1981 from the Harvard University Business School. In 1981 he returned to Juniata to teach in the Department of Economics and Business Administration. During his time at Juniata, he established a small-business outreach center. He earned a doctoral degree in agricultural economics in 1991 from Cornell University in Ithaca, N.Y.

He left Juniata to join the Michigan State faculty in 1991 to lead the university's agribusiness management program. While at Michigan State, Peterson received the Teacher Scholar Award from the university in 1998 and was named the Nowlin Chair in 2002. He was named director of Michigan State's Product Center for Agriculture and Natural Resources in 2003. In 2010 he was named a Fellow by the International Food and Agribusiness Management Association.

He is a member of the American Agricultural Economics Association, serving as president of the association's Agribusiness and Management Section from 2003 -2004. He is a member of the International Food and Agribusiness Management Association and served on the association's board from 2001 to 2005.

Dr. William Olstein Jr., a resident and native of Nanty Glo, Pa., graduated from Juniata in 2002. He has been an attending physician at J.C. Blair Memorial Hospital since 2009, serving as a hospitalist and emergency department physician, prior to opening a family practice office with J.C. Blair Medical Services. Recently he was named chairman of the Department of Medicine in 2011.

He is certified or licensed in advanced cardiac life support, basic life support, neonatal and pediatric advanced life support, advanced trauma support and advanced life support in obstetrics.

He has remained active at Juniata, acting as a mentor for health professions students enrolled in the Rural Health Care course. In 2009, he also served as a reviewer for Juniata's Health Professions academic program, a process the college goes through every five years

Olstein earned his medical degree from the Philadelphia College of Osteopathic Medicine in 2006. He served his internship and residency with the Altoona Family Physicians Residency Program at Altoona Regional Health System from 2006 to 2009.

He is a member of the American Medical Association, the American Osteopathic Association, the Pennsylvania Osteopathic Medical Association and the American College of Osteopathic Practitioners. He was named Resident of the Year and Osteopathic Resident of the Year, both in 2009, by the Altoona Family Physicians Residency Program.
Contact April Feagley at feaglea@juniata.edu or (814) 641-3131 for more information.