Soaring Imagery: Art Exhibit Finds Grace in Cityscape
(Posted September 6, 2011)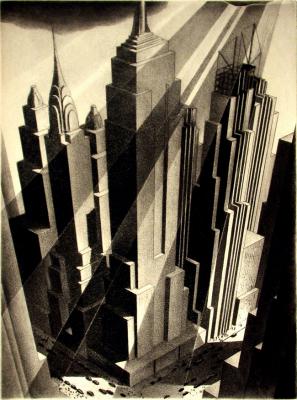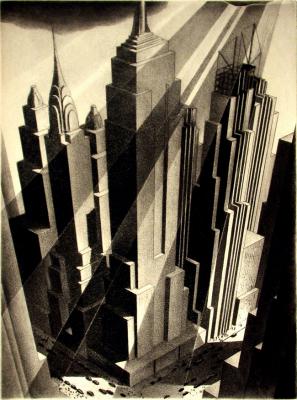 HUNTINGDON, Pa. -- More than any other city, the architecture of New York City expressed the epitome of the American Dream, the soaring multistory buildings piercing Manhattan's skyline were cathedrals built to celebrate secular success. But artists celebrated and questioned the wisdom of building such a city in the exhibit "Above and Below: Skyscrapers to Subways in New York City, 1913-1949" at the Juniata College Museum of Art.

The exhibit, which runs from Thursday Sept. 15 through Oct. 29, will have an opening reception at 5 p.m., Sept. 15, at the museum.

Many New York City skyscrapers are now almost universally recognized as works of art. Indeed, many artists also made names for themselves creating unforgettable images of upward striving in steel. Photographers such as Lewis Hine and Margaret Bourke-White created documents of beauty from the construction and completed buildings of New York's skyline.

But not all artists were enamored of the wholesale renovation of New York. "Above and Below" examines both the majestic iconography of the skyscrapers and subways, as well as images of darker intent -- such as the impersonal and dysfunctional aspects of large construction obliterating once-cohesive family neighborhoods.

The exhibit focuses on prints from a variety of artists, including such celebratory works as Reginald Marsh's "Skyline from Pier 10, Brooklyn" and S.L. Margolies' "Builders of Babylon," depicting two steelworkers overseeing a fabulous city from their airborne girder.

There also are less optimistic artworks, such as "Glow of the City," by Martin Lewis, which depicts a solitary woman looking wistfully toward a golden skyscraper from her tenement fire escape. Louis Lozowick's "First Avenue Market" shows faceless commuters emerging from under an elevated train, while Fritz Eichenberg's "The Subway" brings the isolation of mass transit to the forefront.

The exhibition, which was created and curated by the University of Syracuse Traveling Art Galleries, brings a wide variety of artists to the Juniata museum. The collection includes prints by Reginald Marsh, Charles Sheeler, Adolph Fassbender, Nat Lowell, Harry Gottlieb, Jan Gelb, Berenice Abbott, John Marin and Charles Keller.

Each artist in the exhibit brings their own vision to the image of the Great City. Some praise the dynamic promise of the changing city. Others emphasize the alienation and loneliness of looming skyscrapers, soulless train cars, and antiseptic urban plazas.
Contact April Feagley at feaglea@juniata.edu or (814) 641-3131 for more information.