Bruce Davis, Former Juniata Professor, Retired "Oscar" Executive, to Speak on Films
(Posted September 26, 2011)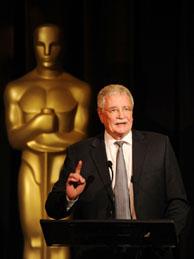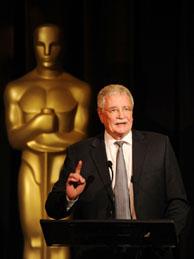 HUNTINGDON, Pa. -- And the award for most dedicated alumnus goes to -- Bruce Davis, the recently retired executive director of the Academy of Motion Picture Arts and Sciences, who returns to Juniata College Oct. 3 for a week-long residency where, among other things, he will sit in on classes and lecture about two of his favorite films.

After entering retirement and no longer having to worry whether there are enough Oscars to go around, making sure movie stars are happy with their seating arrangements and running the day-to-day operations of the most famous film group in the world, Davis will return to the classroom by sitting in on Juniata classes from Oct. 3 through Oct. 7.

And, as might suit a former Juniata professor who instituted film studies into the college's course offerings, Davis will host two showings of classic movies at the Clifton Theater in Huntingdon. In a sense, hosting movies at the Clifton returns Davis to his first job in the film industry -- in the 1960s, as a young faculty member, he managed the Clifton Theater.

Because the theater seats just about 130, tickets are required for both movies. Interested filmgoers can ask for tickets at the Information Desk in Ellis Hall in the days prior to the movie. All tickets are free.

After each film is shown, Davis will preside over a question-and-answer session. The first event will be "The Man Who Shot Liberty Valance," directed by John Ford and starring John Wayne, Jimmy Stewart and Lee Marvin, at 7:30 p.m., Monday, Oct. 3.


Throughout the week he is in residence, Davis will sit in on a variety of different classes including courses in communication, business, digital media, politics, music and sociology.
The classic western's plot centers on Stewart's character, a well-known politician, who returns to the western town where his political career began, in part thanks to his role in a controversial gunfight. The film explores, friendship, violence and the truthfulness of the western myth.

The other film event will be a showing of Davis' favorite film, Federico Fellini's "81/2," at 7:30 p.m., Thursday, Oct. 6. The acclaimed film, which consistently makes the Top 10 in "great movie" lists, centers on an Italian director, played by Marcello Mastroianni, who reflects on his life as he struggles to complete a film he is working on.

Throughout the week he is in residence, Davis will sit in on a variety of different classes including courses in communication, business, digital media, politics, music and sociology.

Davis was executive director of the Academy for more than 20 years and worked for the group for more than 30 years. In 1981, he was hired as executive administrator of the Academy, and became executive director of the organization in 1989.

As executive director he has changed the traditions of the Oscar broadcast, most recently encouraging the academy to expand the field of Best Picture nominees from five to 10, and also several years ago moving the date of the Oscar ceremony from March to February (to pre-empt other awards shows from taking away some of the glamour of the Oscars broadcast).

In addition, Davis was instrumental in establishing an endowment for the organization's Margaret Carrick Library and led the Academy's efforts in film preservation by creating an archive at the Pickford Center for Film Study.

Davis started his career as an instructor at Juniata in 1968. At Juniata, he helped redesign the college's curriculum and became a specialist in "interdisciplinary" courses that involved students and faculty from a wide spectrum of academic departments.

Davis, a native of Washington, D.C., earned a bachelor's degree in English from Juniata College in 1965 and earned a master's degree in English from the University of Maryland in 1968. Davis received the Juniata Alumni Achievement Award in 1990. He returned to Juniata previously in 2001, when he received an honorary doctor of humane letters degree and delivered the commencement address. "Nobody spends twenty-odd years watching Academy Award ceremonies at close range without developing a fervent appreciation of the virtues of a short speech," he said at the time, and then delivered, yes, a short speech.

Contact April Feagley at feaglea@juniata.edu or (814) 641-3131 for more information.