Juniata Business Professor also Executive at Taiwan App Company
(Posted October 10, 2011)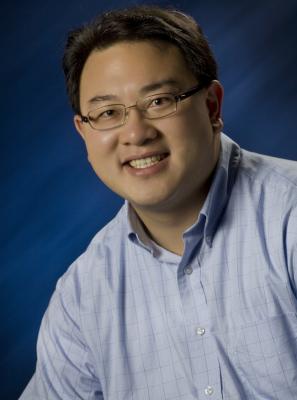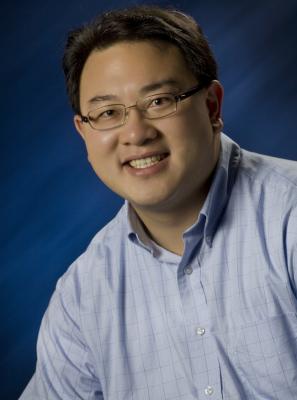 HUNTINGDON, Pa. -- A Juniata College economics professor teaches a full load of courses, advises dozens of students, serves on several committees and, oh yes, he is married and has two young sons. So, when the CEO of Kdan Mobile Software Ltd. asked the faculty member to become vice president of global marketing for the company, the professor added that to his duties. Is there an app for that kind of overscheduling?

If there was an app to help an multitasking academic, Wei-Chung Wang (pronounced "Wong"), assistant professor of economics, probably would have thought of it by now and suggested it as his new firm's next product. It's all in a (long) day's work for the Juniata business professor.

Wang sees the full-time, part-time executive job as a gateway for Juniata students to gain global market experience through internships and with in-class assignments. Kdan Mobile Software is a Taiwan-based company specializing in applications for iPhones, iPods and iPads. He started as a marketing consultant for the firm, but last summer CEO Kenny Su asked Wang to become vice president of marketing.

"My experience in industry in the past and now with this company enlivens my teaching," says Wang, who is teaching the Senior Seminar course for the college's business department. "We will do some of the same things I do in my capacity with Kdan: client interviews, application proposals and students will compete for my business."

Wang, who is now in his second year teaching at Juniata and started his academic career at a Taiwanese university, has extensive business contacts in Taiwan. A colleague in Taiwan recommended him as a marketing adviser for the relatively new company, which makes such applications as a PDF Reader, Battery Life Pro, which monitors phone battery life, Pocket Snapper, to be released next month, which simulates the environment of a photo studio for phone cameras and Animation Desk, which allows artists to create animations on an iPhone or iPad.


"My experience in industry in the past, and now with this company, enlivens my teaching."

Wei-Chung Wang
This past summer, the company made Wang vice president of marketing and now the professor is trying to economize his time, while giving his full attention to both his teaching, family and international business obligations.

"Taiwan is about 12 hours ahead, so I'm often doing most of my work for the company at night or early in the morning," says Wang, who oversees a staff of eight in Taiwan, as well as employees in China, Germany, France, Spain and Italy. "It's an advantage to be here in Huntingdon, too, because in the future I can use my own students or use Juniata business majors as interns."

Wang keeps in touch with his Kdan colleagues through evening and morning Skype sessions. He also has visited the company in Taiwan several times. He leads a summer study-abroad experience for Juniata that travels to China, which has helped him stay connected to the company and its products. For now he says communication has been easy, since he initiated a new website, built a new sales data system and streamlined other parts of Kdan's marketing operation.

The company made about $200,000 in gross profit in 2009, which grew to $600,000 in 2010 and he estimates gross profit in 2011 as about $1.2 million.

Wang says the company also is considering branching out to create applications for Android smart phones. He says the marketplace for mobile phone software continues to be wide open, although more and more companies are targeting this market. "When we started, there were less than 1,000 apps. Now there are more than 600,000," Wang says.

Contact April Feagley at feaglea@juniata.edu or (814) 641-3131 for more information.