In the Woods: Juniata Student Club Celebrates nature
(Posted October 19, 2011)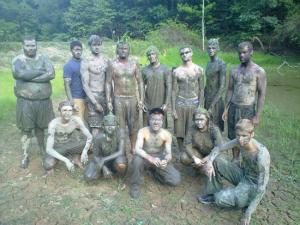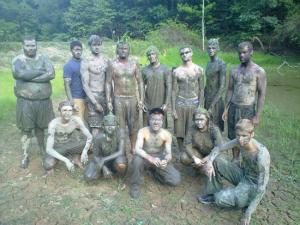 HUNTINGDON, Pa. -- One of the newest student clubs at Juniata takes camping seriously. So seriously that they prefer to use techniques more familiar to colonial settlers than to the modern campers who don't feel prepared unless their RV has a DVD player and a blender.

The Wild Hunters of Juniata, named for an early local mountain man nicknamed Captain Jack, the Wild Hunter of the Juniata, formed as a club in February during last spring semester. The club was organized by Ben Souders, a sophomore from Hustontown, Pa. studying wildlife science.

Despite the club's name, the members don't do any actual hunting. Instead, Souders and several other members teach skills such as building a shelter, tracking wildlife, camouflage and forest awareness and observation.

Souders explains that the Wild Hunters club is more like a camping club -- an extremely minimalist camping club.

"When people say they like to hike or go backpacking, that usually means walking through the woods with an 80-pound pack," he says. "Our club is more about going into the woods with the clothes on your back and being self-sufficient."


"Our club is more about going into the woods with the clothes on your back and being self-sufficient."

Benjamin Souders, sophomore, Juniata College
"There aren't many people who are truly okay with being outdoors without any ties to modern life," says Will Young, a junior from Benton, Pa., studying environmental science. "The ultimate goal of the club is to try and build a tight-knit group of friends that you can rely on, so teamwork is very important."

Souders, who learned some of his skills during an eight-year career in the U.S. Navy and also attended schools such as the Tom Brown Jr.'s Tracker School, says the aim of the club and its members is to co-exist with nature rather than cultivate a survivalist mentality. "We try to incorporate the skills of the (colonial) mountain men and the Native American culture," Souders explains.

Souders even adapted the club's ideas for a teaching module in Juniata's Inbound program. Inbound is a three-day retreat just before the start of the semester for incoming freshmen with like interests. Souders and the Inbound staff named his module "Man vs. Wild," a Discovery Channel television show featuring an adventurer named Bear Grylls. Activities for the Juniata freshmen included eating grasshoppers, evading capture in the woods and covering themselves in mud.

"For Inbound we did some activities that were more Hollywood than we do normally," Souders says. "In real life, if you're eating bugs and squeezing water out of dung to survive, then your skills are lacking."

The club members all learn how to do basic survival skills such as building a small sleeping hut out of forest debris like branches and leaves, tracking wildlife, how to build a fire with a hand drill or bow drill and how to camouflage.

Of course, the club can't find much wilderness on campus, so the club usually stages its activities on a 300-acre plot of land near Raystown Lake. So far there are about 50 members, including men and women.

Contact April Feagley at feaglea@juniata.edu or (814) 641-3131 for more information.