The Factory' Gives Juniata Cast Mime of Their Lives
(Posted November 7, 2011)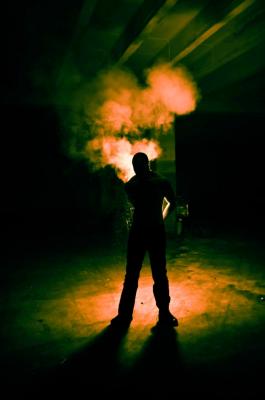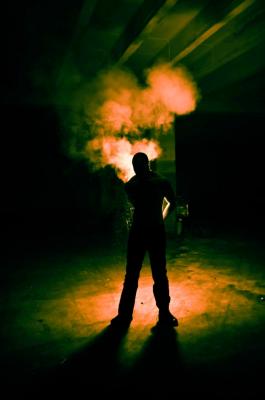 HUNTINGDON, Pa. -- By visualizing the development of mime as sort of an assembly line that extends over a long period of time, the new Juniata Theatre play "The Factory" will show how mime has matured into a global art form with many styles of performance at the Suzanne von Liebig Theatre in the Halbritter Center for the Performing Arts from Thursday, Nov. 17 through Saturday, Nov. 19.

"The Factory" will be performed at 7:30 p.m. Nov. 17-19 and there will be a 2 p.m. matinee Nov. 19. Tickets for the production are $4 for students and $7 for adults. Tickets are available at the box office before the performance and can be purchased online at https://secureweb.juniata.edu/tickets.

Director Rick Wamer, a member of Gravity Partners, Juniata's professional theatre group, has staged the play as a series of vignettes depicting a historical timeline that traces how mime has transformed over decades. As Wamer memorably puts it, the play will "go way beyond the white-faced guy in the box."

The play takes its name from a famous mime play created by Etienne Decroux (1898-1991), who is considered the first performer to create modern mime. Performers in Juniata's version will recreate Decroux's "Factory," which commented in the Industrial Revolution and automation, at various points during the play. Director Wamer uses Decoux's original choreography in these sections. In addition, there will be video projections of Decroux performing during the performance.

"We are taking the audience on a journey that shows the evolution of (mime) into the 21st century," Wamer explains. "It's a difficult but exciting challenge for students but we have developed a method based less on the phyisical technique (of mime) and more on changes in energy and creating images."


"We are taking the audience on a journey that shows the evolution of (mime) into the 21st century."

Ric Wamer, director
The production features several pieces featuring the full cast, including "Evolution," "Trees," which uses Beethoven's "Moonlight Sonata" as inspiration, and "Taken," inspired by the disappearance of political prisoners. The smaller pieces include "Old West," a duet, "Fire of Life" and "Stunt Man."

Wamer has been a member of Gravity Partners for several years and is currently artistic director of the Kenyon College School of Mime Theatre in Gambier, Ohio, and founding director of Theatrical Mime Theatre in Tucson, Ariz. He has performed a one-man show "Geometries: Performing Art Experiments by a Not-So Mathematical Genius."

He was a founding member of the Invisible People Mime Theatre. He earned an MFA in theatre arts from the University of Arizona and studied at the Goldston School for Mimes in Gambier.

The students in "The Factory" cast are as follows: Elizabeth Bird, a sophomore from Annapolis, Md.; Genevieve Boutilier, a freshman from Bel Air, Md.; Benson Canfield, a senior from Littleton, N.H.; Sara Deppenbrook, a junior from Beaver Falls, Pa.; Emily Evey, a sophomore from Hollidaysburg, Pa.; Nate Frieswyk, a senior from Bel Air, Md.; Alison Kiernan-McCauley, a freshman from Montgomery, Pa.; Andrew Orsie, a senior from Summit Point, W.Va.; Alexandra Roemer, a freshman from Kimberton, Pa.; Lara Schaffer, a sophomore from Goshen, N.Y.; and Emily White, a freshman from York, Pa.

Wamer directed the production and Jessie Sullivan, technical director for the Hallbritter Center, is the technical director for the play. Jessica Carson, a freelance designer based at Virginia Tech University, is lighting designer.

Contact April Feagley at feaglea@juniata.edu or (814) 641-3131 for more information.