Five Students Win Prizes at Juniata Business Plan Competition
(Posted December 16, 2011)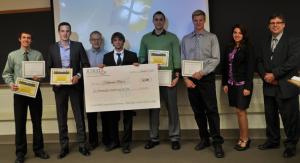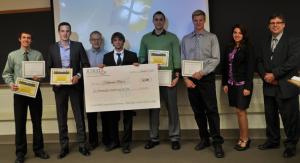 HUNTINGDON, Pa. -- A proposed business to supply customized streetworthy paddles for an emerging sport -- land paddling, which features elements of longboard skateboarding and stand-up paddleboarding -- received a $2,500 top prize at Juniata College's Business Plan Competition Nov. 17.

Nathaniel Fischer, a sophomore from Ringwood, N.J. studying entrepreneurism, took first place in the college's competition, which was modeled on the ABC-TV reality series "Shark Tank," with his business idea Weazel LLC. The business proposal outlined a company specializing in the manufacture and sale of fiberglass "street" land paddles, along with accessories and apparel.

"(Land paddling) is a growing market, especially as cross training for paddleboarding," Fischer explains. He's already explored buying a mold for the paddles, an expense of more than $40,000. "I'd like to start with apparel and building the brand," he adds.

Fischer can choose to keep the cash award or use the prize to start a business through JCEL using the student seed capital fund, which will add another $2,500 in funding to the venture.

The Nov. 17 event was streamed live over the Internet, giving the families of all the contestants a chance to see the presentations and judging. "I was nervous but also excited to make the presentation," Fischer says. "I knew I was ready because I was reciting my presentation in the shower that morning and I knew (I was ready)."


"I'd like to start with apparel and building the brand."

Nate Fischer, Ringwood, N.J.
The remaining contestants all received $625. Also competing were:

--Domenic Cuzzolina, a sophomore from Hollidaysburg, Pa., who proposed Bargain and Buddies, an online auction site much like eBay that would be confined to a user's social network or networks.

--Kevin Slomkowski, an international student from France, outlined At Home, a rentable apartment that college students in Lille, France could rent for events and parties or quiet dinners to give students a home-like experience.

--Vincent Smith, a junior from Butler, Pa., created Proficient Social Media management, which is a consultancy business focused on customizing social media plans for business clients.

--Ezra Cassel, a junior from Denver, Pa., who proposed Light House Energy Inc., a small business specializing in off-grid solar lighting and solar panel installations for smaller applications like hunting cabins, garage workshops or swimming pool heating/pump systems.

The five contestants had all previously made class presentations, but none had experience being filmed or making a presentation before a panel of judges. "It was the first time I had made a presentation on that scale," says Cuzzolina. "It hit me about five minutes before I started."

"All the students delivered very solid performances at the competition," says Nick Felice, executive director of JCEL and organizer of the contest. "We had 30 students express interest in the competition and 15 went through the process of putting together a business plan and proposal. I think that speaks volumes about the enthusiasm of our students."

Since the competition was based on "Shark Tank" it was only fitting one of the judges was a former contestant on the show. Michael Barnett, a 1989 Juniata graduate and the founder and CEO of Romp 'n' Roll a chain of play-based entertainment centers for young children based in Glen Allen, Va., and his wife, Babz, appeared on the ABC-TV program "Shark Tank" in January 2010.

The students were judged by Barnett and George "Scoop" Sample, owner of the Huntingdon Daily News and Pennsylvania Business Central. Other judges include John Hille, executive vice president for enrollment and retention at Juniata, Marlene Burkhardt, professor of information technology and business, Michael Lehman, former director of JCEL, local businessman Joe Harford, retired executive Ken Hess, of Ephrata, Pa., and Paula Beckenbaugh, director of clinical experiences in education at Juniata.

Contact April Feagley at feaglea@juniata.edu or (814) 641-3131 for more information.