Rwandan Genocide Survivor to Speak During Juniata Genocide Awareness Events
(Posted April 2, 2012)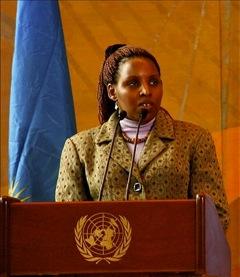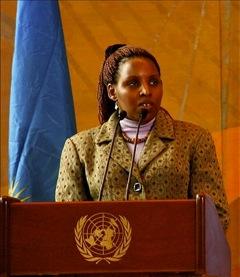 HUNTINGDON, Pa. -- From April 8-14, Juniata College will host Genocide Awareness and Action Week, an interdisciplinary program that uses the 1994 Rwandan genocide to inform the campus community about genocides through the Identity Project, an interactive and thought-provoking activity that allows participants to internalize how genocide escalates and the dangers of passivity.

All events listed are free and open to the public.

One of the highlights of the week's events is a public lecture by Eugenie Mukeshimana, educational outreach coordinator at the Center for the Study of Genocide at Rutgers University, and a Rwandan genocide survivor, at 7 p.m. Monday, April 9 in Neff Lecture Hall in the von Liebig Center for Science.

"The goal is to have an interactive learning opportunity that engages students and faculty so we can start an open dialogue on campus about the realities of genocide," says Jennifer Ruglio, a senior from Oak Ridge, N.J. and the chair of the student committee organizing the week of events.

The genocide in Rwanda in 1994 was one of the worst atrocities of the 20th century. Rwanda, a small country in the Central Lakes region of sub-Saharan Africa, was devastated in the early 1990s by civil war and genocide. Beginning in April 1994, an interim government orchestrated the systematic massacre of up to a million Rwandans, both Tutsis and politically moderate Hutu, in an attempt to hold onto power. Students at Juniata College seek to demonstrate to the college community how genocidal events can occur and what can be done to prevent genocide.


"As a historian I believe that genocide is not consigned to the past, but rather it remains a serious threat today. We need to understand how and why genocides have occurred so that we can prevent them from occurring again."

Alison Fletcher, associate professor of history
The main focus of Genocide Awareness Week will be Juniata's Identity Project. During the week the locales of the Juniata campus will stand in for locations across the country of Rwanda. Participants will be assigned Rwandan identities -- "Hutu and Tutsi" -- which were first introduced to Rwanda in the 1930s by colonial Belgium to differentiate between the two ethnic groups. Each day will reveal how far the Rwandan genocide has progressed and how each participant's identity has been affected by the genocide. Members of the Juniata student body, faculty and staff will be issued identity cards identifying them as Hutu, Tutsi, or historical figures within the 100-day genocide.

"Students will face difficult choices during the week and we really want them to question their decisions and the consequences. If they are Hutu, will they be moderate and protect their friends and neighbors? Or will they be extremist and actively participate in the genocide? If they are Tutsi, how will they survive?" Ruglio explains.

This is the second year in a row that Juniata has staged a learning experience around the Rwandan genocide. The event was conceived by Lily Kruglak, a 2011 Juniata graduate who studied abroad in Rwanda in 2010. In addition, Alison Fletcher, associate professor of history and creator of Juniata's course Crimes Against Humanity, is serving as faculty adviser for the event.

"As a historian I believe that genocide is not consigned to the past, but rather it remains a serious threat today," Fletcher says. "We need to understand how and why genocides have occurred so that we can prevent them from occurring again."

Fletcher, Celia Cook-Huffman, professor of conflict resolution, and Kruglak all flew to Rwanda over spring break (March 3-11) to explore the possibility of taking students to Rwanda for a three-week summer study abroad program, beginning in 2013.

The events for the week are sponsored by PAX-O, Juniata Activities Board, JC Democrats, Art Alliance, Muslim Student Association, Communication and Media Club, the provost's office, the Baker Institute for Peace and Conflict Studies, the Office of Diversity and Inclusion, the Museum of Art, and the departments of international studies, history, politics, communication, and art.

Other Genocide Awareness Week events are as follows:
An "Anne Frank" exhibit, on loan from Washington State Holocaust Education Resource Center, will be displayed in the Beeghly Library throughout the week. Through words and images, the exhibit outlines Anne Frank's life, the Nazi Holocaust as a historical event, Jewish resistance and more recent genocides.

--Sunday, April 8, the documentary "Sometimes in April" will be shown at 7 p.m., in Neff Lecture Hall in the von Liebig Center for Science. After the film, Fletcher will lead a discussion on the Rwandan genocide and the film.

Monday, April 9, at 7 p.m., Eugenie Mukeshimana will speak about her role as founder and executive director of the Genocide Survivors Support Network.

Mukeshimana is a social entrepreneur who founded Kigali Cleaning Services to solve environmental, sanitation and waste management problems in the capital of Rwanda, Kigali. Her company is now renamed the COPED Group and recently opened the first plastics recycling plant in Rwanda. She is the founder and executive director of the Genocide Survivors Support Network, a nonprofit organization with a mission to help genocide survivors rebuild their lives and contribute to genocide prevention through education.

In 2001, Mukeshimana moved to the United States to earn a bachelor's degree in social work from the College of St. Rose, in Albany, N.Y. While a college student, she began to speak about her experiences during the Rwandan genocide and continues to educate others through public speaking engagements across the United States.

--Tuesday, April 10, at 7 p.m. in Neff Lecture Hall, the film "Rabbit-Proof Fence," will be shown. The film is about Australia's attempts to assimilate the country's aboriginal population. Following the film, Polly Walker, assistant professor of peace studies, will talk about how Australia, the United States and Canada enacted laws to force removal of indigenous children from their families.

--Wednesday, April 11, there will be a discussion of the Armenian Genocide at noon in Rockwell Seminar Room. The discussion will be led by Alison Fletcher, together with students who participated in a Habitat for Humanity trip to Armenia in 2010.
--Thursday, April 12, at 7 p.m., in Neff Lecture Hall, there is a showing of "I Came to Testify," an episode from the PBS series, "Women, War & Peace," focusing on the systematic rape of Bosnian women. A discussion will follow, led by Fletcher, Emil Nagengast, professor of politics, and Željana Varga, a junior from Montpelier, Vt. who is from Bosnia.

From 1 to 3 p.m. on Tuesday, Wednesday, and Thursday in the lobby of the von Liebig center for Science there will be an open session for students to create handmade butterflies as part of the Holocaust Museum Houston's Butterfly Project. Initiated by Holocaust Museum Houston to memorialize the 1.5 million Jewish children killed during the Nazi Holocaust, the project seeks to collect 1.5 million handmade butterflies for a special exhibit in 2013. The Butterfly Project is based on the poem "I Never Saw Another Butterfly" by Pavel Friedman, in "I Never Saw Another Butterfly: Children's Drawings and Poems from Terezin Concentration Camp 1942-1944." Butterflies will be accepted if they are no larger than 8 inches by 10 inches and do not contain food products or glitter. All submissions will be displayed on campus before being mailed to Holocaust Museum Houston for inclusion in their exhibit next year.

Contact April Feagley at feaglea@juniata.edu or (814) 641-3131 for more information.