Comics as Teaching Tools: Juniata Hosts Educational Conference
(Posted May 11, 2012)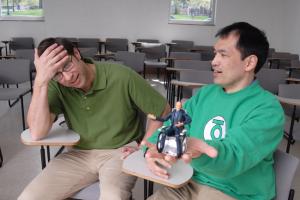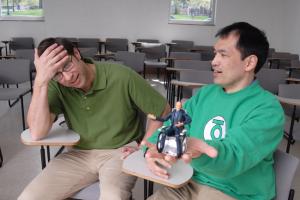 HUNTINGDON, Pa. -- Time was that schoolkids would hide copies of Batman, Archie and Jughead and the Green Arrow inside their textbooks during class reading time. These days using the Green Lantern as a teaching tool is being given a green light by teachers and professors across the country and Juniata College is hosting a conference to bring comics-minded educators together�?�to fight against the forces of darkness and triumph over evil.

Actually, forget that last part. In reality, Juniata is hosting "Sequential SmArt," a two-day conference and preconference, Friday, May 18 and Saturday, May 19, designed to share ideas, approaches and not a few classic comic book lessons for college faculty and secondary school teachers.

The conference is the brainchild of several Juniata faculty, Jay Hosler, associate professor of biology, David Hsuing, professor of history, and Jim Tuten, associate professor of history, who by day are mild-mannered college professors, but by night, well, by night they're pretty much the same thing.

The conference features a Friday preconference workshop and talk with Matt Madden, a comic book author who teaches at Yale University's School for the Visual Arts. The following day, the conference's keynote address will be delivered by Eric Shanower, author-illustrator of the graphic novel "Age of Bronze," a retelling of Homer's "Illiad."

Juniata decided to create the conference because Hosler, a biologist specializing in physiology, has an alter-ego. He also is the author of three graphic novels: "Clan Apis," "The Sandwalk Adventures" and "Optical Allusions." He also wrote "Evolution: The Story of Life on Earth. He and Hsiung also created a course called "Comic Books and Culture" at Juniata. Tuten has used comic books (specifically "Iron Man #1") in his history classes referencing the Vietnam War. Other Juniata faculty also use graphic novels and comic books in their teaching.

The conference is $75 for the preconference and full Saturday conference combined, or $45 for just the Saturday conference. To register online or to get more information, go to sequentialsmart.com. or call Jim Tuten at (814) 641-3548. The Saturday sessions offer Act 48 credits for Pennsylvania teachers.

The Friday workshop starts with registration at 3:30 p.m. in the lobby of the von Liebig Center for Science. At 5 p.m. Matt Madden will present a talk and workshop at the college's Raystown Field Station. Transportation to the station is provided.

Madden is a co-author of "Drawing Words and Writing Pictures," and also wrote "99 Ways to Tell a Story: Exercises in Style." He will lead a creative exercise for attendees at the workshop (the workshop is limited to 30 participants).

The May 19 full conference will feature more comic book experts than the Legion of Superheroes, the X-Men and Justice League of America combined. After the conference opening talk by Madden, "Mastering Comics as a Tool for Deeper Learning," at 8:45 a.m., attendees are free to pick and choose topics offered at three concurrent sessions over the course of the day.

Shanower will speak on his project "Age of Bronze" at 12:30 p.m. Shanower also serves as the writer of the "Wizard of Oz" adaptations published by Marvel Comics and has been awarded the Eisner Award as Best Writer-Artist twice.

The conference is divided into topic areas.

Learning About Comics: Hosler will present "The Comic Book Syllabus." "Comics in Classrooms and Libraries: Using Graphic Novels Across the Secondary Curriculum" is presented by Karen Gavigan, of the University of South Carolina. "Using Comics as a Tool of Inquiry" will be taught by Nick Sousanis, of Columbia University's Teachers College.

The Fine Arts: "Exhibit: Future Bear" will be taught by Rachel Simmons and Julian Chambliss, followed by Shanower's lecture on "Age of Bronze."

English and Literature: Maureen Bakis, Masconomet Regional School, will present "Drawing with Words and Writing with Pictures to Understand Memoir." "Cartooning and Confianza: Using Comics to Build a Classroom of Trust" will be taught by Jared Rosello, Penn State University. "Student Views on Using Graphic Novels in High School ELA Classes" is taught by Stergios Botzakis, of the University of Tennessee. "Cartooning the Essay: The Easy Planning Process" is taught by Catherina Evans, of Saints Peter and Paul School. "Teaching Gender and Sexuality" is taught by Kelley J. Hall, of DePauw University. "Diving Deeper: Arguments for Teaching Fewer Graphic Novels" will be taught by Craig Fisher, of Appalachian University.

Social Studies: "Teaching Muslim Women's Lives Through 'Persepolis'" will be taught by Susan Prill, assistant professor of religion at Juniata, and Belle Tuten, professor of history at Juniata. "Our Private Wakandas: The Lives and Deaths of the Black Panther" is taught by Dwain Pruitt, of Morgan State University. Julian Chambliss, of Rollins College, will present "Superhero Comics: Artifacts of the U.S." "Illustrating The Journey: Immigrant Youth Learning to Tell Their Stories Through Comics," is presented by Nathaniel Lauster, of the University of British Columbia. "Teaching Bronze Age Archeology: From Schliemann to Shanower" will be presented by Shannan Stewart, of the University of Illinois, Urbana-Champaign.

Natural Sciences: "The Spectacular Teacher-Man: Comics as Primary Text in a Science Classroom" is taught by Brock Eastman, of Takoma Park and Rosa M. Parks Middle Schools. Kevin Kinney, of Depauw University, will present "Using the X-Men to Teach Mutation." "Man Thing vs. The Industrialists: Messages About Nature and the Environment in Comics" is taught by Elizabeth "Scout" Blum, of Troy University. Hosler will teach "Teaching, Testing and Creating Science Comics."
Contact April Feagley at feaglea@juniata.edu or (814) 641-3131 for more information.