Canadian Folk Duo Dala to Perform at Juniata College
(Posted November 5, 2012)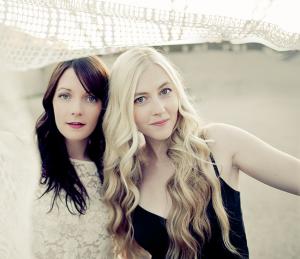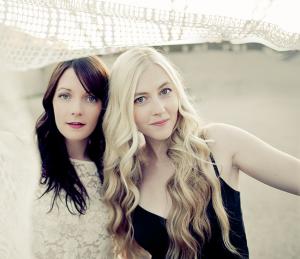 HUNTINGDON, Pa. -- Two girls from the north country, the singing duo called Dala, interprets folk music in harmonies consistently described as "angelic" and will perform a heavenly blend of their own material and classic folk music at Juniata College at 7:30 p.m., Thursday, Nov. 15, in Rosenberger Auditorium in the Halbritter Center for the Performing Arts.

For tickets and information about the Juniata College Presents series, please call (814) 641-JTIX (5849). General admission tickets for single performances are $20, except where otherwise noted. Single-show tickets for seniors over age 65 and children age 18 and under are $12. Juniata College students are admitted free with a student ID.

Amanda Walther and Sheila Carabine are starting to bring their unique blend of folk music to the United States after increasing their performing chops and popularity in their native Canada. The group has released five albums and are currently touring to support their album, "Best Day."

The two performers won the 2010 Canadian Folk Music Award for Vocal Group of the year. While they both write their own material, their concerts also are heavily influenced by the music of Joni Mitchell, Gordon Lightfoot, Bob Dylan and Neil Young.

Their current album, Best Day," features such original work as "Lennon and McCartney" and "Virginia Woolf."


"Dala can trade a melody line and leave one wondering who is taking the lead and simply leave one behind as the harmonies kick in."

Peterborough Examiner
In previous albums, the duo has covered such songs as Bob Dylan's "Girl from the North Country," The Band's "The Weight," and Anna McGarrigle's "Heart Like a Wheel." They also have an extensive catalog of original work, including "Hockey Sweater," "Horses," "Northern Lights," "$5 Pearls and "Perfect Photo."

The band has released four albums in addition to "Best Day," including
"Everyone is Someone," (2009), "Who Do You Think You Are?" (2007), "Angels and Thieves" (2006) and "This Moment is a Flash" (2005). The two performers also have performed with folk icons Arlo Guthrie and Richie Havens.

Their song "Horses" was acclaimed by NPR as one of the top 10 folk songs in 2009. The next year, PBS featured Dala in a special, "Girls From the North Country." The live album from that concert earned the group the Canadian Music Award.

One Canadian critic wrote, "It's easy to regard music as bright and effortless-sounding as this with suspicion, but beneath that sunny attitude rests seriously-well-thought-out songcraft." A writer from the Peterborough Examiner said, "Dala can trade a melody line and leave one wondering who is taking the lead and simply leave one behind as the harmonies kick in."

Contact April Feagley at feaglea@juniata.edu or (814) 641-3131 for more information.