Juniata Percussion Ensembles to Perform Concert
(Posted November 26, 2012)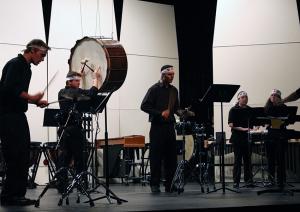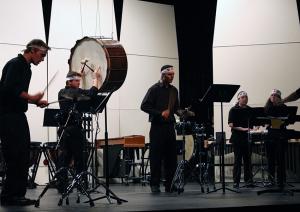 HUNTINGDON, Pa. -- The Juniata College Percussion Ensembles will perform a little something for everyone -- from Latin jazz to Christmas music -- at a concert at 7:30 p.m., Friday, Nov. 30, in Rosenberger Auditorium in the Halbritter Center for the Performing Arts on the Juniata campus.

Admission to the concert is $5. All students under age 18 are admitted free, as are Juniata students with ID. The percussion ensembles are directed by James Latten, associate professor of music at Juniata

The concert will open with the full percussion ensemble playing "Taiko," by Scott R. Harding. The piece is based on classic Japanese Kodo drumming.

The Keyboard Percussion Choir will then play "Coventry Carol," a traditional Christmas tune, followed by "The Music Box," by Anatone Liadow. The group will finish with "First Suite for Marimba Quartet," written by Michael Boo.

The ever-popular Steely Pan and the PVCs, a group that plays giant plastic plumbing pipes, will perform the Ritchie Valens classic "La Bamba," "Day-O," made popular by Harry Belafonte, "Sly Mongoose," and "Jump in the Line."

Next, Latten and several of his students will demonstrate a new percussion group, World Percussion Lab. The students will play a variety of international drums, including djembe, congas and timbales.

The percussion ensemble will return for the last part of the concert. They will play "Scherzoid II," by James Moore, and "A La Nanigo," by Mitchell Peters. The concert will end with the classical music gem, "Sabre Dance," by Armenian composer Aram Khachaturian.

Members of the Percussion Ensembles are as follows:

Jonathan Bogue, a senior from East Berlin, Pa.; Matt Brumbaugh, a freshman, from Pen Argyl, Pa.; Jason Cox, a senior from Bethlehem, Pa.; Amanda Durofchalk, a senior from Wernersville, Pa.; Stephen Estright, a junior from Hollidaysburg, Pa.; Alexis Hadden, a sophomore from Franklin, Pa.; Reinaldo Liem, a junior international student from Bandung, Indonesia; John Lugg, a senior from Lock Haven, Pa.; Alex Miller, a freshman from York, Pa.; Emily Reinl, a freshman from Mechanicsburg, Pa.; Silas Robinson, a sophomore from Sinking Spring, Pa.; Jacqueline Swain, a junior from Hampstead, Md.; Jessica Toot, a senior from New Oxford, Pa.; Melissa Topping, a freshman from Harrisburg, Pa.; and Laura Vannucci, a sophomore from New Fairfield, Conn.
Contact April Feagley at feaglea@juniata.edu or (814) 641-3131 for more information.