Swearing-In: Juniata Politics Class Travels to See Presidential Inaugural
(Posted January 14, 2013)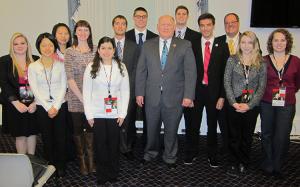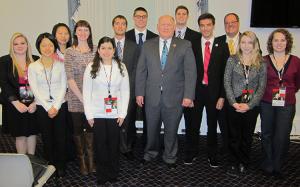 HUNTINGDON, Pa. -- After teaching a course centered around the fractious, controversial and sometimes nasty 2012 presidential campaigns and political conventions, it's only natural that Dennis Plane, associate professor of politics, follows the process through to the end by teaching a two-week course focused on the second inauguration of President Barack Obama.

Over a 10-day period, 11 Juniata students will get to witness history as well as a presidential inaugural address live on the steps of the U.S. Capitol. Before the historic moment, on Jan. 21 (time to be announced), the students will spend a few days attending seminars, lectures and taking behind-the-scenes tours of various governmental facilities as part of the Presidential Inauguration Seminar, which is sponsored by The Washington Center, The Washington Center, a nonprofit agency based in Washington, D.C., specializing in internships and seminars for college students.

During the week of Jan. 14-18, the students will attend lectures from nationally known politicians and media officials each morning. In the afternoons, a variety of professors hold small-group discussions on the morning's presentations and discuss reading assignments. In addition, students visit offices in federal agencies and media outlets to gain insight into Washington's political culture. Plane has scheduled a visit to the U.S. State Department's Bureau of International Security and Nonproliferation/Weapons of Mass Destruction and Terrorism, and a visit to Human Events, a Washington, D.C.-based magazine with a conservative audience

Among the speakers scheduled for the current Inaugural Seminar are Scott Horsely, White House correspondent for NPR, Sen. Jon Tester (D-Mont.), Owen Ullman, managing editor of USA Today and Mike McCurry and Frank Fahrenkopf, co-chairs of the Commission on Presidential Debates.

This trip will mark the second time a contingent of Juniata students has traveled to the nation's capitol. Plane accompanied a group to President Obama's 2008 inauguration, a trip also associated with the Washington Center. According to a White House press release, about 1.8 million people attended the swearing-in ceremony for the United States' first African-American chief executive.


"There were huge crowds in 2008, so I can't really say we saw the inauguration up close, but the students who went said they were amazed to be part of the experience."

Dennis Plane, associate professor of politics
"There were huge crowds in 2008, so I can't really say we saw the inauguration up close, but the students who went said they were amazed to be part of the experience," says Plane, who created a course (in fall semester 2012) organized around the 2012 Republican and Democratic conventions.

Plane, who has taught courses for The Washington Center before joining the Juniata faculty, believes that students relate more to politics if they can see newsmaking events as they happen. "The students from 2008 gutted out freezing temperatures and big crowds, but attending a presidential inaugural is an experience that they can carry with them throughout their lives.'

The Juniata students accompanying Plane to the inauguration are primarily from Pennsylvania, but four are international students. The students scheduled to attend the inauguration are as follows: Alexis Waksmunski, a sophomore from Northern Cambria, Pa; Andrea Waksmunski, a junior from Northern Cambria; Anna Nycum, a freshman from Marion Center, Pa.; Erin Royer, a senior from Bellefonte, Pa.; Ethan Wilt, a sophomore from Altoona, Pa.; Gregory Logue, a senior from Seymour, Tenn.; Kymberly Mattern, a sophomore from Reston, Va., Michael Stell, an international student from East Sussex, England; Mitsuki Koh, a freshman international student from Tokyo, Japan; Mizuho Yamato, a freshman international student from Tokyo and Robin Doutriaux, a senior international student from France.

Contact April Feagley at feaglea@juniata.edu or (814) 641-3131 for more information.