Dance Company to Perform New Dance Piece based on Tolerance
(Posted January 21, 2013)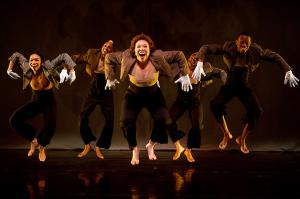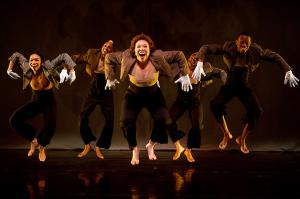 HUNTINGDON, Pa. -- The Camille A. Brown & Dancers company will perform an edgy and provocative dance program at Juniata College that mixes music, animation, social commentary and comedy into a potent and entertaining commentary on African-Americans in the media and the entertainment industry at 7:30 p.m., Friday, Jan. 25 in Rosenberger Auditorium in the Halbritter Center for the Performing Arts.

For tickets and information about the Juniata College Presents series, please call (814) 641-JTIX (5849). General admission tickets for single performances are $20, except where otherwise noted. Single-show tickets for seniors over age 65 and children age 18 and under are $12. Juniata College students are admitted free with a student ID.

The company will be presenting an evening-length program called "Mr. TOL E. RAncE." The performance at Juniata is particularly fitting, since Brown created the work during a two-week residency at the college in fall 2012. In addition, the company's performance follows Brown's lecture on Feb. 24 at 7:30 p.m. as part of Juniata's Martin Luther King Jr. Convocation.

Created in collaboration with J. Michael Kinsey, an Atlanta-based actor, "Mr. TOL E. RAncE" uses stereotyped imagery of African-Americans in the media and in the entertainment industry. Opening with an animation that shows how tolerance can often be only superficial, the production uses provocative images such as minstrel figures and music to make a wider point about diversity and acceptance.

Once of the centerpiece dances in the show is a solo work that updates a seminal work of African-American dance called "The Creation, Plus 40." The piece is based on a poem by James Weldon Johnson that tells the story of creation, but from God's perspective.


The performance at Juniata is particularly fitting, since Brown created the work during a two-week residency at the college in fall 2012.
The production as a whole is inspired by a recent book, "On the Real Side: A History of African-American Comedy from Slavery to Chris Rock," by Mel Watkins.

Trained originally as a musician, Brown formed her dance company in 2007 after a long career as a dancer and choreographer. She has performed with many dance companies, including the Alvin Ailey Dance Theater and Rennie Harris/Pure Movement and has choreographed dances for Ailey companies, Philadanco, Urban Bush Women, August Wilson Dance Ensemble and Mallet Memphis.

As an educator she has given countless workshops and works as an adjunct professor of dance at Long Island University and Barnard College.

Before founding her own company, Brown danced with the Ronald K. Brown/Evidence, A Dance Company from 2001 to 2007. She also has branched out to choreograph sequences for musical theatre, including a recent Broadway revival of "A Street Car Named Desire" and the off-Broadway production, "Soul Doctor." She also choreographed the musicals "Needles and Pins," and "Fortress of Solitude."

Brown attended the Ailey School and earned a bachelor's degree from the University of North Carolina. She received early training at the Bernice Johnson's Cultural Arts Center and the Devore Dance Center. Her collaborator, J. Michael Kinsey has performed in the national touring companies for "Miss Saigon" and "Five Guys Named Moe." His collaborations with the Brown ensemble include "Matchstick" and "1 Second Past the Future."

Dancers in the Camille A. Brown company include: Willie "Tre" Smith, Belen Estrada, Julia Eichten, Lisa Einstein, Jasmine Forest, Otis Donovan Herring, Juel Lane, Waldean Nelson, Mora-Amina Parker, Dujuan Smart, Keon Thoulas and Clarice Young.

Contact April Feagley at feaglea@juniata.edu or (814) 641-3131 for more information.