Juniata College Hosts Band Stew and The Negro Problem
(Posted February 4, 2013)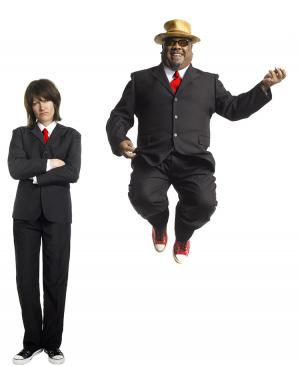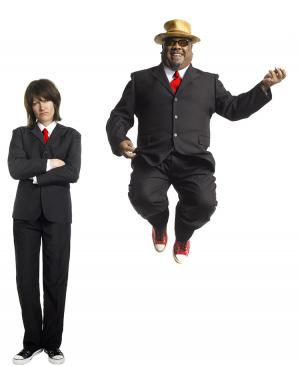 HUNTINGDON, Pa. -- A Tony-winning musician and performer named Stew, who was celebrated on Broadway for the musical "Passing Strange," will perform at Juniata College with performing partner Heidi Rodewald in their collaborative band The Negro Problem at 7:30 p.m., Friday, Feb. 15, in Rosenberger Auditorium in the Halbritter Center for the Performing Arts.

For tickets and information about the Juniata College Presents series, please call (814) 641-JTIX (5849). General admission tickets for single performances are $20, except where otherwise noted. Single-show tickets for seniors over age 65 and children age 18 and under are $12. Juniata College students are admitted free with a student ID.

Mark Stewart, known to his friends and fans as "Stew," and Heidi Rodewald have been collaborators for nearly a decade in two musical ensembles. The duo write and perform music for the band The Negro Problem, which is a straight-ahead rock band, and Stew, which mixes music, theatre and social commentary into a rocking representation of rock, soul, Tin Pan Alley and lounge music.

At Juniata, the band will be performing songs from "Passing Strange" as well as songs from the duo's extensive catalog. Rodewald, who has been medically sidelined with back problems, will not be touring with the band for the Juniata show. The Negro Problem performances veer from rock show to theatre as Stew acts out the characters he and Rodewald have created or written about.
Both performers say their influences include funk, Tin Pan Alley, synth-pop, '60's pop and psychedelic rock.

Stew and Rodewald came to prominence when the theatrical show they created, "Passing Strange," a sort of autobiographical rock musical about Stew's experiences in the music business, gathered momentum at several regional theatres and opened off-Broadway in 2007 and finally on Broadway in 2008. The show received seven Tony nominations and Stew won the 2008 Tony for Best Book.

"Musicians are always eclectic. Musicians are always curious and hungry for new things."

Stew

Director Spike Lee filmed the show's final performances and released "Passing Strange" as a feature film. After the film and show ended, Stew and Rodewald began performing again as The Negro Problem, making an album released in 2011 called "Making It."

Rodewald and Stew have continued to collaborate on a series of musical performances based in major cities in the United States. The band served residencies in Brooklyn, Chicago, Iowa City and Los Angeles and created musical stories they call the "Omnibus" series.

The Negro Problem released such acclaimed albums as "Post Minstrel Syndrome," "Joys and Concerns" and "Making It." The collective known as Stew, which includes Rodewald and other band members, released the albums "Something Deeper Than These Changes," "The Naked Dutch Painter, and Other Songs" and "Guest Host."

Stew, in a radio interview with Terry Gross, of NPR, said. "Musicians are always eclectic. Musicians are always curious and hungry for new things. But having to defend my taste, and having to defending my taste suddenly meant having to defend my position within my culture, which was something that I just didn't see the connection with. I didn't understand why what I was interested in -- " the kind of art I was interested in -- had to reflect on my membership in my community."

Contact April Feagley at feaglea@juniata.edu or (814) 641-3131 for more information.