Juniata Brings Stoppard Classic 'Arcadia' to Theatre Stage
(Posted February 11, 2013)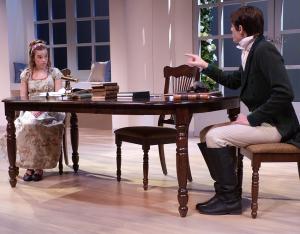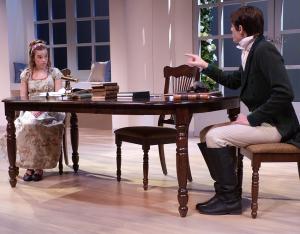 HUNTINGDON, Pa. -- "Arcadia" is a mysterious love story, wrapped in a time-traveling drama, surrounded by the trappings of an aristocratic English country manor -- and the Juniata College Theatre Department will stage this classic play over two weekends at 7:30 p.m., from Thursday, Feb. 21, through Saturday, Feb. 23, and from Thursday, Feb. 28 through Saturday, March 2 in the von Liebig Theatre in the Halbritter Center for the Performing Arts.

Tickets can be purchased in advance online, or at the door. Student tickets are $4, and general admission tickets are $7. Tickets that are purchased online (http://www.juniata.edu/departments/theatre/season.html) will be held at the door. If you are purchasing student or employee tickets, please be prepared to show your Juniata ID when you pick up your tickets. The show is suitable for all ages, although some math and science references may be advanced to younger viewers.

"Arcadia," written by British playwright Tom Stoppard ("Rock 'n' Roll," "The Real Thing," "Jumpers"), is a time-jumping drama that takes place in the drawing room of a large English country manor. The play opens in 1809, where a young girl, the whip-smart math and science whiz Thomasina, is being tutored by her private teacher, a would-be poet who is friends with Lord Byron. The scene shifts ahead two centuries or so to the present day, in the same drawing room, where two British academics meet around the same table to research different academic projects.

Time shifts continue throughout the play, as the audience sees the modern day academics sift through papers, evidence and other artifacts to interpret what happened in the house during a day or two in 1809. Comedy and drama is gleaned from the intricate plot as the modern researchers, jump to the wrong conclusions about events, themselves and the meaning of art, science and mathematics.

"I thought this play would be a good fit for Juniata we have such an incredibly diverse faculty and the students in the cast would be able to identify with these characters," says Kate Clarke, assistant professor of theatre and director of "Arcadia." "The plot, which revolves around math and science, is perfect for a liberal arts college. One of Juniata's math professors, Cathy Stenson, teaches a course that features the math in 'Arcadia.'"


"The plot, which revolves around math and science, is perfect for a liberal arts college."

Kate Clarke, director an assistant professor of theatre
In addition to the daunting task of mastering math and science in their roles, the student cast must also master British accents. In January, a dialect coach, Ginger Eckert, based in New York City, worked with the Juniata students to dial in their posh accents. In addition, the students also deeply researched aspects of the play's plot and created educational panels that will be on display in the Halbritter Center lobby for curious theatregoers.

The displays will include lessons on gardening, mathematical theorems, Lord Byron and other topics.

For further research, Clarke had the cast look at several Jane Austen-derived films like "Sense and Sensibility" and "Pride and Prejudice" to gauge the behavior in the play's 1809 sections. She also had the cast watch "aristocratic British house" television episodes, such as "Brideshead Revisited" and "Downton Abbey," to show how a large British country estate works.

Clarke joined the faculty at Juniata in 2009 and has directed numerous Juniata productions. She earned a bachelor's degree in 1990 at Oberlin College and went on to earn a master's of fine arts degree in 2000 from the University of Washington. She has directed such Juniata plays as "Metamorphoses," "Pippin," "The Putnam County Spelling Bee," "Twelfth Night" and "Angels in America: Millenium Approaches."

The set design for the play was created by a Juniata student, Jazmine Jade, who collaborated with technical director, Jessie Sullivan.

The cast for "Arcadia" is as follows:

Jamer Monella, a freshman from Morrisdale, Pa.; Ethan Farrell, a sophomore from Damascus, Md.; Andrew Kilpatrick, a sophomore from Johnstown, Pa.; Megan Smith, a sophomore from Scranton, Pa.; Emily Dale White, a sophomore from Dallas, Texas; Libby Casey, a junior from Lancaster, Pa.; Jessi Haggerty-Denison, a junior from Cooperstown, N.Y.; Lauren Hitzhusen, a junior from Houston, Texas; Phil Oberholzer, a junior from Shippensburg, Pa.; Gary Shoemaker, a junior from Summerdale, Pa.; Sara Deppenbrook, a senior from Beaver Falls, Pa.; and Kaetlyn Kuchta, a senior from Shickshinny, Pa.

The crew for "Arcadia" is as follows:

Heidi Kleber, a sophomore from Morrisdale, Pa.; Katya Pribysh, a freshman from West Chester, Pa.; Ian Keating, a sophomore from Huntingdon, Pa.; Nathaniel Wright, a sophomore from Lancaster, Pa.; Dakota Bearden, a sophomore from Johnstown, Pa.; Ken Kysor, a junior from Port Alleghany, Pa.; Zalina Smith, a senior from Baltimore, Md.; Dane Azeles, a junior from Duncansville, Pa.; Rami Shoenthaler, a senior international student from the United Arab Emirates; Oliver Herrine, a sophomore from Bala Cynwyd, Pa.; Zack Palchak, a senior from Bellefonte, Pa.; Gus Redmond, a junior from Bethesda, Md.; Arnold Schwemmlein, a junior from Huntingdon, Pa.; Jazmine Jade, a senior from Spring Lake, Mich.; Tess Ginley, a senior from Gaithersburg, Md.; Kassandra Tafolla, a freshman from Weslaco, Texas; Holly Souchack, a freshman from Scarsdale, N.Y.; Adam Cline, a sophomore from Reston, Va.; Alex Heicher, a sophomore from Hummelstown, Pa.; Jessi Haggerty-Denison, a junior from Cooperstown, N.Y.; Alex Zerjav, a sophomore from Pittsburgh, Pa.; Dana Spann, a freshman from Philadelphia, Pa.; Alyssa Newberg, a freshman from Derwood, Md.; and Tasha Walters, a freshman from Blanchard, Pa.

Contact April Feagley at feaglea@juniata.edu or (814) 641-3131 for more information.