New Environmental Geology POE Approved for Juniata Students
(Posted February 12, 2013)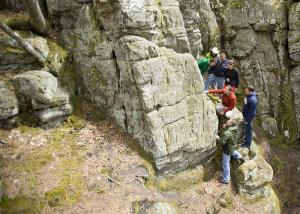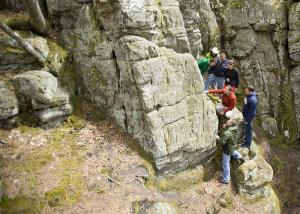 HUNTINGDON, Pa. -- Students at Juniata College who find the nexus of environmental activism and applied science fascinating can now specialize in environmental geology, a growing career field that addresses society-changing issues such as managing water and energy resources, mitigating pollution, climate change and land-use changes.

The new Environmental Geology Program of Emphasis (POE) has been approved for the incoming freshman class of next year, 2017, and students currently enrolled can now earn bachelor's degrees in the new degree program.
A POE is an individualized program, similar to a "major" at other institutions, which can combine any area of study that interests students. The Program of Emphasis allows students to take classes, work on projects, and pursue internships in two or even three study areas.

"Geology as a career is growing right now and concentrating in this area provides an opportunity to solve some of the world's most pressing problems," says Matthew Powell, assistant professor of geology, who organized the formation of the new POE. "If you're interested in being challenged and excited about the work you're doing, this is the place for you."

Juniata has offered a geology POE for decades, which has concentrated on what scientists call core geology, or preparing students with a sound comprehensive education in geology so they can opt for a specialization in graduate geology programs. The new program differs from the core geology degree in three ways:

--Emphasizing physical environmental science and requiring students to take a full year of introductory environmental science courses.

"If you're interested in being challenged and excited about the work you're doing, this is the place for you."

Matt Powell, assistant professor of geology

--Students will take upper-level courses focusing on applied geosciences.

--Students will take courses from a Societal Impacts track in which they study how humans interact with the Earth.

In addition, the new Environmental Geology focus allows the three members of Juniata's geology faculty to include a group of courses that are centered on geology and societal concerns. These courses -- including Death and Destruction by Nature, Oceanography, Energy Minerals and Society, Soil Science and Global Climate Change -- previously functioned as electives that did not count toward a core geology degree.

"About a third to half of our geology graduates in each class end up in jobs as environmental geologists and this curriculum will better prepare those students not only for an expanding job market but also for graduate study specializing in environmental geology," says Ryan Mathur, associate professor of geology and chair of the department.

In addition, creating a new major may help the department in recruiting incoming students from Pennsylvania who may have an interest in the environment or environmental studies and do not realize geology covers those interests. Pennsylvania school systems often teach earth and space sciences at the middle school or junior high level, so high school juniors and seniors may not have geology foremost in their minds when exploring college choices.

The environmental geology offered by Juniata mirrors similar programs at other institutions that have a long tradition in the liberal arts. Institutions such as Bucknell University, Allegheny College and Beloit College, in Beloit, Wis., all offer similar programs.

Contact April Feagley at feaglea@juniata.edu or (814) 641-3131 for more information.