Bailey Topic: Seven Students to Suggest Ideas to Incoming President
(Posted February 26, 2013)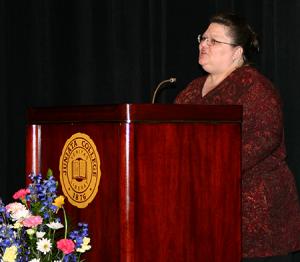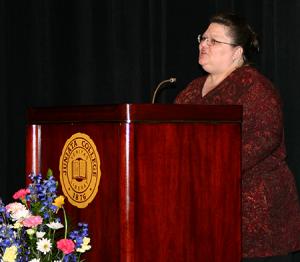 HUNTINGDON, Pa. -- An articulate group of seven Juniata College students will attempt to convince a panel of judges that their ideas should move to the front of the line when Juniata's new president starts work in May -- at the annual John M. and Thomas F. Bailey Oratorical Contest, to be held at 7:30 p.m. Tuesday, March 5 in the von Liebig Theatre in the Halbritter Center for the Performing Arts on the Juniata campus.

Admission is free and the event is open to the public.

The contestants this year all will have the opportunity to possibly affect policy on the campus in years to come as the students all speechify on the topic: "What advice would you give the new president of Juniata College about his direction for our future?"

Juniata's new president is James Troha, who comes to Juniata from an executive position at Heidelberg University. A preliminary competition was held Saturday, Feb. 24, to narrow the field of approximately 33 student participants. Seven would-be orators will take part in the final competition.

The seven finalists are seniors Vincent Smith, of Butler, Pa., Robert Strauss, of Verona, Pa.; juniors Allison Blumling, of Hummelstown, Pa.; John Dubensky, of Pittsburgh, Pa.; Reinaldo Hermawan Liem, of Bandung, Indonesia; Brea Neri, of Windber, Pa., and Seth Ruggiero, of Bangor, Pa.


The contestants this year all will speechify on the topic: "What advice would you give the new president of Juniata College about his direction for our future?"
The judges for the preliminary competition were Colleen Hughes-Gratter, a 2006 Juniata graduate and a project associate at Development Dimensions International in Pittsburgh, Pa., who specializes in creating e-learning courses and training; Dustin Gee, a 2010 Juniata graduate and interim associate director of study abroad and national fellowships at Pace University; and Jill Solomon, a former adjunct instructor in communication at Carlow College and Juniata College. She is a 2001 Juniata graduate.

Judges for the final competition are:

Mike Fleck, state representative for Pennsylvania's 81st District since 2006. Before entering politics, Fleck was district executive with the Oneida District of the Boy Scouts of America. He earned his rank as an Eagle Scout in 1991 and currently serves on the executive board of the Boy Scouts' Juniata Valley Council.

He earned a bachelor's degree in history in 1991 from Liberty University, in Lynchburg, Va., and has completed extensive graduate work in history at Shippensburg University, in Shippensburg, Pa. He remains active in his community, serving as a trustee on the board of the Huntingdon County Library System.

He also served as vice president of the board of education for the Southern Huntingdon County School District and as vice president of the Huntingdon Rotary Club. He received the 2008 Bob O'Connor Leadership Award from Junior Achievement of Western Pennsylvania and received the 2011 Richard Crawford Award from the St. Francis University Small Business Development Center.

Matthew Peters is a 2001 graduate and a former Bailey Oratorical Contest finalist. He currently works at CAI, a global IT services form, as chief business architect and executive director of business solutions. At CAI he oversees business intelligence, consulting services, product development and research engineering. He earned degrees in information science, psychology and communication.

Margaret "Peggy" Over is a 1971 Juniata graduate and a retired teacher from Roaring Spring, Pa. She earned a bachelor's degree in elementary education in 1971 and worked at the Spring Cove School District. She retired in 2007 as a kindergarten teacher in the Spring Cove School District. She serves as a trustee for the Roaring Spring Community Library and remains active with the Roaring Spring Church of the Brethren.

The prize money for the Bailey Oratorical Contest totals $1,800. The first-place winner receives $1,000, second place receives $500, and third place receives $300.

The original Bailey Oratorical Award was established in 1915 by the Honorable Thomas F. Bailey, who served as president judge of Huntingdon County from 1916 to 1936.

The oratorical contest has a long tradition at Juniata College, as students from all areas of study can compete for the monetary prize. An enhanced endowment contribution by Judge Bailey's son-in-law Colonel Sedgley Thornbury, provides the contest's prize money. In addition, the name of the winner will be permanently inscribed on an antique loving cup presented to the college by Colonel Thornbury's son, Thomas Bailey Thornbury.

Contact April Feagley at feaglea@juniata.edu or (814) 641-3131 for more information.