Bilingual Bailey: Juniata International Student Recommends Making Foreign Language Study Mandatory
(Posted March 6, 2013)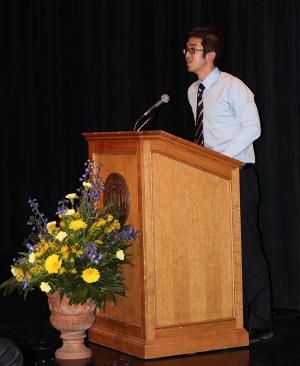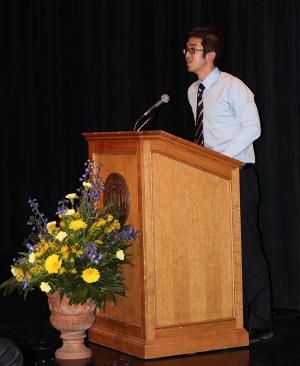 HUNTINGDON, Pa. -- Reinaldo Hermawan Liem, a junior from Bandung, Indonesia studying finance, received the first-place award Tuesday night in the annual Juniata College Bailey Oratorical Contest by convincingly arguing that Juniata should make learning a second language an absolute requirement for graduation.

Liem, who received $1,000 for the First Place award, and six other contestants were asked to address the topic: "What advice would you give the new president of Juniata College about his direction for our future?" before three judges and a cheering audience of students, Tuesday, March 5 in the von Liebig Theatre in the Halbritter Center for the Performing Arts on the Juniata campus. Juniata's new president is James Troha, who comes to Juniata from an executive position at Heidelberg University and will start his term in May.

Liem cited his own experience of learning English fluently as one of the keys to his success as a Juniata student, but he went beyond personal anecdotes to persuade the audience that a second language is important because, "education has become international. Business is international. Third, internationalism is at the heart of liberal arts education at Juniata College."
Liem pointed out that the increasing costs of a college education makes learning a second language imperative in the emerging global economy. "Education is an investment," he said, "A Juniata College degree allows us to be competitive in the job market, but education in the United States has changed dramatically to become more internationalized."

Seth Ruggiero, a junior from Bangor, Pa., earned the second-place prize, receiving $500. Robert Strauss, a senior from Verona, Pa., was awarded the third-place prize, receiving $300.

In his winning speech, Liem cited statistics that revealed the number of international students studying in the United States has increased by 6 percent, while the number of students from the United States increased by just 1.3 percent. He also focused on some Juniata statistics, noting that only 12 out of 34 Juniata study abroad programs are foreign language programs. "Is Juniata falling behind?" Liem asked, "Are we paying less attention to foreign language studies? Yes we are."

"Education is an investment. A Juniata College degree allows us to be competitive in the job market, but education in the United States has changed dramatically to become more internationalized."

Reinaldo Liem, junior, Bandung, Indonesia

He said the number of multinational companies grew by more than 10 percent and foreign investment rose by more than 80 percent in the last decade. He said that students in competition for jobs at large companies will be less prepared if English is their only language. "For education, for business, for our bright future, it is common sense that Juniata College needs to require students to study a second language. We would flourish with a second language."

Liem concluded his speech by saying, "Make second language courses -- Chinese, Spanish, German, French or Russian -- be part of the graduation requirement. Juniata students will evolve to be active citizens and leaders of the world."

He left the podium with the words. "Terima kasih. Thank you."

The remaining four finalists were: senior Vincent Smith, of Butler, Pa.; juniors Allison Blumling, of Hummelstown, Pa.; John Dubensky, of Pittsburgh, Pa.; and Brea Neri, of Windber, Pa.

Judges for the event were:
Mike Fleck, state representative for Pennsylvania's 81st District since 2006. Before entering politics, Fleck was district executive with the Oneida District of the Boy Scouts of America. He currently serves on the executive board of the Boy Scouts' Juniata Valley Council. He earned a bachelor's degree in history in 1991 from Liberty University, in Lynchburg, Va. He remains active in his community, serving as a trustee on the board of the Huntingdon County Library System.

Matthew Peters is a 2001 graduate and a former Bailey Oratorical Contest finalist. He currently works at CAI, a global IT services firm, as chief business architect and executive director of business solutions. At CAI he oversees business intelligence, consulting services, product development and research engineering. He earned degrees in information science, psychology and communication.
Margaret "Peggy" Over is a 1971 Juniata graduate and a retired teacher from Roaring Spring, Pa. She earned a bachelor's degree in elementary education in 1971 and worked at the Spring Cove School District. She retired in 2007 as a kindergarten teacher in the Spring Cove School District. She serves as a trustee for the Roaring Spring Community Library and remains active with the Roaring Spring Church of the Brethren.

The original Bailey Oratorical Award was established in 1915 by the Honorable Thomas F. Bailey, who served as president judge of Huntingdon County from 1916 to 1936. The oratorical contest has a long tradition at Juniata College, as students from all areas of study can compete for the monetary prize. In addition, the name of the winner will be permanently inscribed on an antique loving cup.

Contact April Feagley at feaglea@juniata.edu or (814) 641-3131 for more information.