Sikhs and Environmentalism: Juniata Religion Professor to Lecture on Sikhism
(Posted March 11, 2013)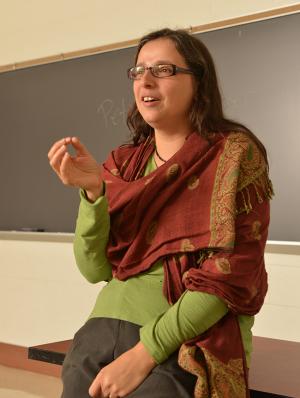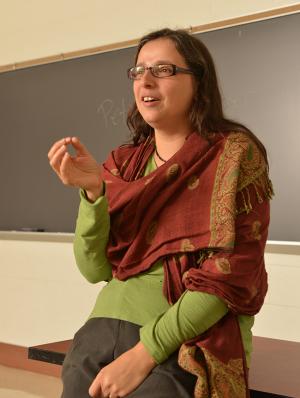 HUNTINGDON, Pa. -- Religions across the globe preach the importance of faith and good works, but can a religion also be environmentally-friendly? Susan Prill, associate professor of religion at Juniata College, will explain how Sikhs in the United States and India are "going green" at 4:30 p.m., Tuesday, March 19, in Neff Lecture Hall in the von Liebig Center for Science on the Juniata campus.

The lecture is free and open to the public. The talk is one of a series of Bookend Lectures held once a month throughout the academic year by Juniata faculty.

Prill's lecture, titled "Can Religion be Green? Sikh Approaches to Environmentalism," will focus first on a summary of the Sikh religion in India and the United States. In addition to providing background on the Sikh religion, which came to the forefront when murderer Wade Michael Page shot and killed six people at a Sikh temple in Wisconsin, Prill will explain how Sikhism also serves as an environmentally sensitive tradition.

She will explain how Sikhs are reinterpreting Sikh scripture to engage with the environmental movement in both India and the United States.

Prill, a Huntingdon resident, came to Juniata in 2006 as an assistant professor of religion, specializing in world religions. She previously worked as a postdoctoral fellow at Hamilton College in Clinton, N.Y.
Her main area of teaching specialization centers on Hinduism and Sikhism. She also has taught courses in yoga and yogic philosophies and Buddhism. Her specific area of research concerns Namdev, a 13th-century saint who was an important figure in both the Sikh and Hindu traditions, and his depiction in popular religious art.
She earned a bachelor's degree in religion in 1996 from Bard College in Annandale-on-Hudson, N.Y., and went on to earn a master's degree in South Asian studies in 2000 from the University of Michigan in Ann Arbor, Mich. She earned her doctoral degree in 2005 from the School of Oriental and African Studies at the University of London in London, England.

At Juniata she teaches such courses as World Religions, Sikhism, Islam and Yoga Studies. She recently published a chapter-article in the edited volume "Sikhism in Global Context."

She is a member of the American Academy of Religion and the Association for Asian Studies.
Contact April Feagley at feaglea@juniata.edu or (814) 641-3131 for more information.