Juniata Concert Choir Creates Aural Masterpiece
(Posted March 25, 2013)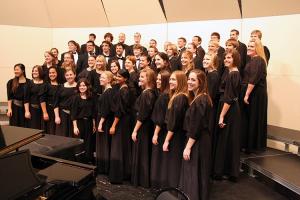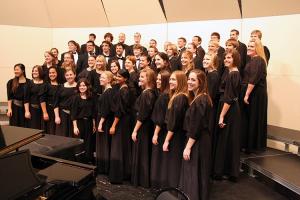 HUNTINGDON, Pa. -- The Juniata College Concert Choir will regale its hometown audience with a concert featuring a mix of secular, sacred and international choral classics at 1 p.m., Saturday, April 6, in Rosenberger Auditorium in the Halbritter Center for the Performing Arts on the Juniata campus.

The concert is free and open to the public. The Juniata Concert Choir is conducted by Russell Shelley, Elma Stine Heckler Professor of Music at Juniata.

The choir just finished a March regional tour, performing at churches in Lebanon, Pa, and New York's Long Island and a spring multi-concert international trip to Guatemala during spring break March 9-17.

The concert will open, fittingly, with "How Can I Keep from Singing," a Christian hymn that received notice when Enya included it on an album. The next selections are "Alma Redemptoris," a Marian hymn, "Laudate Dominum," by Giuseppe Pitoni, "Psalm 150" from "The Bay Psalm Book," and "Salmo 150," by Brazilian composer Ernani Aguiar.

The choral piece "Esto Les Digo," based on a gospel by St. Matthew, will be performed next, followed by "Memento Mei, Domine," from 'Two Lenten Motets," by Pawel Lukaszewski and based on a Gospel of St. Luke, "Dawn," arranged by Eric William Barnum, and "Cry out and Shout," an anthem by Knut Nystedt.

After intermission, the choir will perform "The Voice," a Celtic song arranged by Roger Emerson, followed by "Naranjitay," based on a Bolivian folksong and arranged by Luis Craff. Next, the ensemble will perform "Tres Cantos Nativos dos Indios Krao," a Brazilian song based on the melodies sung by the Krao tribe, and "Tango to Evora," a Jon Washburn arrangement of a Loreena McKennitt song.
The Celtic selections continue with the Irish classic "Danny Boy," followed by "Earth Song," a pleading song for peace by Frank Ticheli.

The choir will then perform "Daemon Irrepit Callidus," by Gyorgy Orban, a Romanian composer, transitioning to "Desh," an Indian raga arranged by Ethan Sperry.

The concert will wind down with performances of "I Want Jesus to Walk with Me," a traditional spiritual arranged by Ken Berg, followed by "Walk Together Children," a contemporary spiritual written by African-American composer Moses Hogan, and "The Wayfaring Stranger," by Stephen Caracciolo.

The concert ends with "Witness," by Jack Halloran, a film and television choral composer, and Juniata's traditional highlight, "Set Me As a Seal," arranged by Russell Shelley and based on the "Song of Solomon."
The Juniata Concert Choir is one of three choirs performing at the college. The 50-person choir tours every spring semester, focusing its program on historical sacred music. Juniata choirs have performed at the Cathedral of St. John the Divine in New York City, the National Cathedral in Washington, D.C., and St. Patrick's Cathedral in New York City. Recent tours have taken the choir to Ireland and Northern Ireland in 2012, Hungary and Romania in 2011 and Brazil in 2010.
Contact April Feagley at feaglea@juniata.edu or (814) 641-3131 for more information.