ETHEL String Quartet Plays with Flutist Robert Mirabal
(Posted March 25, 2013)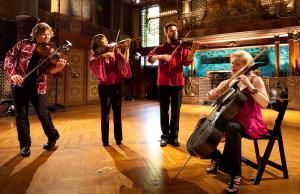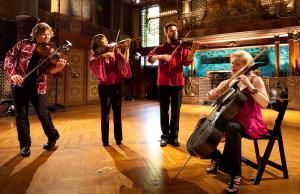 HUNTINGDON, Pa. -- Celebrating the sun should bring the Juniata College audience a warm feeling as the string quartet ETHEL and Native American flutist Robert Mirabal collaborate musically on "Music of the Sun," at 7:30 p.m., Friday, April 5, in Rosenberger Auditorium in the Halbritter Center for the Performing Arts on the Juniata campus.

For tickets and information about the Juniata College Presents series, please call (814) 641-JTIX (5849). General admission tickets for single performances are $20, except where otherwise noted. Single-show tickets for seniors over age 65 and children age 18 and under are $12. Juniata College students are admitted free with a student ID.

The Juniata College Concert Choir also will perform with ETHEL and Mirabal during art of the concert. Inspired by the ancient sun myths of Native American and Mesoamerican peoples, "Music of the Sun" combines the classical instruments of the string quartet -- violins, viola and cello -- with flutes and drums used in Native American cultures.

The combination of ETHEL's "post classical" taste in music with Robert Mirabal's interest in storytelling through music and singing will bring an air of chance and improvisation to the concert.

ETHEL, comprised of Ralph Farris, viola; Dorothy Lawson, cello; Kip Jones, violin; and Tema Watstein, violin, is a leading proponent of string quartet performances that push beyond classical repertoire into pop music, modernism and jazz.


"ETHEL plays their repertoire vigorously and cultivates a persona closer to that of a rock band than a conventional string quartet."

New York Times reviewer
Mirabal, who writes his own music and builds many of the instruments he plays, is an acclaimed painter, poet and playwright. He has written "A Skeleton of a Bridge," a book of essays, poems and short stories, and has received three Grammy's for his music.

ETHEL and Mirabal will perform several Mirabal compositions as well as modern arrangements of ancient Native American music for strings and flute. The string quartet also will play an impressively diverse selection of music by composers Don Byron, John Luther Adams and others.

"Ethel plays their repertoire vigorously and cultivates a persona closer to that of a rock band than a conventional string quartet," wrote a reviewer in the New York Times.

Formed in 1998, ETHEL is currently traveling to supports its latest project, "Tell Me Something Good," which is formed around the music of Todd Rundgren. The quartet has released three albums, including "Heavy." The group has collaborated with such artists as David Byrne, Loudon Wainwright III, Stew, Thomas Dolby and Steve Coleman.
The members of ETHEL all have eclectic musical biographies. Co founder and violist Ralph Ferris worked as Roger Daltrey's musical director; cellist Dorothy Lawson performed with the American Symphony Orchestra and the Toronto Symphony Orchestra; violinist Tema Watstein has performed with Metropolis Ensemble and the Mark Morris Dance Troupe; and violinist Kip Jones graduated from the Berklee College of Music.

Robert Mirabal is a member of the Taos Pueblo people, and received a 2006 Grammy for the recording "Sacred Ground," and a 2008 Grammy for "Johnny Whitehorse Totemic Flute Chants." He has acted in film and on stage and made his performing breakthrough with the PBS special "Music from a Painted Cave." in 2002.

"My travels have provided me with experiences I never could have imagined and exposed me to a global sound and a global voice," he says on his website.

Contact April Feagley at feaglea@juniata.edu or (814) 641-3131 for more information.