Juniata Student from Johnstown, Pa. Receives Fulbright Fellowship
(Posted April 22, 2013)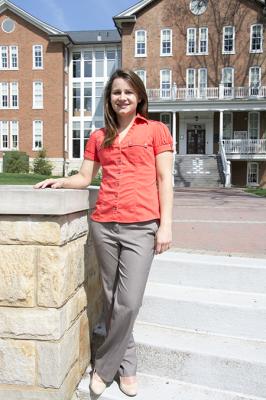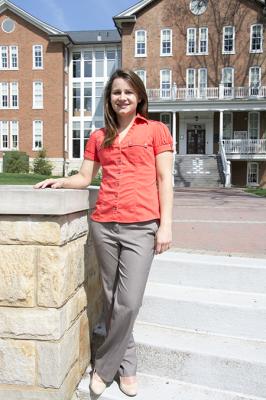 HUNTINGDON, Pa. -- Toni Harr, a senior studying social studies and secondary education at Juniata College from Johnstown, Pa., has been named a Fulbright Fellow to pursue an English teaching assistantship in Athens, Greece for the upcoming 2013-02014 academic year.

She is a 2009 graduate of Conemaugh Township Junior/Senior High School, in Johnstown.

Harr, the daughter of Karen Herdman and James Harr, both of Johnstown, will teach English at a private secondary school in the Psychico section of Athens, Greece. "I studied abroad in Greece and I can write the Cyrillic alphabet," she says. "I will learn just as much from my students, because language is a two-way street."

After completing the Fulbright Fellowship, Harr plans to become a secondary school social studies teacher.

Harr studied abroad in fall 2011 at City Unity College in Athens, a program affiliated with the University of Seattle and BCA-Study Abroad. She also traveled to The Gambia in western Africa for a summer program in 2012.


"I will learn just as much from my students, because language is a two-way street."

Toni Harr, senior from Johnstown, Pa.
This year, she presented a research project on "The Common Core in Public Education" at Juniata's Liberal Arts Symposium. In 2012, she received the Kenneth Crosby History Scholarship and in 2009 received the Lalitta Nash-McKaig Scholarship, which benefits students from Somerset County.
"During the application stage I was student teaching and had very limited time; on numerous occasions, the professors with which I worked closely allowed me to meet with them in the late afternoon to discuss or help draft my essays," she says. "Two faculty members even organized a practice interview session for me to ensure I was fully prepared."

Harr is a Bonner Leader and an AmeriCorps member on campus, where she has accumulated significant volunteer hours in the local community. She completed her student teaching at Huntingdon Area High School and was a volunteer instructor for the school's color guard squad. She remains active in student clubs, serving as executive board secretary for Juniata's Student Government. She also is secretary for Juniata's Habitat for Humanity chapter. In 2011, she worked as an intern for the Johnstown Area Heritage Association.

She is vice president of Juniata's chapter of Omicron Delta Kappa, the national leadership honor society and is a member of Pi Lambda Theta, the honor society for educators, and Phi Alpha Theta, the national history honor society.

The Fulbright U.S. Student Program equips future American leaders with the skills they need to thrive in increasingly global environment by providing funding for one academic year of study, language instruction or research abroad, to be conducted after graduation from an accredited university.

Fellows undertake self-designed programs in disciplines ranging from social sciences, business, communication and performing arts to physical sciences, engineering and education.

The U.S. Student Program awards approximately 1,100 grants annually and currently operates in over 140 countries worldwide.'?®The Fulbright Program is sponsored by the United States Department of State, Bureau of Educational and Cultural Affairs. Financial support is provided by an annual appropriation from Congress to the Department of State, with significant contributions from participating governments and host institutions in the United States and abroad.

The presidentially appointed J. William Fulbright Foreign Scholarship Board formulates policy guidelines and makes the final selection of all grantees.'?®The Institute of International Education administers and coordinates the activities relevant to the U.S. Student Program, including an annual competition for the scholarships. The Fulbright Program also awards grants to American teachers and faculty to do research, lecture and teach overseas. In addition, some 2,200 foreign Fulbright students and scholars come to the United States annually to study, carry out research and lecture at U.S. universities, colleges and secondary schools.

Contact April Feagley at feaglea@juniata.edu or (814) 641-3131 for more information.