Black and White Photos Not Forgotten in Juniata Art Course
(Posted April 29, 2013)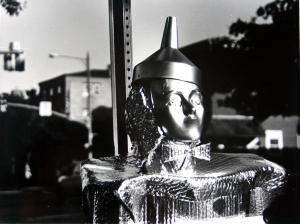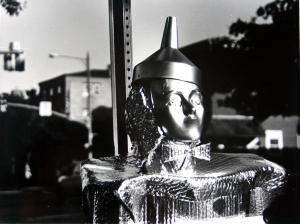 HUNTINGDON, Pa. -- An emphasis on quick, tangible goods has taken over much of our current lives. As a society, we want remotes to change channels, toilets to flush themselves, meals to be microwaveable, and our cars to automatically park. With a shift away from time-consuming lifestyles, many conventional items like homemade breads, handwritten letters, and film-processed photos are losing practical usage and gaining a retro appeal.

Speaking of retro appeal, black-and-white photography, the mainstay of Life magazine, photographers Dorothea Lange and Alfred Eisenstaedt, and the landscapes of Ansel Adams, is still of interest to the digital generation, evidenced by the long line of Juniata College students signing up to take a black and white film course called Beginning Photography.

Although Juniata offers courses that focus on digital photography, media and the production aspects of the arts, the college has maintained the traditional art processes of film photography. The course is taught by Monika Malewska, associate professor of art, who explains the unwavering interest in black-and-white film photography.
"The film-generated photographic image has a slightly different appearance than a digital image, one that many fine arts photographers embrace," Malewska says. "I see traditional photography almost as a different media, much in the way that painting is different than printmaking or photography. Typically, traditional film photography has an inherent ability to capture reality in a way that is unlike digital photography, which can be manipulated easily in programs like Photoshop."

Annette Masterson, a senior from Sacramento, Calif., describes how this course has added to her Juniata education, "I usually have worked with point and shoot cameras, not really thinking about photography," she says. "When I switched my major to media and film, focusing on what is in the frame became really important. For my major, specifically, I wanted to focus on how to set up a shot and how certain a certain angle could make the subject look different."

Students spend class time learning traditional photography techniques, taking photos outside in the community or inside in the photography lab, and developing photos in the darkroom. In addition, they are taught the basics of loading film and how to adjust the contrast and tone of their photos by changing the camera's aperture and shutter speed.

"I think the tangible nature of film photography makes students better at digital photography."

Monika Malewska, associate professor of art

Since digital point-and-shoot and SLR cameras have gained enormous popularity, many film SLR cameras have been forgotten, or stowed away in old moving boxes gathering dust in the back of closets. To make this course possible for all students, they have the opportunity to borrow film SLR cameras from Juniata's art department.

In the darkroom, students are taught how to achieve crisp and visually appealing photos by adding filters and adjusting the light and focus of enlargers. They are also taught how to mix and time the use of developing and fixing chemicals for processing the film and paper. Very quickly, students learn how to swirl the film canister during its development process, because overzealous shaking can lead to ruined, overdeveloped film.

"Getting the right contrast, tonality and composition is very a hands-on process, through manipulating exposure time," Malaweska adds, "I think the tangible nature of film photography makes students better at digital photography."

There is no doubt that developing film is a demanding and time-consuming process. But, it's also very rewarding. "You are so invested in your work, because of all the time you put in to the process," says Collin Shay '12, a junior studying psychology from Silver Spring, Md. "After all the work of taking the picture, developing the film, drying the film, cutting it up, picking the picture, adjusting the machines, and finally putting the blank piece of paper in the developing liquid and seeing the perfect picture appear. I feel like I accomplished something."
Juniata's darkroom and film production courses have gone through many changes throughout technology's shift towards digital photography. Because this course is offered during both the fall and spring semesters and continues to be popular among students, the art department has been considering expanding the college's small darkroom.

The fact that a small liberal arts college, with no declared photography majors, offers its students the opportunity to take a black and white film class emphasizes the fact that elements of art can retain a timeless beauty and appreciation. Juniata believes that this art form is something that everyone, art majors or not, should have the opportunity to experience.
Written by: Erin Kreischer

Contact April Feagley at feaglea@juniata.edu or (814) 641-3131 for more information.